These Celebrity Bathrooms and Bedrooms are Simply Astonishing You Will Want to Live In Them
CC Sabathia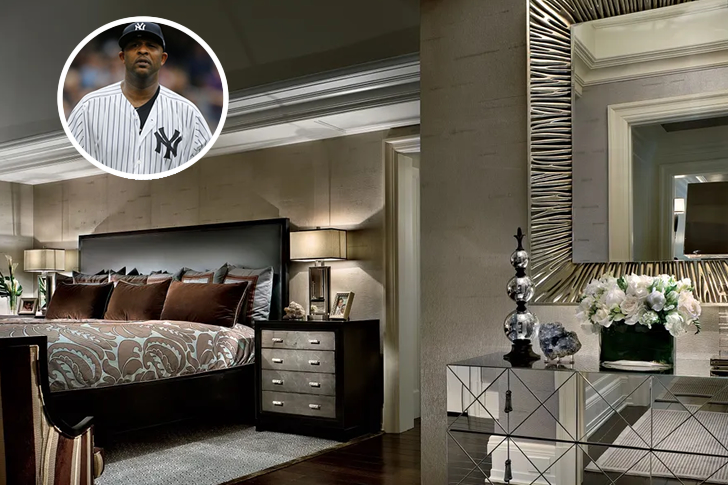 Looking at CC Sabathia's enviable master bathroom, we first took it as a bedroom! The master bath in the Yankees pitcher's home, featured with Baldwin cabinet pulls, was decorated by Martin P. Mitchell. If you think this is the best feature in his house, wait until you see his bedroom. Sabathia opted for an oversize bed plus a walk-in closet for his extensive sneaker collection. Overall, the abode accents a modern sense of relaxation that both appealed to him and his family.
The 6-foot-7 baseball pitcher has played for the Yankees since December 2008. Upon signing with the team, he became the highest-paid pitcher in Major League Baseball history. He reportedly earns a salary of $25 million, though not all of his investment money comes from his work alone. He also brings in almost a million dollars annually from sponsors like EA Sports and Nike.
Sheryl Crow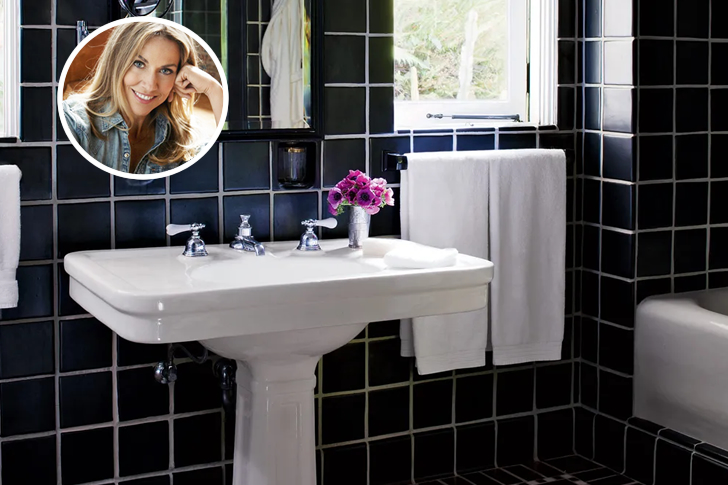 American singer-songwriter Sheryl Crow also has a beautiful space in the Hollywood Hills. With a knack for the unconventional, the singer opted to decorate her own abode. As a result, she purchased the Spanish Colonial house in 1997. Two years later, with her net worth and credit score on the rise, the musician bought the adjoining property with the bungalow and cottage.
Guided by intuition, Crow slowly began to fill the rooms piece by piece and gathered much of the things she needed in the home while she was touring. Taking a personal approach to interior design, the singer bought some furniture at a flea market during one of her tours to Paris. "I'm a collector of oddities," the 59-year-old musician admitted with a hint of delight. Inside her fancy master bathroom are black tilework and a 1920s pedestal sink that are original to the home.
Ronnie Sassoon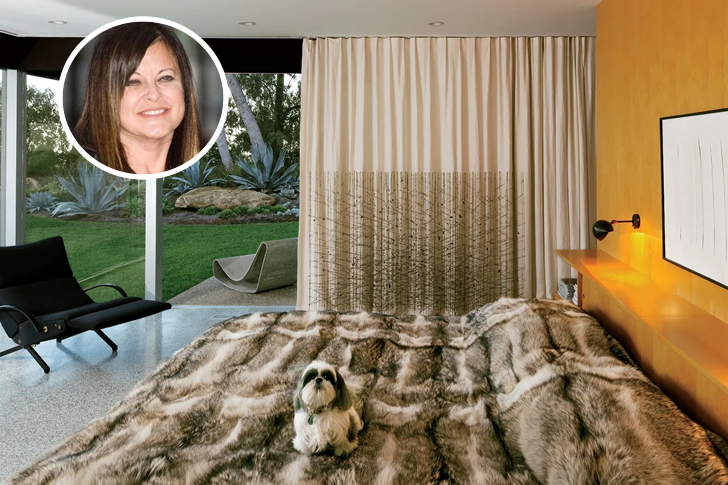 Ronnie Sassoon and her late husband, Vidal Sassoon, bought a property in Bel Air. Known as the Singleton House, the estate was built by renowned architect Richard Neutra in the late '50s. After purchasing the house, the couple decided to renovate it but left some classic pieces in the home, including the garden stones by sculptor Isamu Noguchi. In addition, the abode also features the 1954 Loop chairs by Willy Guhl, Saarinen Tulip table and chairs by Knoll, and a gallery that displays the works of Ellsworth Kelly, Étienne Hajdu, and Lucio Fontana.
For a personal touch, Sassoon designed the terrazzo tub and flooring in the master's bath herself. As seen in the photo, the chair is by Erwine and Estelle Laverne, the 1950s stool is a Charlotte Perriand design, and the towels are by Pratesi. It's definitely a bath with a refreshing view!
John Legend & Chrissy Teigen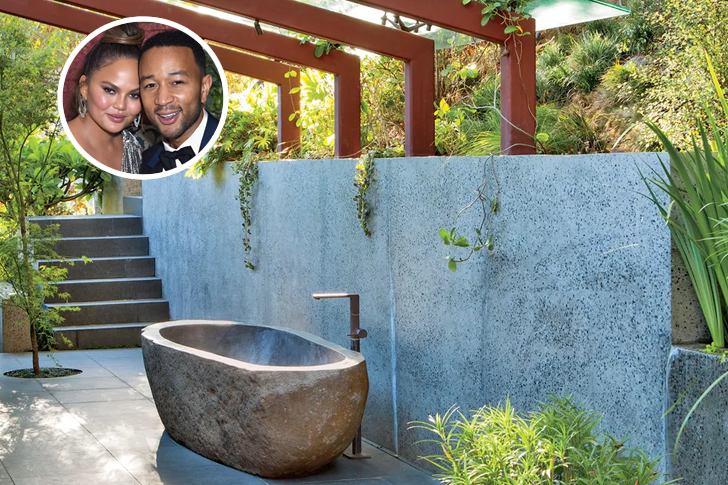 John Legend and Chrissy Teigen have a flair for anything elegant. Well, just take a look at their Hollywood Hills property. Upon purchasing it without probably the aid of home finance, the two hired the famed decorator Don Stewart, whom they met through Kanye West. Since it's the couple's first home, they made sure to incorporate their own distinctive spin on the California lifestyle.
Legend explained that their style is chic but also earthy and casual. True enough, Stewart ensured to refine the outdoor and indoor areas, including the master's bath that features a tailored accent. The decorator selected an antique stone-top bench, Laurameroni cabinetry, and a hamper by Waterworks to fit the couple's taste. What's even more impressive is that he attached an outdoor basalt tub off the master's suite. Indeed, the structure conjures a warm and natural ambiance.
Jane Fonda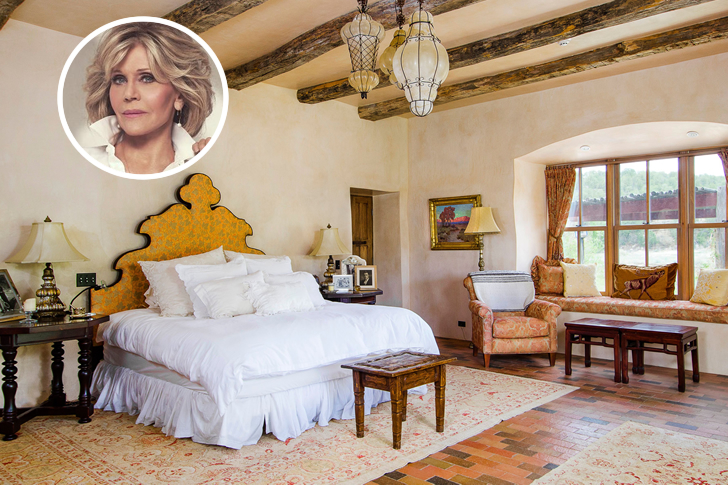 If you want to see something dramatic, then you're on the right page. Jane Fonda's property in New Mexico is surrounded by vivid pieces, soulful Spanish Colonial artifacts, and rustic antiques. The actress preferred a different kind of art when she decided to live in Forked Lightning Ranch. According to the renowned actress, she finds peace and inspiration in this abode. Fonda bought the estate called the River House in 2000, which had renovations and upgrades since her purchase. She was even involved in the design, from the brick floors to roof repair.
The 9,585-square-foot main home also features a master's bath that shows a touch of femininity. Inside, you can find her elegant tub, vintage chair, wood panels on the ceiling, and a Navajo rug on the floor. She also has a dressing area with walls mounted by a number of silver Mexican Milagros.
Darren Star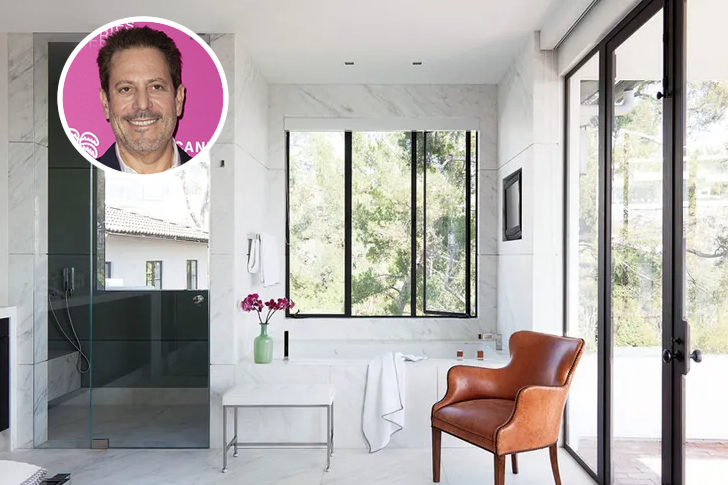 With someone as prominent as Darren Star, we could easily imagine how sophisticated his home might be. While scanning through the photos of his safe haven, indeed, we're not mistaken! The TV mogul gives credit to designer Waldo Fernandez and architect Mark Rios for breathing new life into his classic Bel Air residence. With a master's bath almost similar to the size of a bachelor pad, it probably cost him tens of thousands of bucks. The bath boasts an airy space through its floor-to-ceiling windows and is filled with honed marble from Fort Hill Construction, which we think is fit for a king like Star.
Star is widely known for being the creator of hit TV shows such as Melrose Place, Emily in Paris, Younger, Beverly Hills, 90210, and SATC. He is also an awardee of the Outstanding Television Writer by Austin Film Festival.
Gisele Bundchen & Tom Brady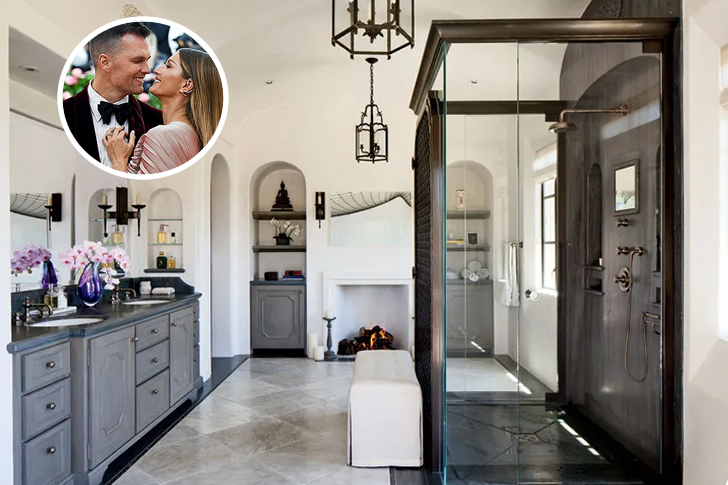 Sitting in the ranks of the rich and famous are Tom Brady and Gisele Bündchen. Being trailblazers in their respective careers, the two merged not only their wealth but also their knack for purposeful design. The couple wanted to have an eco-conscious house, and with wise planning and money management, they were able to attain their dream home in the Brentwood neighborhood. The star quarterback stated that he wanted to build a sanctuary for him and his family, so he engaged interior designer Joan Behnke and architect Richard Landry to implement his and his wife's vision of using environmentally friendly construction materials.
The sustainable design was also applied to their master's bathroom. The shower fittings and marble counters are from Compas Architectural Stone, while the lanterns are from Dennis & Leen. The couple also utilized gray-water technology, which can also be used for toilet flushing.
Ellen Degeneres & Portia DeRossi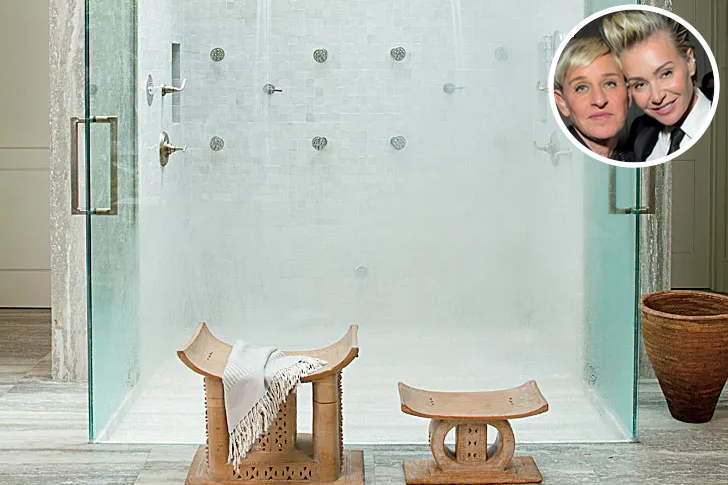 We all know Ellen DeGeneres has millions of dollars to her name; having a net worth of $500 million, she can easily purchase properties without needing home loans. Included in her real estate portfolio is her Beverly Hills home, which she bought with her wife, Portia DeRossi. The couple is known for being serial house flippers, and the talk show host even lost track of how many houses are under her name. She also said that the Beverly Hills abode is the seventh she and her wife shares.
Among the many features, we captured the stunning master's bath and shower area that is set beneath a skylight. The stools are apparently African, and the shower fittings are made by Rocky Mountain Hardware. Opulent surfaces dominate the bathroom, which boasts a marble floor, limestone countertops, stained-walnut vanities, and mirrors that are made from India's mother-of-pearl inlay.
Jennifer Aniston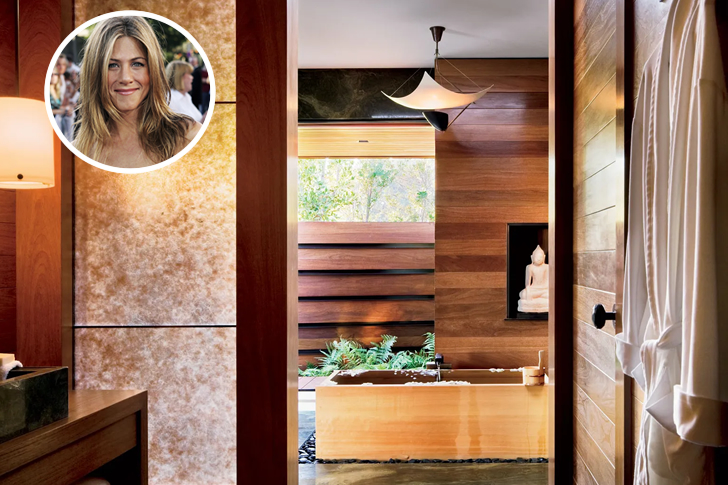 Far from Rachel Green's home in the sitcom Friends, actress Jennifer Aniston undoubtedly splurged on her real-life Beverly Hills residence. She tapped designer Stephen Shadley for her investment planning to reinvent the 1970s house into an invigorating retreat. The 52-year-old star revealed that she is incredibly proud of the house to the point that she didn't hesitate to purchase it. "I knew the house would be mine one day," Aniston said.
The property, which she calls Ohana, has an Asian, Zen-like feel to it. It has a glamorous yet old-fashioned quality that speaks of serenity and subtle elegance. Aniston transformed her master's bath into a spa-like area with a soaking tub. According to the actress, much of the wood in her home was not cut but gathered from fallen trees, which is a thumbs up for her desire for an eco-friendly estate.
Nina Garcia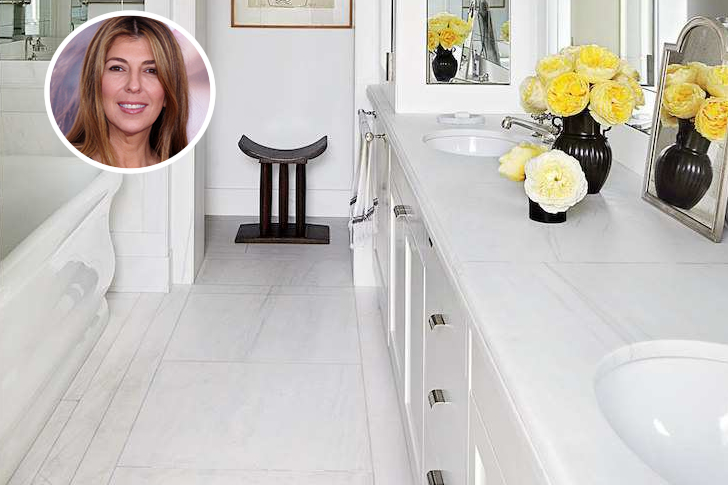 What do you expect a house would look like if the homeowner has an eye for design herself? Colombian-American fashion journalist Nina Garcia guaranteed that her Upper East Side apartment would be as stylish as she is, although she had to collaborate with an interior designer. Well, she's busy juggling the roles of being a mother, a judge on the reality show Project Runway, and a fashion director of Marie Claire, so she needed to hire Carlos Aparicio.
Garcia and her husband, David Conrod, co-founder of G2 Investment Group, bought the three-bedroom apartment in 2005. The fashion journalist intricately chose some of the furnishings inside her abode, including the Carl Malmsten chairs she purchased in Paris. As for her master's bath, it features an all-white, minimalist finish accentuated by flowers and an art display, which also highlights the mirrored walls.
Jenni Kayne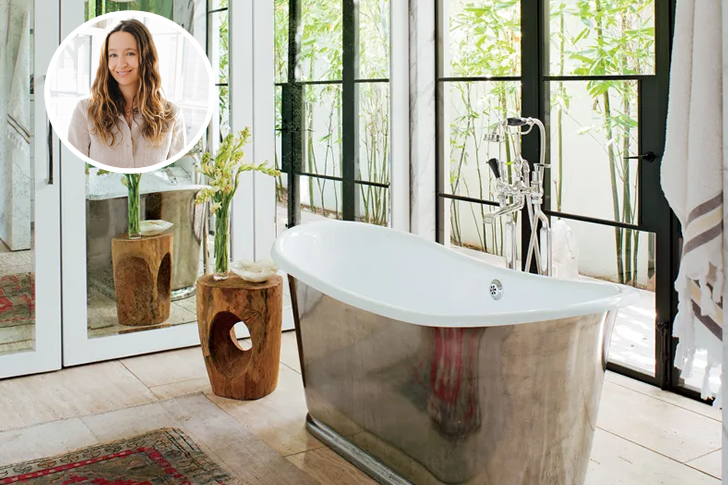 If you're here to look for home inspiration, we highly suggest fashion designer Jenni Kayne's. We personally love the airy, nature-loving atmosphere that spreads all throughout the humble yet striking contemporary house. The all-white walls and wood furnishings speak volumes in their laid-back Beverly Hills home. To achieve this beauty, Kayne and her husband, real-estate agent Richard Ehrlich, employed help from architects Silvia Kuhle and Jeffrey Allsbrook.
For the couple's master's bath, its vintage design complements the natural landscape that can be seen from the outside through the floor-to-ceiling windows. The lavatory's posh accents include a tub with a burnished-nickel finish by Waterworks, a globe lantern by JF Chen, and fittings by Lefroy Brooks. Mr. and Mrs. Ehrlich also owns a lovely powder room that is enriched by wood wall tiles and flooring, vintage mirror and light fixtures, and an old-fashioned carpet.
Diane von Furstenberg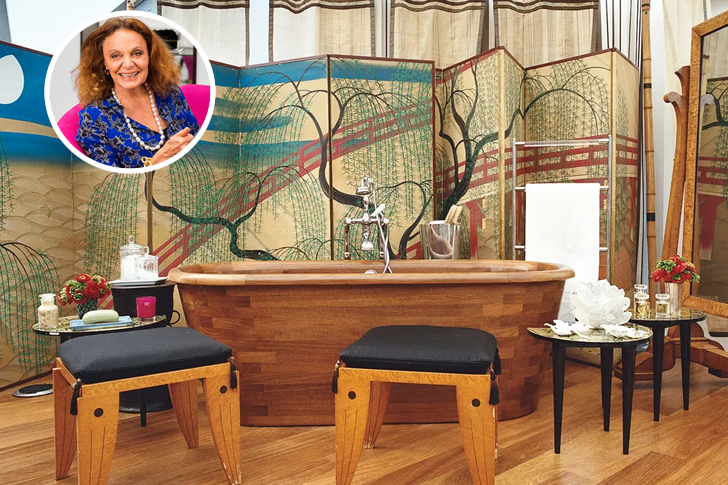 For a royalty like fashion designer Diane von Fürstenberg, there's no such thing as too much. She opted for a live/work space in Manhattan that boasts glamour and grit. Von Fürstenberg tapped Dan Wood and Amale Andraos, founders of the architecture firm WORKac, to recreate the Victorian redbrick building she acquired back in 2006. Above the work area is the 900-square-foot master suite that has a vast terrace.
The designer wanted to have a hideaway situated just above her store, and every room she helped design has an eclectic style that matches her personality. The most stunning aspect of her interiors is their liveliness, as pops of colors are rolled out everywhere, even inside her master's bath. Von Fürstenberg's bath area features a wooden flooring and freestanding teak tub, with folding screens that provide privacy. Aside from her property in Manhattan, she also has other properties in Connecticut, Paris, and Beverly Hills.
Judy Blume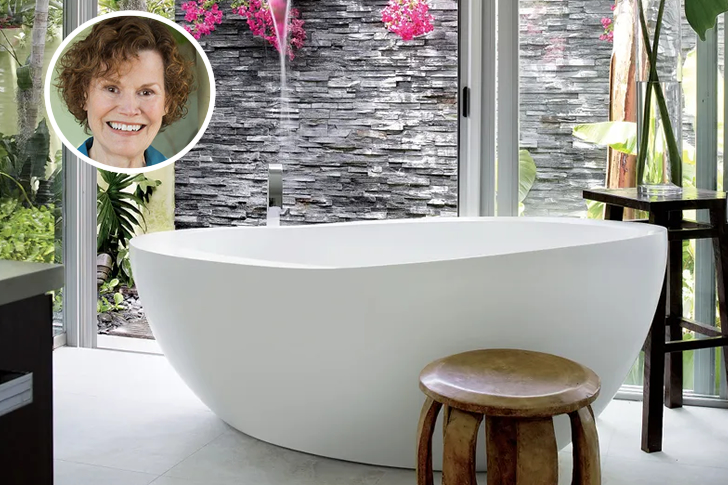 For someone who needs personal space and relaxation, writer Judy Blume went for an enchanting estate in Key West, Florida. She needed the services of interior designer Malcolm James Kutner and architect Thomas E. Pope to renovate the place to her liking that would match her personality. With careful investment planning, the team was able to achieve favorable results for the writer. Blume also wanted to fill the borders of her house exterior with a garden filled with palm trees, and we like to assume that nature was a big inspiration for her to write her novels. Aside from palms, she also incorporated lignum vitae, orchids, and gardenias.
Anyway, let's talk about her master's bath. Much like the gardens, she also placed greens beside her tub. The lavatory spreads to the outdoors, where we can see the slate-walled waterfall shower. A low Indonesian stool from Archeo Gallery also adds art to the minimalist area.
Will Ferrel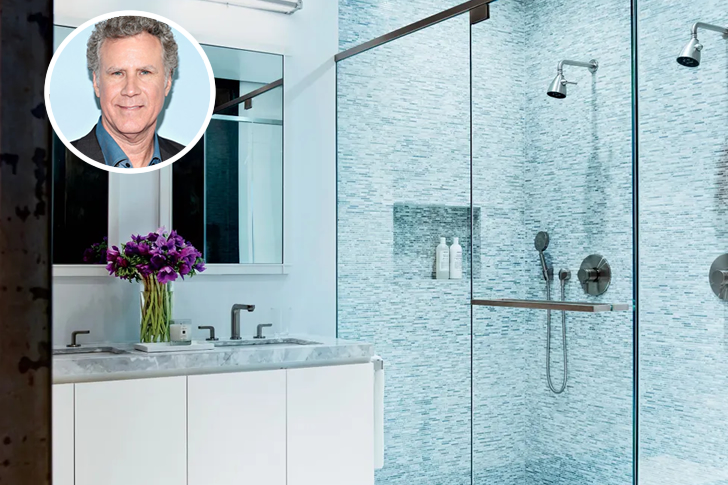 Being named one of the highest-paid actors during his peak in the Hollywood industry, and demanding $20 million for every film performance, Will Ferrell unarguably poured out his investment money on his contemporary Manhattan home. Sure, he is not thought of as a man of sophistication given his goofy roles in films, but much to our surprise, he actually has a stylish side. His nearly 2,800-square-foot loft exhibits modern refinement, with mindful architectural details and sleek surfaces.
When the comedian and his wife bought the apartment back in 2010, it required a total makeover, which is why they hired interior designer Shawn Henderson. Cheerful accents abound in their home, thanks to the couple's collection of the 1940s and 1950s Scandinavian design. Their master's bath also has a breezy and cool feel that looks soothing, for which the designer utilized a combination of blue, grey, and white accents.
Patrick Dempsey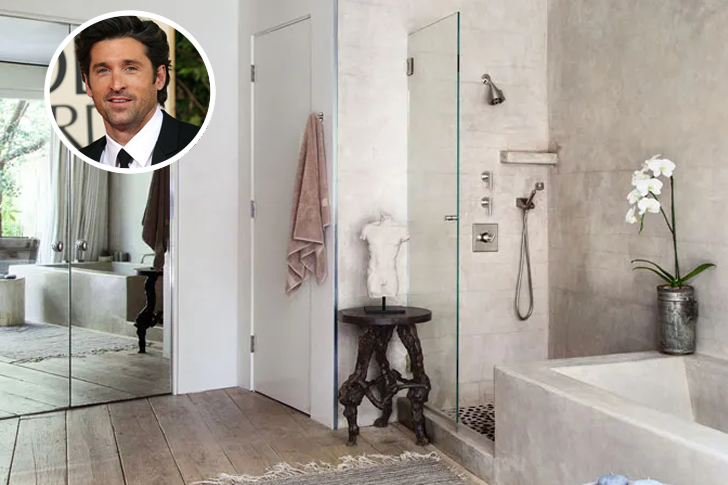 Actor Patrick Dempsey has spent a fortune on his impressive collection of sports cars, but that's not all— he invested in a gorgeous and enormous residence. We surely fell in love at first sight with his 4,415-square-foot Malibu estate. Well, what's not to love about it? It's designed by the legendary architect Frank Gehry! The Grey's Anatomy actor and his wife, Jillian, looked like they won the lottery when they bought this vibrant and light-filled family compound. Since purchasing it, the couple updated the landscaping with the aid of Shrader Design and probably added a home security as well.
Their master's bath, in our opinion, speaks of simplicity and purity. The designer played well with minimalist colors such as grey, white, and pale brown. Aside from the mirrored closet, there sits a Jillian Dempsey sculpture atop a corner table, bringing oddity to the beautifully-designed area.
Ellen Degeneres & Portia DeRossi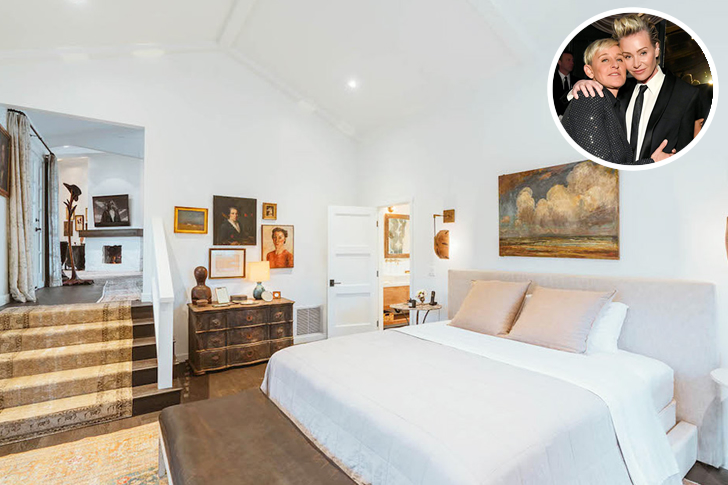 Everybody knows that Ellen DeGeneres and Portia DeRossi have been living the most lavish life, so you can expect their homes to be the most luxurious, too. The couple has been spending their investment money buying and selling properties here and there, and one of them is their Santa Barbara home.
This house has been commended for its spacious farmhouse and gorgeous look. Everything looks perfect and neat, all the way from its entrance to the living room and to the master's bedroom. The bedroom alone looks every inch expensive with its calm and luxurious vibes. It will give you the most relaxing feeling when you step in and want to jump and snuggle in its hotel-like bed. The white paint and sheet also add up to its clean look, making you feel there is no place for dust. Ellen and Portia, surely, have the most relaxing time when they sleep here.
Khloe Kardashian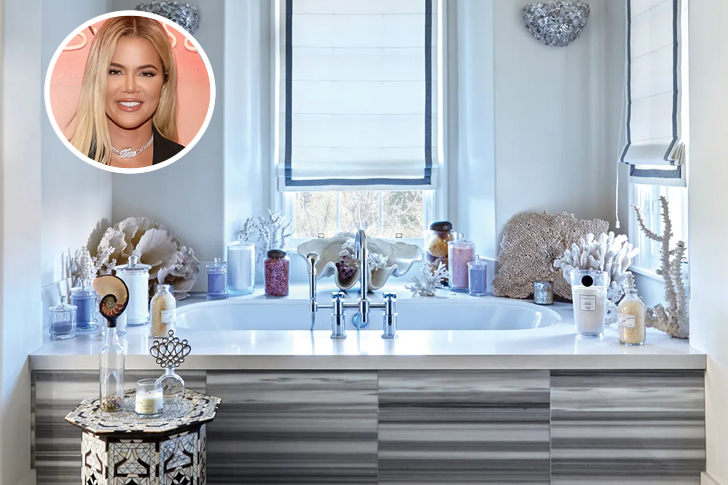 Khloe Kardashian is a famous reality star and model from the famous Kardashian and Jenner family. Starring in Keeping Up With the Kardashians, she has generously shared her life with the public, which included showing off her house's beautiful interiors. This house is located in Calabasas, California and it has quite a bathroom in it. Award-winning interior designer Martyn Lawrence Bullard designed the entirety of the house and he used fixtures from Waterworks.  When she calls plumbing services to work on her bath, they must really be impressed with how much work is placed into her home.
The marble is really elegant, exuding a feel of luxurious, restful personal time. With everything going on in this part of the home, the Design taste of Khloé really shines through. We expect nothing less from a style icon such as her. There probably isn't a room in the house that wasn't carefully planned!
Bradley Cooper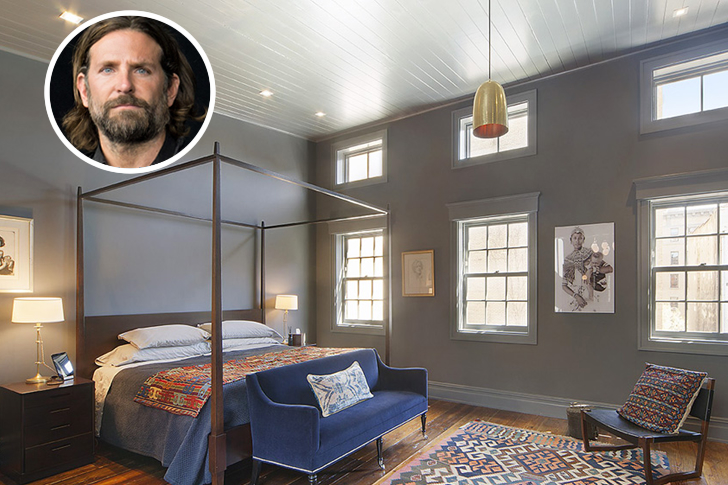 Bradley Cooper starred alongside Lady Gaga in the blockbuster hit A Star is Born. The film was a huge success and its earnings certainly spilled over to its lead actors. Bradley then purchased this home in Greenwich Village just after the movie's success. Other than being nominated in the Oscars, it also became a top favorite.
The master's bedroom in it features a huge canopy bed without the curtains. Looking very modern and edgy, the frames greatly complimented the gray walls. His room has transom windows to one side, allowing a lot of natural light to fill up the room. It also has a gas fireplace inside to make it cozier. Surely, the home insurance premiums that Bradley pays isn't a small amount for an average Joe. However, with a net worth of $100 million, we are pretty certain it's not a big deal for him. With a house of this size and this décor, it surely is something that is worth getting.
Denise Richards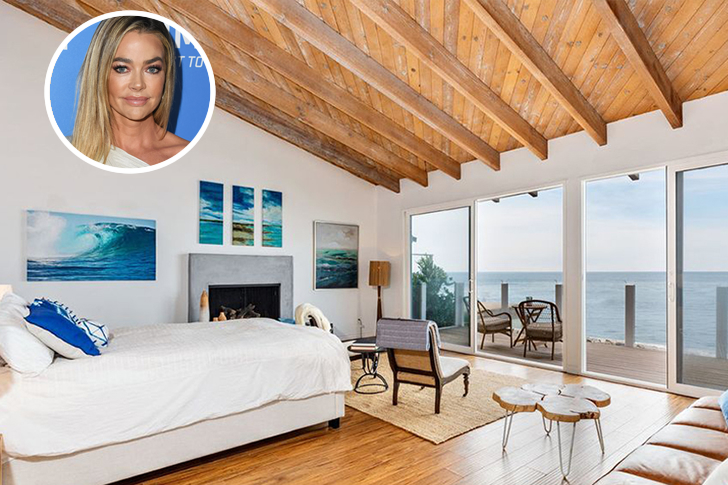 Denise Richards is known for appearing in the Real Housewives of Beverly Hills. Unfortunately, her own home was caught in the notorious wildfires that happened a while back. It's a good thing that her property was covered with home insurance. Otherwise, she would not have gotten anything out of the devastating loss.
Due to the temporary lack of a home, she rented this beautiful house in Malibu. The beach house had a master's bedroom that featured a beautiful hardwood ceiling that matched its honey blonde floors. As the top and bottom contrasted the white walls, the room led to sliding doors that opened up to a deck with a stunning view of the ocean, and beside her bed is a fireplace laced with pictures of the ocean. Staying here truly must have felt like a vacation in a lavish five-star resort.
Maggie Gyllenhaal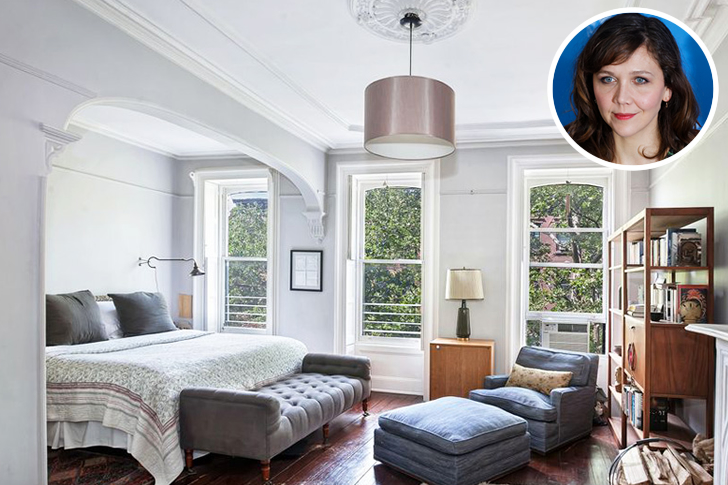 Maggie Gyllenhaal used to live in a stunning home in Brooklyn with her husband of 12 years, Peter Sarsgaard. The historic Brooklyn brownstone has four beds and 3,600 square feet of living space that they put on the market for the reasonable price of $4.6 million. Every penny spent by the new owner is worth it. Why? Aside from its magnificent façade, Elizabeth Roberts fully designed and renovated the four-story townhouse in 2007. It was originally built in the 1880s, so it's still carrying its ancient look though modernly designed. It's also located in the beautiful block of Park Slope.
Will you believe that its master's bedroom occupies the entire second floor? It's so big it has its own den/office space that can be turned into a smaller room. The room also comes with its own wood-burning fireplace and walk-in closet that is maybe hard to fill with credit card-bought items and clothing.
Brian Grazer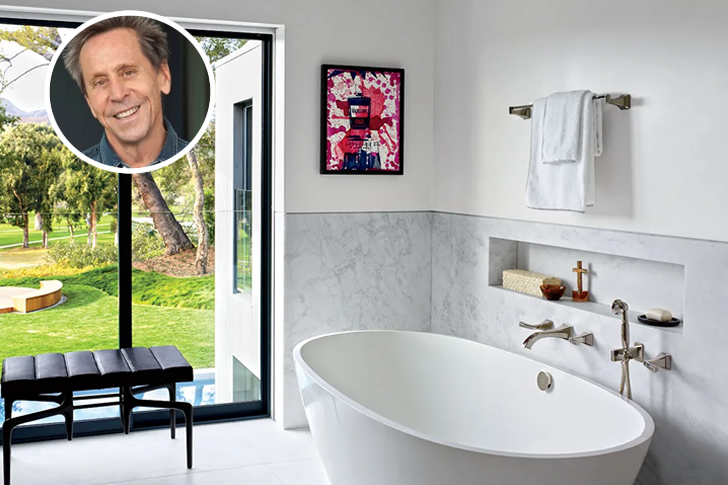 Bathrooms that open up to the outdoors are all the rage right now. A lot of celebrity houses have this feature in their personal spaces, and one of them is Brian Grazer. His open space outside is filled with lush greenery, and of course, it comes with a pool. After taking a swim, you can directly go straight to his modern yet chic bath!
With marble flooring and walls, the white and gray theme of the place really gives an elegant look to it. The only pop of color is an artwork by Kenny Scharf hung on the wall next to the tub, and the crimson color directs your vision straight to it when you enter the room. He also has a black bench next to the black frames of his glass door next to him complementing the white and gray neutrals. The bathroom and the rest of the home was decorated by Waldo Fernandez.
Leonardo Dicaprio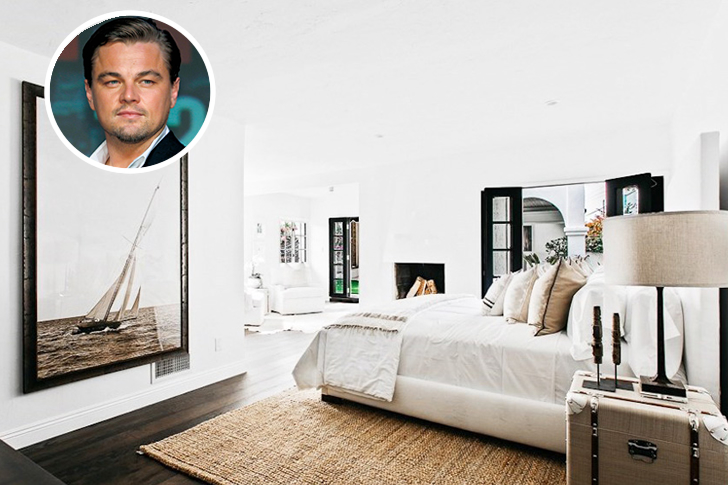 Being a famous movie star certainly has its perks. Leonardo Dicaprio can afford a room just like this. His predominantly white bedroom has a bed with a massive painting across it. The neutral tones of the room feel relaxing, yet it still spells elegance and luxury. The room has a separate seating area with white couches on one end which opens up to a patio leading to a courtyard. Another set of French doors that goes from the flooring up to the ceiling is beside the bed. Complete with a tub, the bathroom looks just like something off a spa catalogue, and a wood-burning fireplace is also seen in the bedroom.
The entire house is three stories tall and has a Spanish hacienda theme. It is located in Los Angeles, California where all the action happens. Luckily, he gets to go to work and come home to this beauty he calls home.
Bruce Willis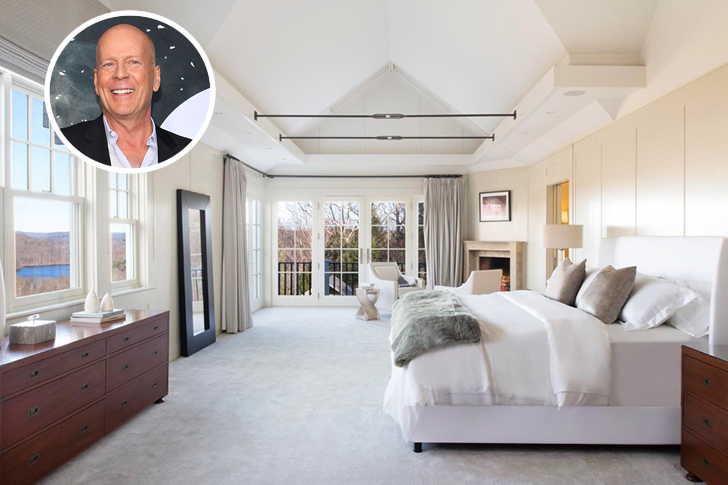 Actor Bruce Willis has a very cozy and elegant bedroom. The well-designed room plays on light and neutral colors all over, with a few touches of black. There are a lot of windows in the big space, giving an open feeling to the room. The room is on the second floor of the house and comes with French doors in the far wall that opens up into the balcony that looks out to the huge property. A full body mirror is found on one wall and a seating area next to the fireplace.
The house has a total flooring of 13,000 square feet, and features 12 bedrooms all in all. Surely, not everyone can afford something this big. Obviously, the actor didn't need any home loan to purchase this stunning estate. He even tailored it to fit his every need and want.
Cindy Crawford
On top of her luxurious and spa-like bathroom, Cindy Crawford also has a stunning bedroom that greatly resembles a cabin in the woods. The room's color palette is white and brown and it mixes perfectly well with the tinted glass wall. The walls and the floor are made of hardwood but the exposed roofing is painted with white, matching the color of her curtains and beddings. In the middle of the room is a light fixture that glowed a warm light.
This supermodel really has her game together as her room looks like a weekend getaway from the city. The beachy space surely makes her feel restful and away from all the stress brought about by the busy industry. A fireplace is located inside the room to make it warmer, but it opens up to a deck where she can choose to go sunbathing if the weather allows it.
Naomi Watts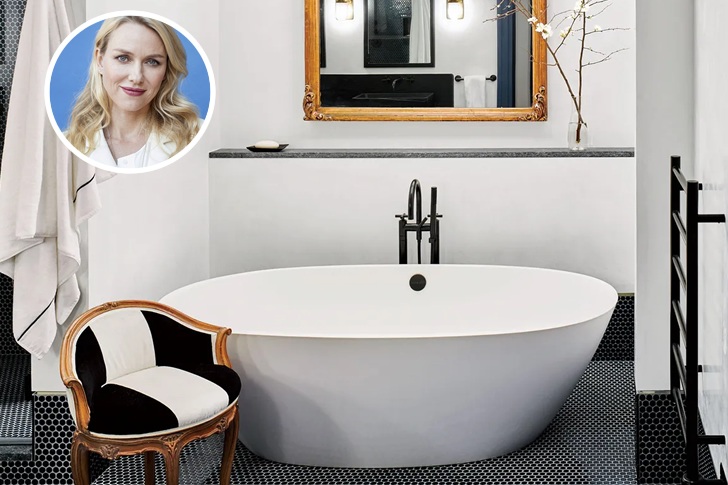 Sharing a bathroom as a couple is interesting since it does not only have to be roomy and beautiful, but it should also accommodate all the needs of both occupants. The bathroom of Naomi Watts and Live Schreiber is truly something out of the ordinary. The modern-chic design is really striking once you step into the room.
Designed by Ashe + Leandro, the room features a play on mirrors. A massive mirror stands in the middle right next to the roomy tub. Hanging from the roofing right above the tub is a gold and white chandelier from Ralph Lauren. The predominantly white room has black fixtures around to accent it, and the geometric pattern on the dark floor also breaks the clean white. A pretty vintage-looking chair lined with gold and cushioned with black and white sits right next to the tub. Another mirror opposite it hangs with a gold lining.
Alicia Keys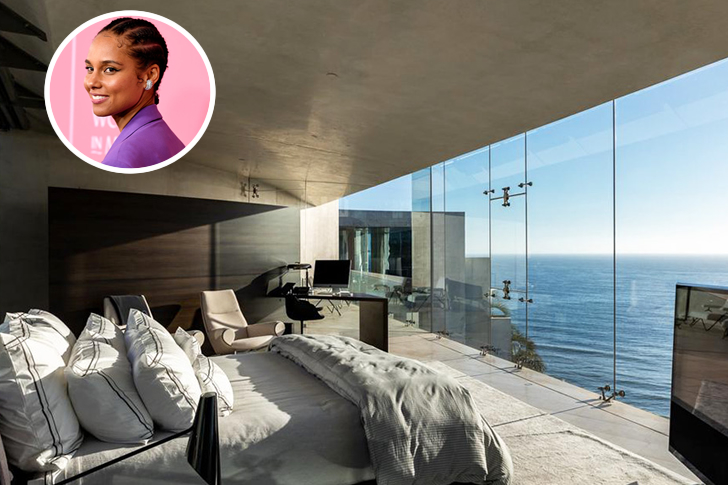 This bedroom is one of the best ones we've ever seen! When you enter the bedroom of Alicia Keys, the first thing you will surely notice is the spectacular view of the ocean. The entire wall is lined with glass, so you can really appreciate nature right outside. Located on top of a cliff, the mansion is 11,500 square feet wide, and it probably has a great home security system. It looks pretty familiar since it was the same mansion where Tony Stark lived, and was featured in the Marvel Cinematic Universe movies.
Inside, the interior is mostly dark and gray, and the industrial theme really contrasts the bright tropics outside. Since it sits in front of the beach, a lot of natural light can flood in to easily brighten the room. Only a Grammy Award winner can have something as luxurious and modern-looking as this bedroom. The rest of us are very jealous of her!
Cindy Crawford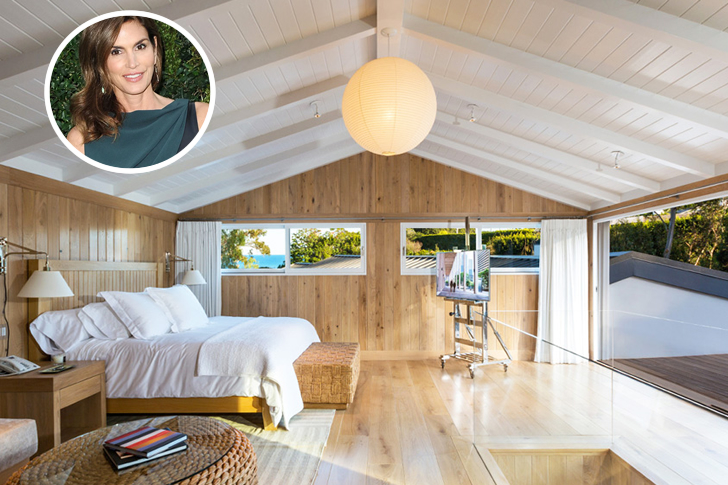 Being a celebrity really gives you access to the most spectacular views even while you're taking a bath. Cindy Crawford and her husband Rande Gerber have a Mexican home that houses the most beautiful simplistic and elegant bathroom. It features stone walls and a stone tub made by Legorreta + Legoretta. With a lot of natural light coming in from the glass doors that lead to the balconies with scenic views, their bathroom can be the most relaxing space one can only imagine. Outside, there is a lounge chair where they can unwind after a good bath as well.
The same designers are responsible for the theme of the rest of the mansion, too. For sure, the couple's home insurance must cost a lot. Nevertheless, with a net worth of $400 million, we are sure she can spare a million, if not hundreds of thousands of dollars, right? Not only do they have the best materials used for their house, but it is also located at a prime spot that would make anyone jealous.
Justin Bieber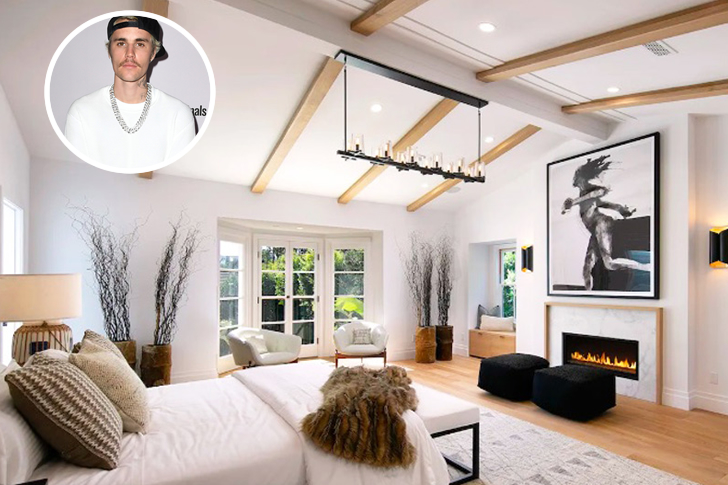 Being one of the world's most famous pop stars ever can certainly afford you the home of your dreams. Justin Bieber is one of the wealthiest celebrities of his age. When he married model Hailey Baldwin, the couple decided to buy their own abode located in Beverly Hills. They made hefty investments on this stunning and luxurious estate, and the newlyweds certainly made a home out of it. It has five bedrooms and a total of seven bathrooms. The huge place is 6,000 square feet wide and comes with a price tag of $8.5 million when the newlyweds purchased it.
Their bedroom is truly something out of the ordinary. A gas fireplace sits in the middle of the far wall and a terrace opens up just beside it. On the ceiling are oak beams to accent the room with natural browns. They also have a marble bath in the master's bathroom.
Kourtney Kardashian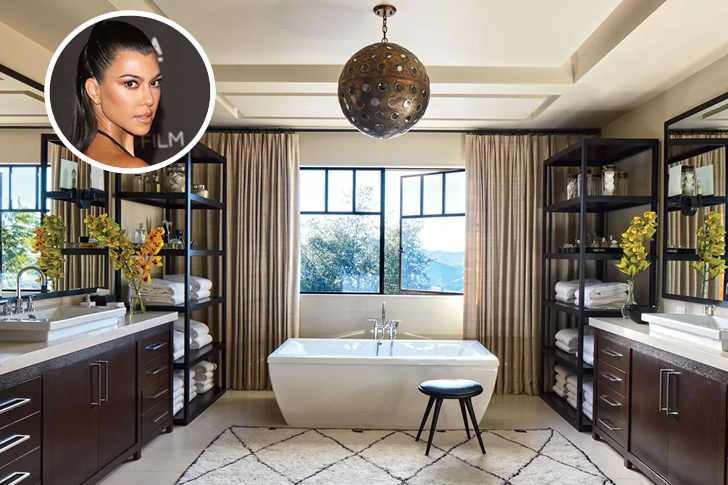 Just like her sister and any other person with a house, Kourtney Kardashian also has her own bathroom in her own house. Similarly, she got Martyn Lawrence Bullard to do the design of her home in California. He did just the same with her bathroom by getting a beautiful bathtub from Waterworks with Kallista fittings.
The room immediately opens to an open space. In the middle of the flooring is a rug, which is probably more expensive than our rugs, and to the far end is the tub. Beside it is a stool and on either side of the walls are sinks, vanities and shelves that have all her bathroom essentials. These feature limestone counters come from Ann Sacks, the sinks are from Kohlen and the same fittings are from Kallista. In the middle of the room hangs a Downtown light that looks like a disco ball. Very spacious, the room can easily be used by her family altogether.
Meghan Markle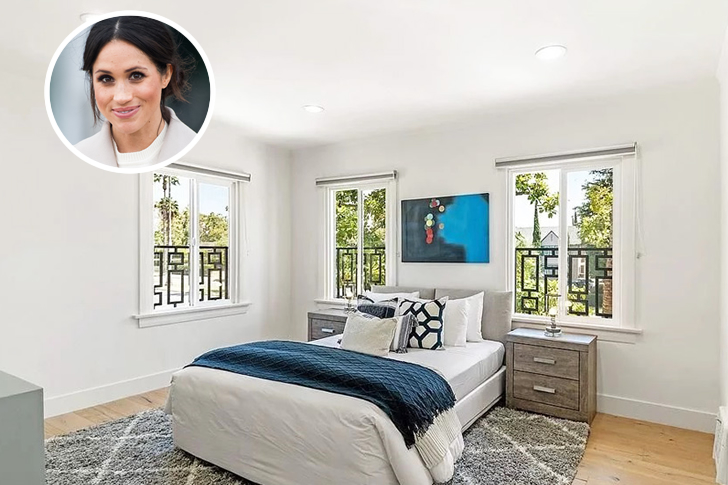 Now known as the loving wife of Prince Harry, Meghan Markle is living a very different life. Before she became royalty, however, she used to be married to Trevor Engleson. With him, she lived in a beautiful Los Angeles home with a colonial theme. The house had four bedrooms and was equally elegant and cozy to the Hollywood stars.
Their master's bedroom has white walls and ceilings. The room, along with the rest of the house, had unique window designs. They had intricate geometric patterns on them, and they popped as a subtle but artsy accent to the otherwise plain house. Their room had pops of blue in it, and the lush greenery outside was perfectly visible as well. This may not have been a royal dwelling, but it was beautiful in its own right. The degree of style and sophistication shown by Meghan really shines through.
Megan Mullally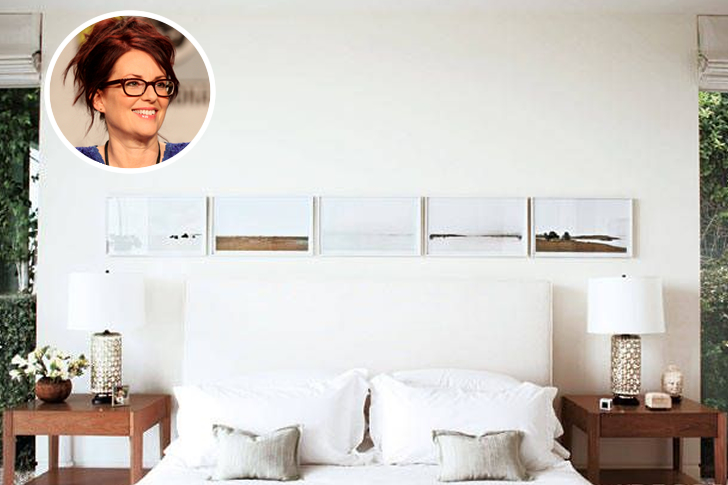 Who do you think can pull off being nominated seven times in a row for a Screen Actors Guild Awards? It's none other than Megan Mullaly for her various portrayals. She is also the recipient of eight Primetime Emmy Award nominations. This actress has been working hard and has been a regular cast member of Breaking In, Children's Hospital and In the Motherhood. Her comedic skills are also seen in Parks and Recreation, Up All Night and The New Adventures of Old Christine.
When it comes to her bedroom and house, Mullally likes it simple. Her bedroom was designed by Ames Ingnam. Fixtures in the room include vintage mercury-glass lamps and Holly Hunt side tables. The house she shares with husband Nick Offerman is a modern two-storey house tucked in one of the hills of Los Angeles. While white is the estate's predominant color, it also has contrasts and colors while keeping the designs to a great degree of classy and clean.
Emmy Rossum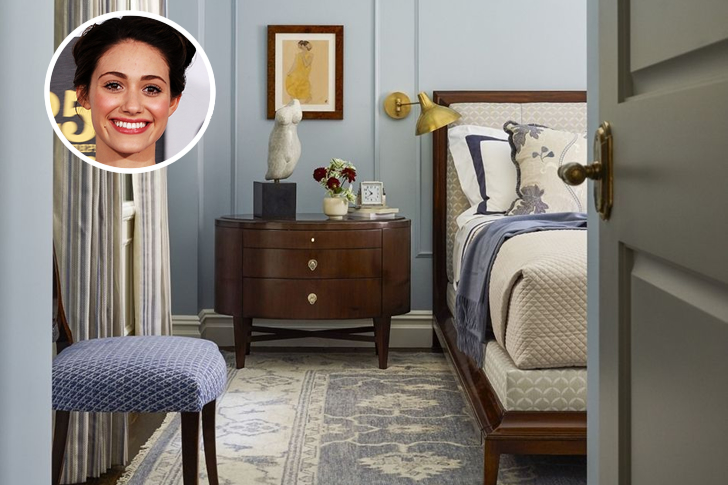 Starring in the science fiction The Day After Tomorrow, Emmy Rossum has since then received critical acclaim for her other works. She also took the lead role in the movie adaptation of The Phantom of the Opera. As a singer-songwriter, Rossum released her debut album Inside out in 2007. A follow-up album was released back in 2013, which also got great reviews. The actress is also related by marriage to the designer, Vera Wang, who married her investment expert and real-estate developer cousin.
Rossum lived in a one-bedroom apartment in Manhattan, with a sizable masters bedroom. Antonio Buzetta designed the room, with her bed frame sourced from Baker. The mattress came from Custom Comfort Mattress. The walls are lovely, too and were painted by Farrow and Ball's Parma Gray. She no longer owns the apartment as she reportedly sold it in 2017 for $1.1 million.
Lori Loughlin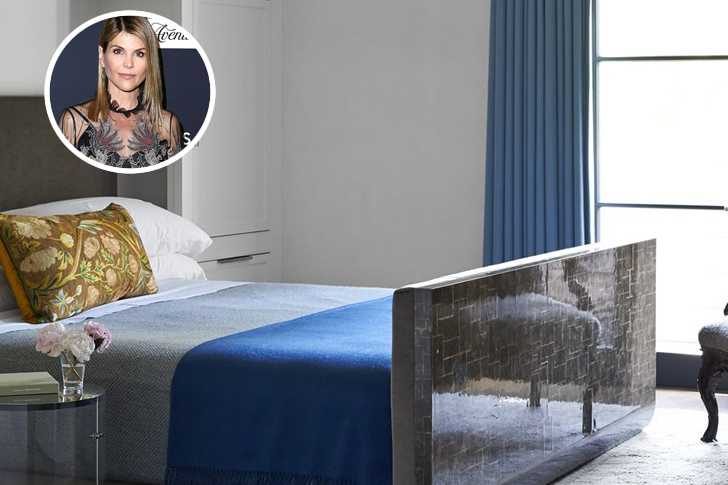 Better known for playing the character Rebecca Donaldson-Katsopolis, the actress and producer Lori Loughlin has appeared on both Full House from 1988 to 1995 and its sequel on Netflix, Fuller House, from 2016 to 2018. She also co-created, starred, and produced Summerland. Loughlin has always been interested in acting even at a young age, and eventually started her career as a model at the age of 11.
The actresses, together with husband Mossimo Giannulli, truly know what to look for in a house. Their Los Angeles home boasts of a Mediterranean style, with glass panels all throughout the house. Its flooring is made of basalt, while its fixtures are provided by known brands like Lucca Antiques and Mattaliano. Their bedroom's curtains are made of wool, with the pillows covered in 18th century embroidered silk. Too bad, though, that they already sold this mansion, but they can always buy another one.
Christina El Moussa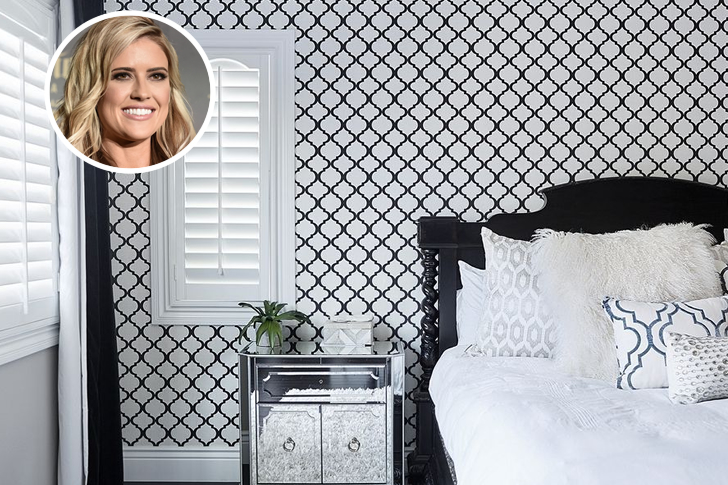 Christine El Moussa, now known as Christina Haack, was the former wife of American TV personality Tarek El Moussa. Though they had their lawyers had already finalized their separation in 2018, the duo still co-stars together on Flip or Flop, a show on HGTV. Haack also has her own show Christina on the Coast.
As a real estate investor, it is expected that the TV personality would only select the best for her home and bedroom. When she was still sharing her Yorba Linda home in Orange County, California, with El Moussa, their master's bedroom featured a monochrome design, which matched the overall style of the whole house. Its trellis pattern highlights the glam vibe Haack wanted for the house. The accessories and the wallpaper were also perfectly aligned with the overall theme of neutral and monochrome. Her new bedroom? It now features a sleeker and transitional design, reflecting her current life choices.
Rihanna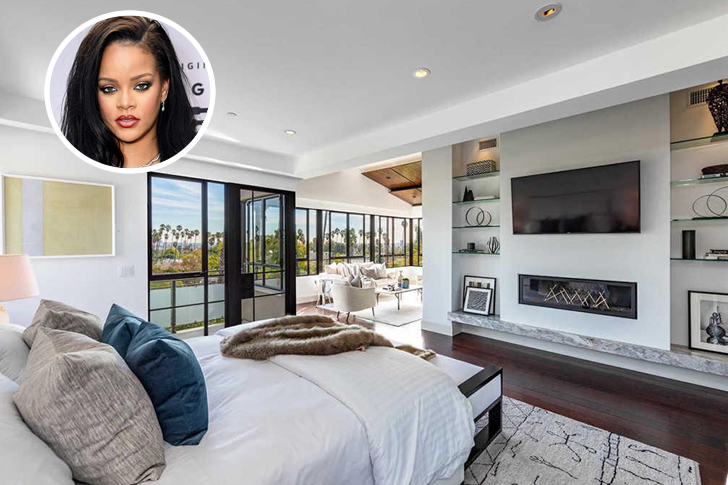 Umbrella singer Rihanna is well-known for being excellent at what she does. Her songs and albums had all been chart-topping, and her music, a mix of pop, R&B and dance, were all critically received. With her album sales reaching over 250 million worldwide, Rihanna can get away with just one name and a fat bank account. There are perks to having so much money, of course.
One such benefit is having multiple houses, one of which is her mansion in Hollywood Hills. She put it up on the market for $7.9 million, and with six bedrooms and more than 7,000 square foot flooring, the house is certainly a steal. While no one has bought it yet, she is renting out the place for a reasonable price of  $35.000 a month, considering how elegant and beautiful the property is. The master bedroom comes with a fireplace and a private lounge, indicating that the rest of the house is just as lovely and elegant.
Cameron Diaz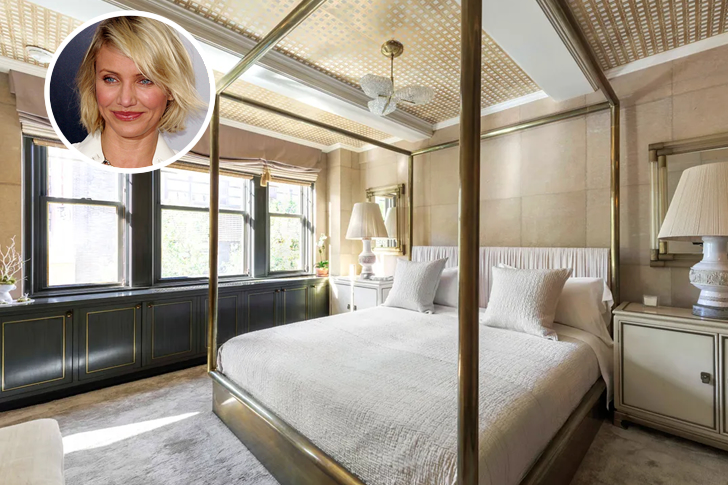 Multi-awarded actress Cameron Diaz is one of the top-billed celebrities in Hollywood. In 2013, she was named one of the highest-grossing in the above 40 category, and as of 2018, her films have already grossed over $3 billion, with worldwide sales of more than $7 billion. We remember Diaz for movies like Charlie's Angels and Gangs of New York, and was also the voice of Princess Fiona in the Shrek series.
The actress owns a home in New York that she has put up in the market for $4.25 million. She had this heavily renovated to reflect her own preferences and to have the California vibe, despite the apartment being in New York. With relatively high roofing and silk linens, the master's bedroom has that airy ambience. At night, the dark cabinetry provides the necessary warm color for an evening of relaxation.
Cher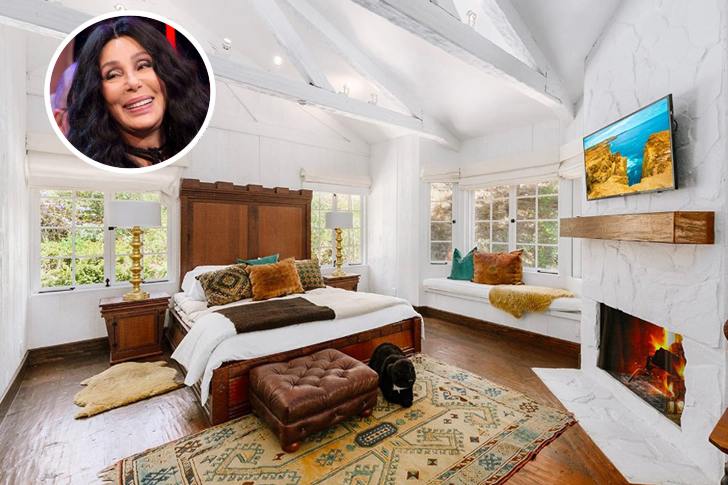 If you are considered as the "Goddess of Pop," there has to be some weight into that title, right?. Cher has proven herself to be an influential figure in Hollywood by embodying female autonomy in a society that men have dominated. She has also worked in different areas of entertainment, making an impact on each area and altering her style depending on what is needed.
Such dedication could also be seen in Cher's house and bedrooms. The singer has just recently sold his Beverly Hills retreat house, with an asking price of $2.5 million. It is still packed with her flair and personality. The master's bedroom is spacious and features vaulted wood beam ceilings. The roofings are high, and it has a wood-burning fireplace. Sitting in the bedroom means seeing the vast open space overlooking the property. Whoever purchased it surely got a win this time!
Meg Ryan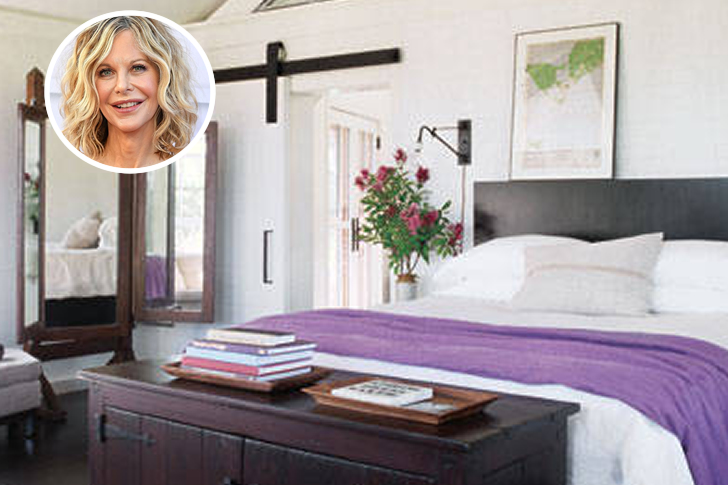 Can you believe that Meg Ryan started her career in the Hollywood industry with minor and supporting roles? It seems like she has been a very bright star right from the start of her career, given her super acting skills — but yes. Before establishing herself as the leading lady of romantic comedies, Ryan started in independent films like Promised Land and in When Harry Met Sally, where she received a nomination for a Golden Globe Award.
Despite all the glitz and glamor, however, when it comes to selecting a house, the actress is all about going back to basics. Her house in Martha's Vineyard is enormous but has that rustic feel to it. The simple lighting, glass partitions, vintage lines, and high ceilings all contribute to that homey vibe. When stressed out, her bedroom designed by Marsha Russel is her refuge. With natural lighting throughout the house, the place probably does not even consume great amounts of electricity.
Rosie O'Donnell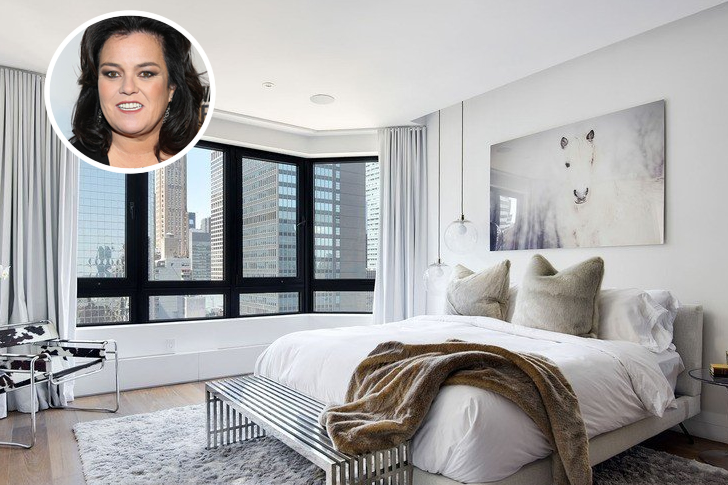 Between 1996 to 2002, Rosie O'Donnell hosted her own syndicated program, The Rosie O'Donnell Show. Before this, however, she had her career jumpstarted through the TV series Star Search in 1984, right after she began in comedy as a teen. The host was rather controversial for having frequent spats with high-profile personalities, but her shows have always been given recognition, with several Daytime Emmy Awards under her belt.
When it comes to choosing her residence, O'Donnell doesn't consider the price tag. She recently just dropped $8 million for a swanky penthouse at Midtown's East's 255 East 49th Street. It is a modern and sprawling 3,563-square-foot house with four bedrooms. The master's bedroom boasts of a view of Midtown Manhattan. Its white walls and wooden flooring give that contrast and variety O'Donnell had wanted. She is, after all, partial to a more contemporary and clean theme for her house.
Jax Taylor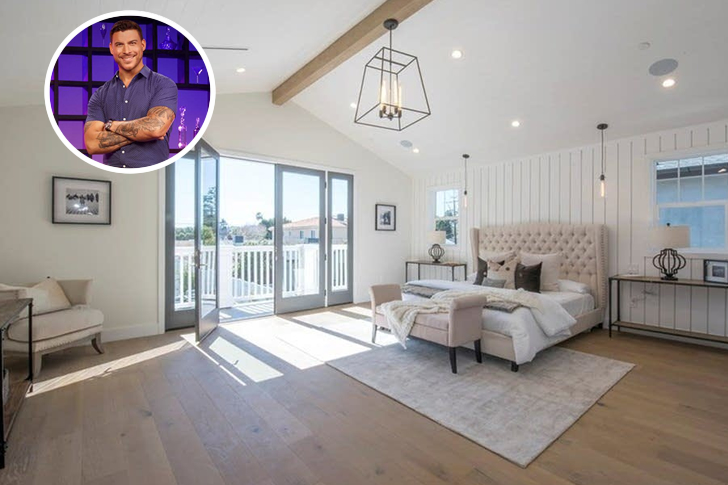 Jax Taylor is an American TV personality, actor and model. He was part of the reality TV series Vanderpump Rules from Seasons 1 to 8. This is also where he met his future wife, Brittany Cartwright. The show was so successful that it had a spinoff, Vanderpump Rules: Jax And Brittany Take Kentucky, which featured the couple.
The two married in 2019 and just recently announced that they are expecting a new member to the family by April 2021. With this change, they decided to ditch the apartment life and go for a decent-sized house in the expensive neighborhood of Valley Glen. They reportedly purchased the house at a mortgage for $1.9 million. They are now just a stone's throw away from fellow celebrities like Tom Sandoval and Katie Maloney. The sprawling house has vaulted ceilings and plenty of artistic designs. There is a minimalist touch to it, which makes their bedroom even more appealing.
Courteney Cox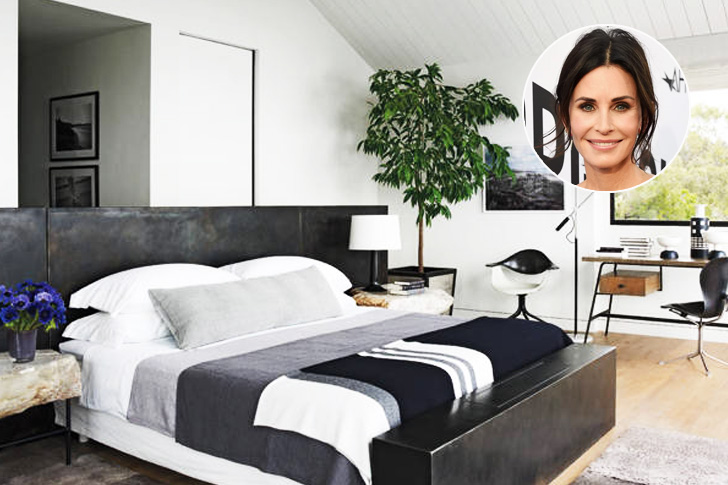 F.R.I.E.N.D.S.  cast member Courteney Cox is a well-known actress not just for portraying Monica Geller but also for her other credit roles in various films. She appeared on  Bedtime Stories, Ace Ventura: Pet Detective, and Just Before I Go. Her role in the sitcom F.R.I.E.N.D.S., however, was the most memorable. Did you know, though, that she initially auditioned for the role of Rachel Green? What would it have been with Cox playing that character?
Now that she hasn't been that active in her acting career, Cox spends her time in her Malibu home, where she feels the safest. Neutral is the theme, with grey dominating the house's colors. Her bedroom follows that motif, with the head and footboards in zinc. Her beddings were provided by Deborah Sharpe Lines and the two-tone leg chair by George Nelson. The master's room also has a connection to the courtyard, for when she feels going outside instantly.
Hilary Swank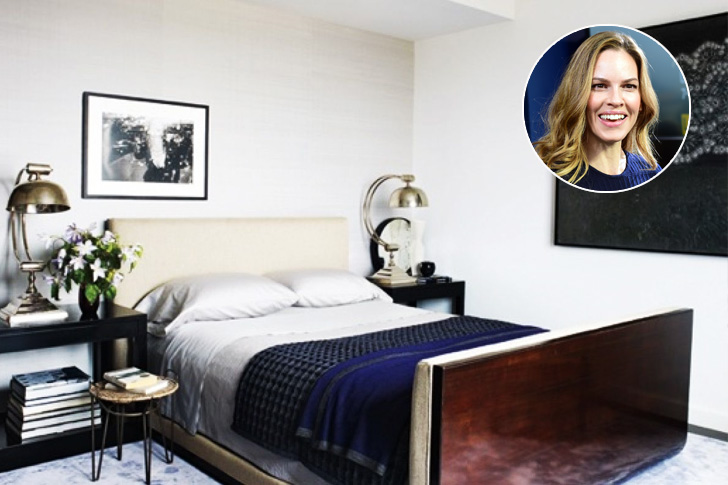 The Next Karate Kid star Hilary Swank had her film debut in a minor role in Buffy the Vampire Slayer. She then starred in Beverly Hills, 90210, and in movies like Million Dollar Baby and Boys Don't Cry. With her numerous Academy Awards, Golden Globe Awards, and Critic's Choice Awards, it shouldn't come as a surprise that the actress was named one of the most influential people by Time magazine in 2005.
Before her career took off, Swank and her mother lived in a car with nothing but the gas money in their pockets. Now, she lives in a very spacious Manhattan apartment. Expensive paintings adorn the walls of her new home. The beddings, bedside tables, and even the rugs are all from Calvin Klein Home. Her story is an inspiration to many since a lot face similar financial struggles at the start of their careers, but just as with Swank, perseverance can go a long way.
Sarah Jessica Parker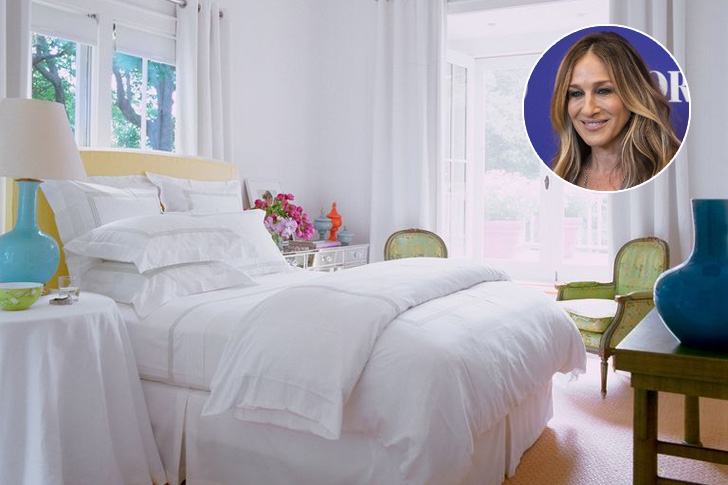 Given credit as one of the greatest female characters on American TV, Sarah Jessica Parker has proven time and again that she is a crowd darling. She started in the entertainment industry at the age of 11 in The Innocents. After that, she appeared in the Broadway musical Annie, taking the title role. She also starred in a slew of films, including Hocus Pocus, Failure to Launch, and Ed Wood. TV, however, is her first love, so she went back to it in the series Glee.
She does not do that much filming nowadays, instead of being on set, her Hamptons home has become her favorite place. Sharing images and videos on Instagram and other social media of her Hamptons beach house appears to be her new hobby now. Her bedroom is a balance of brand and simplicity. She owns a Christopher Spitzmiller lamp and, on the flip side, an IKEA curtain to have the beach feel. When bored, she can easily go to the beach and frolic in the waves.
Amanda Seyfried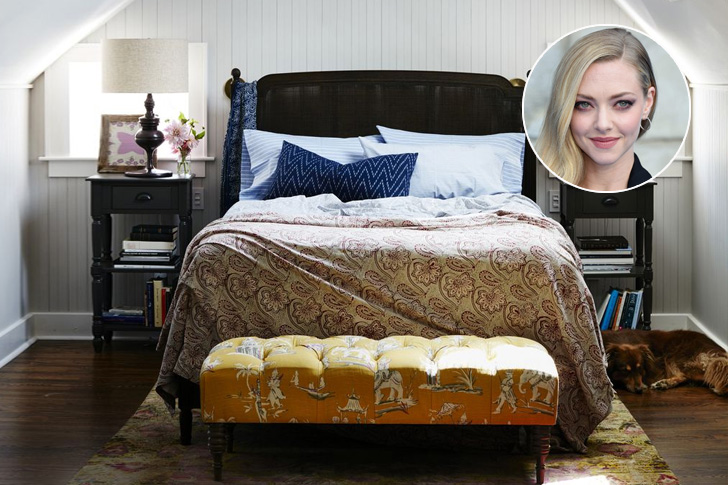 This 35-year-old singer and actress is one versatile and modern celebrity. She started modelling at the tender age of 11 before she branched off into acting by the age of 15. Her first role was as Lucy Montgomery on As the World Turns. What made her more famous was her credit role as Karen Smith in the teen comedy, Mean Girls as well as her recurring role on Veronica Mars as Lilly Kane. She also joined other highly successful films like Mamma Mia!, Red Riding Hood, and Ted 2.
For someone as modern as Seyfried, we would think that she would prefer living in the city, but she does not, especially when burdened by her work. She would usually fire up her vehicle and retreat to her Catskills home, where there are lush greens around and her dog, Finn, waiting for her in her bedroom. A rug from ABC Carpet & Home, as well as a pendant light from &tradition, adorn her wooden master's bedroom.
Andy Cohen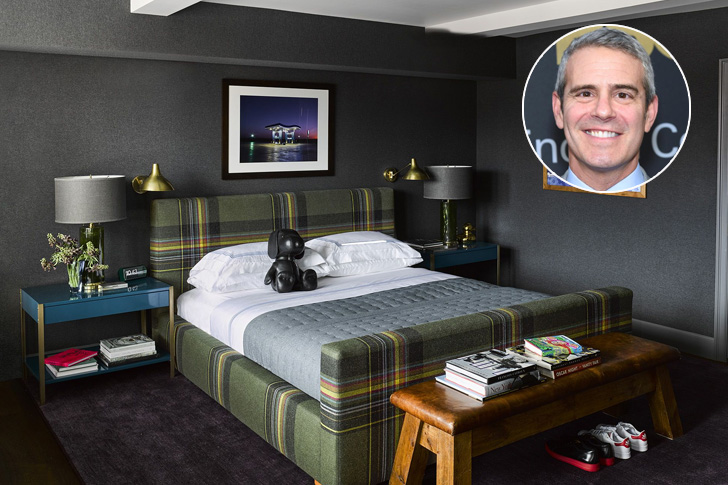 Serving as Bravo's executive vice-president for Development and Talent until 2013, Andy Cohen was primarily responsible for creating content and innovative formats, as well as identifying new talents. It may not be an easy job, but seeing many of his produced works, including Top Chef and
The Real Housewives, we can say he has been successful. Cohen is also the host and producer of Watch What Happens Live with Andy Cohen.
His strict attention to detail has reflected in his choice of home as well. He owns and manages a West Village duplex in New York. It is composed of three buildings that he merged to create his dream house. For sure, he installed the latest home security system, too. So what's in his bedroom? Well, his linens are Pratesi, and Black Swan Antiques supplied the leather bench. The rest of the fixtures, such as the resin lamps and rug, are luxurious, too!
Jonny Buckland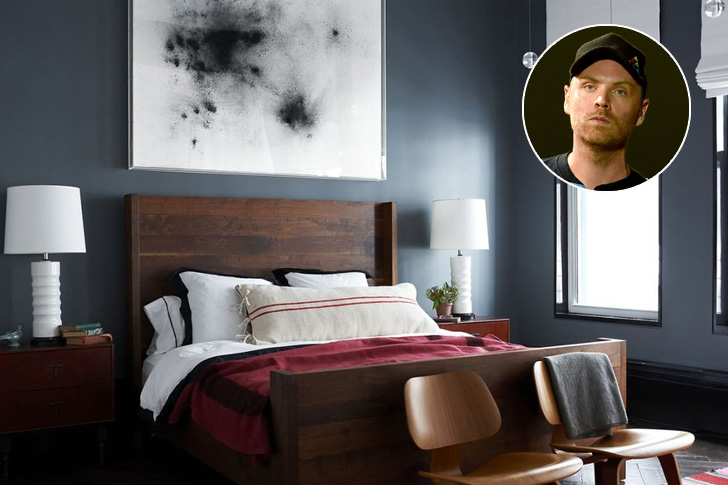 Most of the time, we discover our passions out of inspiration from something or someone. For Jonny Buckland, his journey to becoming a talented musician began during his childhood when he started playing his guitar to songs created by his favorite artists. A few years later, during his time in college, Jonny met a couple of friends, including Chris Martin, and eventually made the band Coldplay.
Over the years, Jonny has taken credit for providing Coldplay's songs with catchy and memorable riffs. Even so, his artistic vision doesn't end there. Every once and a while, the guitarist and his wife and kids would spend a few months in their New York apartment, which is nothing short of lovely. The home is designed beautifully with elegant yet straightforward aesthetics that are also apparent in its bathroom and master bedroom. Not only that, but this beautiful sanctuary also has more than enough space for the musician's kids to play!
Alexandra Wentworth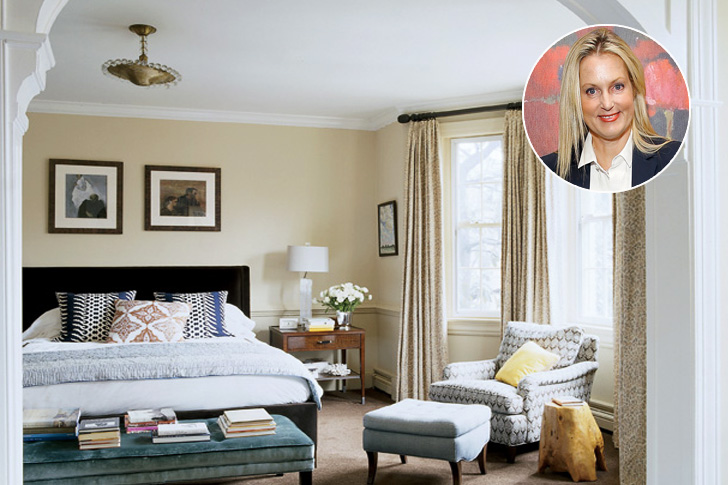 After finishing her studies with a Bachelor of Arts degree, Alexandra Wentworth began her career in the entertainment industry. Her first stint in the business was in the sketch comedy series In Living Color, where she was immediately recognized for her celebrity impressions. Along the way, Alexandra also had the chance to appear in other titles such as Seinfeld, Felicity, The Marriage Ref, and Head Case.
With all the work she's done through the years, the comedian-actress deserves a break every so often. What better way to do so than in her cozy home? Whenever she isn't busy with an upcoming project, Alexandra spends time with her family on this lovely property. The place is filled with gorgeous artworks and, not to mention, a collection of corals displayed in the living room. With that said, the bedroom is also just as pleasing to the eyes as it is a great place to have a good night's rest.
Jonathan Adler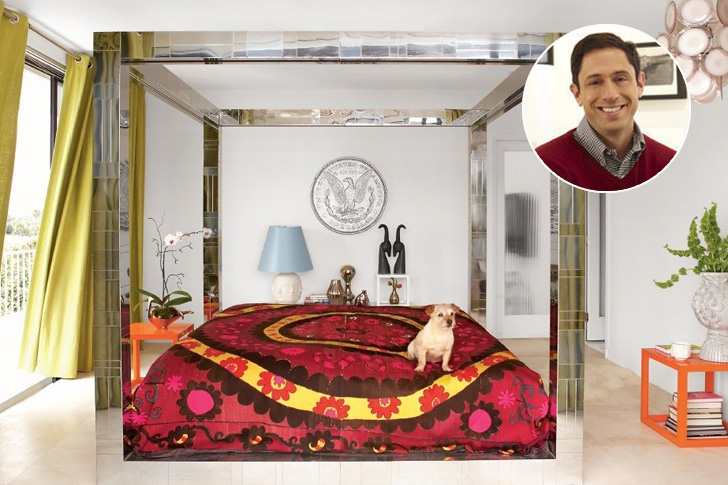 A typical case of "like father, like son," Jonathan Adler's passion for pottery only became stronger after seeing his father enjoy the activity, as well. By the time he was in college, Jonathan would also take time studying and practicing at a nearby art school. Despite his teacher's dislike for his work, the at-the-time aspiring designer pushed through with his work and has since made numerous noteworthy investments in the industry.
Through the years, Jonathan has never failed to showcase his business skills and even has more than a few stores of his own, too. With his talent for art and, of course, interior designing, it comes as no surprise that he also applied his vision to his own home. Each area of the house can even be considered an artwork in its own right. That includes the bedroom, featuring its captivating centerpiece—the bed.
Ellen Pompeo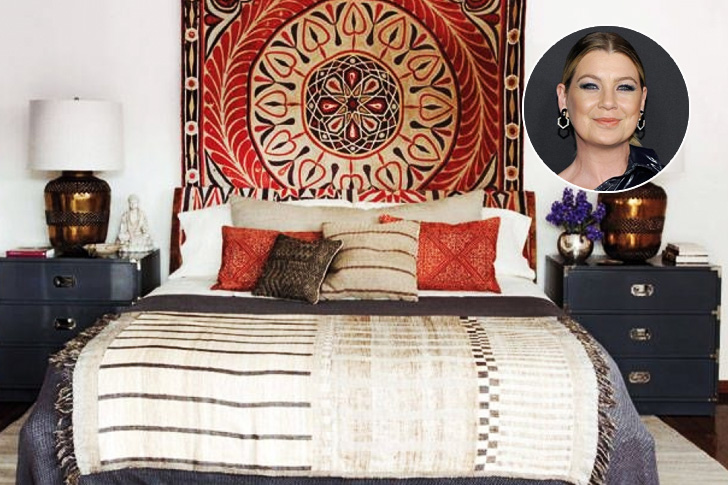 Before she found a door of opportunity to enter the entertainment industry, Ellen Pompeo worked as a bartender. With the gift of retrospect, all her hard work has since paid off. After a few stints appearing in commercials and landing guest roles, Ellen eventually received widespread recognition for her performance as the titular character in Grey's Anatomy. Since then, she's also spent some of her investment money on a production company called Calamity Jane, which already has a few upcoming projects in the works.
Besides acting, producing, and directing, Ellen is also quite fond of the world's various cultures. If you need any convincing, then take a look at her home! Among its many rooms, the house's most
eye-catching area would surely be the actress's bedroom. It showcases Egyptian wall decor, Moroccan-inspired lamps, and Indian silk-and-wool throw.
Monique Lhuillier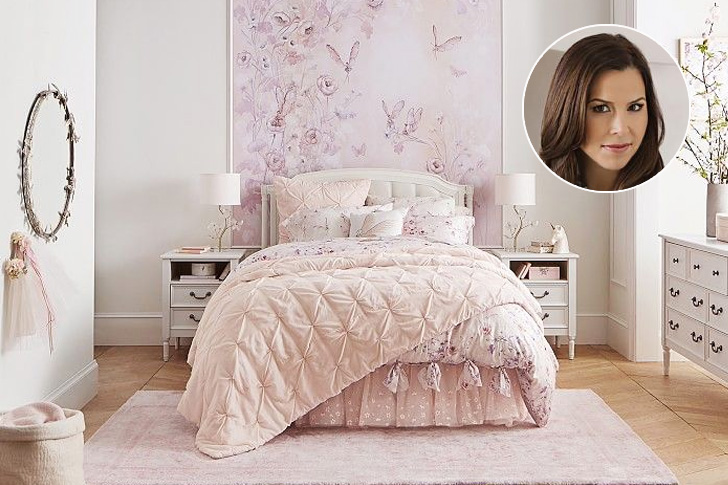 The discovery of passion can happen at almost any point in one's life, even in the most unexpected circumstances. We can say the same for Monique Lhuillier. She realized her skills in fashion after designing her and her relatives' dresses for her wedding. Since then, Monique has become an established figure in the business and has even taken credit for producing dresses for big-name figures such as Taylor Swift, Blake Lively, and Michelle Obama.
Besides her knack for fashion, Monique also knows her way around her home's interior design. Her Bel-Air mansion is nothing short of lovely. Each area is designed with utmost elegance and provides tidbits of Monique's various artistic tastes. It is also quite apparent in the bathroom and bedroom, both of which have a simple, neat, and yet vibrantly pleasing aesthetic, quite reminiscent of her fashion designs.
Ralph Lauren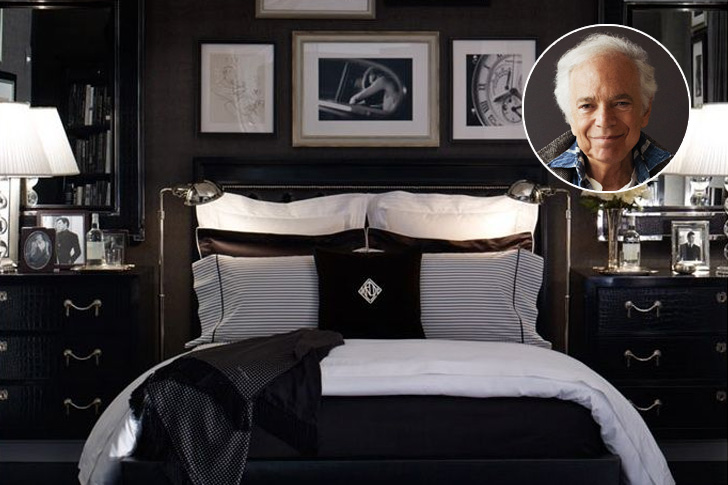 With his father being an experienced artist and house painter, perhaps it's safe to say that
Ralph Lauren inherited his love for art from him. His first experience in the fashion scene was when he worked as a sales assistant for Brooks Brothers, followed by his stint as a salesman for a tie company. His experience, hard work, and determination made Ralph one of the industry's well-known designers—owning his very own Ralph Lauren Corporation.
Besides his ever-blooming business, Ralph also made numerous investments in real estate. Through the years, the fashion designer has owned a couple of beautiful houses, each of which reflecting his artistic vision and preference. One such example is his Montauk home master bedroom, designed with an overall tropical aesthetic. Stay in it long enough, and you'll even think you're in a room of a world-class beach resort!
Ivanka Trump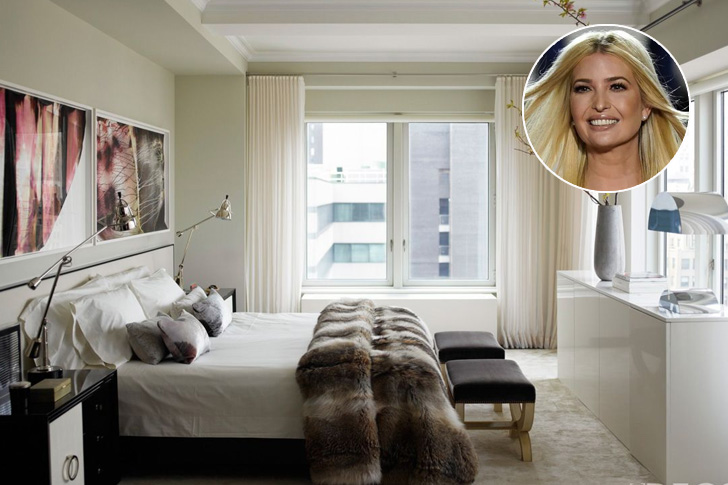 Despite her dad being the former US President Donald Trump, Ivanka Trump also has more than a few tricks under her sleeve. Graduating from her class as a cum laude with a bachelor's degree in economics, Ivanka has dabbled in many endeavors over the years. Notably, her Ivanka Trump Fine Jewelry and her series of clothes, handbags, shoes, and other accessories are just some of it.
With all the work she has done through the years, it comes as no surprise that Ivanka has since spent portions of her fortune on her home—a Manhattan apartment. Each section of the pad is designed with utmost precision, ensuring its residents a comfortable and relaxing time wherever they stay. With that said, the bedroom is arguably one of the more cozy areas of the property. Besides its minimalistic aesthetic, the room also has windows wide enough to view the city ahead—the city lights would surely be magnificent at night.
John Mayer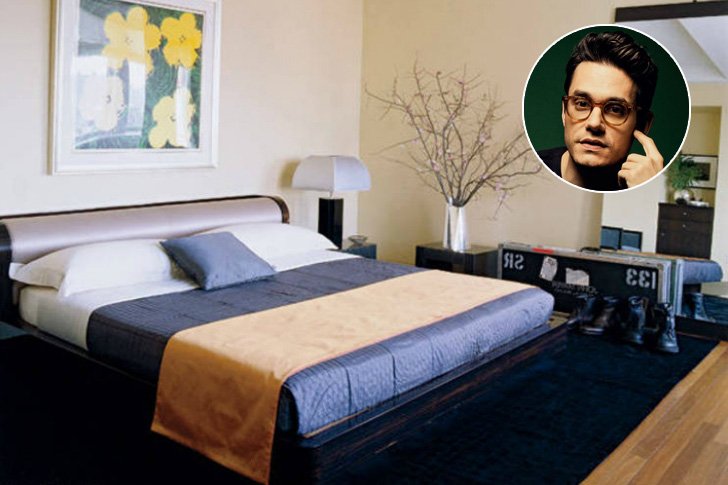 Passion can bloom from just about anything. For John Mayer, his love for music began after watching Michael J. Fox's Marty McFly play the guitar in the Back to the Future movie. From that point onward, John started learning how to play the instrument and eventually found his way to songwriting. Since then, he has become a well-known figure in the music industry, taking credit for releasing many hit records and winning a couple of awards along the way.
When John isn't busy working on a new record or going on concert tours, he would often spend most of his free time relaxing in his New York apartment. Besides the gorgeous living room, this humble abode also has an office, displaying many of his achievements and prized possessions. Even so, it would be quite a disservice not to mention his bedroom and master bathroom, both of which surely satisfy all of John's needs.
Keri Russell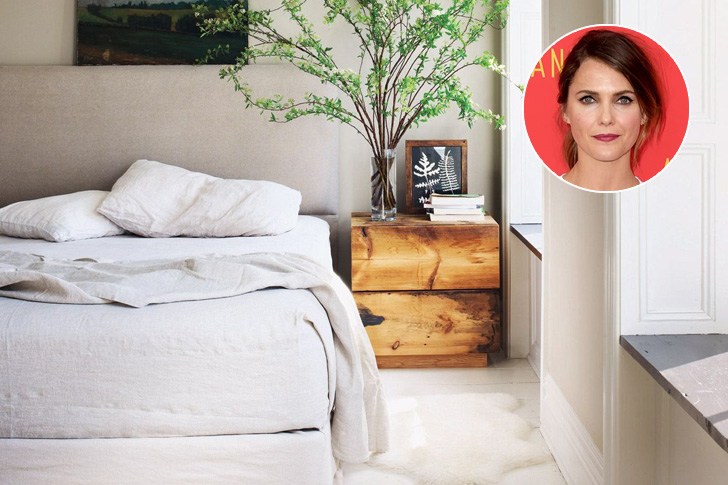 There are times when one thing can lead to another, and that's not necessarily a bad thing. One such example is Keri Russell, who developed a love and talent for dancing during her childhood. Although it was just a simple hobby, it landed Keri a spot in The All-New Mickey Mouse Club, performing on the show throughout its fourth through sixth seasons. Keri's other acting credits are in notable projects such as The Americans, August Rush, Dawn of the Planet of the Apes, and Felicity.
Unsurprisingly, with all the work she has done throughout her career, Keri spent a portion of her wealth on her Brooklyn home. From corner to corner, the property is nothing short of stunning and gorgeous. Well, the same can also be said for its bedroom, showcasing an ever-pleasant atmosphere and a bed that can provide sweet dreams to anyone who sleeps on it.
Donatella Versace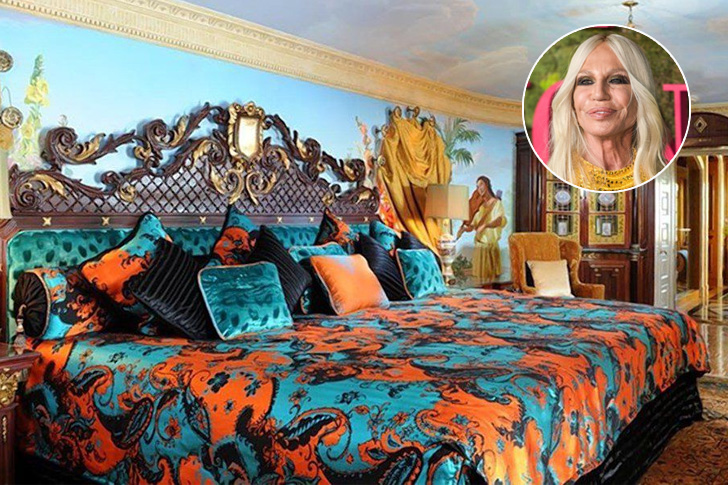 Like other lines of work, the fashion industry is quite a competitive one. It introduced us to many notable figures in the business through the years, such as the Versace siblings—Gianni and Donatella. After taking over for her brother, Donatella has brought the company to new heights of popularity throughout her leadership. Along the way, she and the Versace brand had the chance to work alongside many celebrities, including Madonna, Demi Moore, and Jennifer Lopez.
If there's one thing that Donatella is known for, it would surely be her preference to make the most out of her designs, whether for dresses, hotels, and other investments. With that said, her home is also no exception to this. Designed with her distinct artistic vision in mind, it comes as no surprise that the bedroom in Donatella's Milan apartment radiates nothing short of class and luxury.
Josie Natori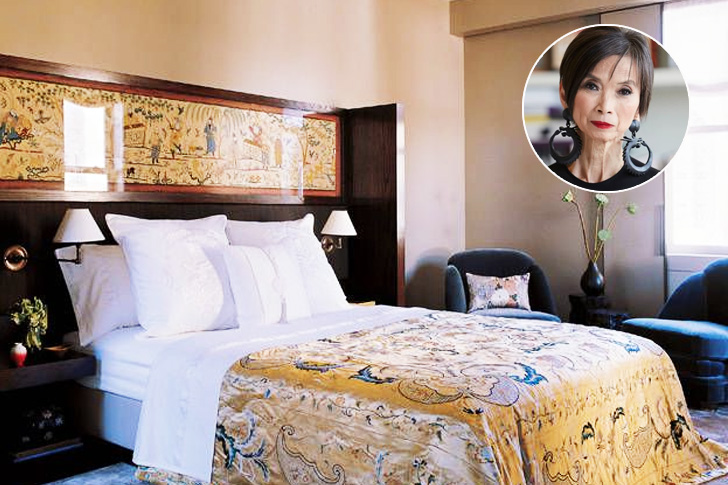 Since her childhood, Josie Natori is a figure of many talents. She has a passion for music and could even play the piano, providing solo performances alongside the Manila Philharmonic Orchestra at just nine years old. Since then, she also took time to learn about the business world's ins and outs. After a few years of experience, Josie has become famous for her fashion scene investments through the Natori Company.
With her knack for creating gorgeous outfits, it comes as no surprise that Josie has quite an artistic vision, and her Manhattan home is no exception. Besides the several inspired art pieces displayed around the property, she also saved a space for her two pianos if she's in the mood to be musical. With that said, her bedroom is also nothing to write off about, where even the bed's headpiece presents a lovely artwork.
Candace Bushnell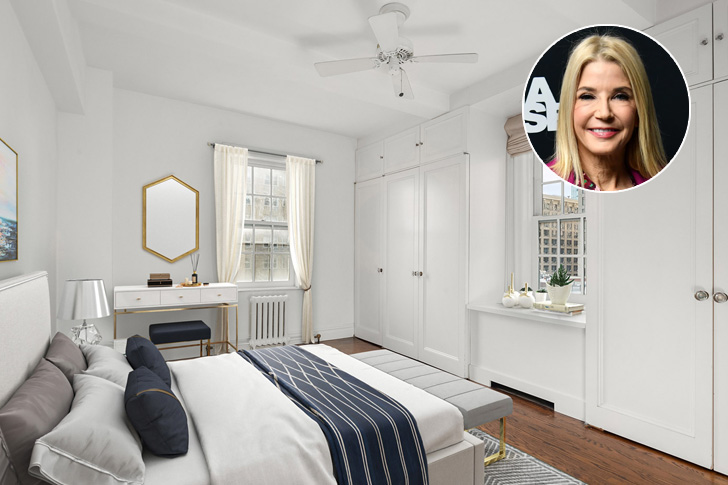 The beginning of one's journey can often be the most challenging, especially since they're still learning their way into a new world ahead. Well, the same can be said for Candace Bushnell, whose first work—a children's book—never saw the light of day. Despite the setback, it didn't stop her from her endeavor. Since then, Candace has taken credit for writing a New York Observer column titled Sex and the City—later adapted to a series and two movies of the same name.
Through the years, Candace has released more than a few best-selling novels, and along with it, earned quite a fortune. With that said, a portion of her earnings indeed went to her Manhattan apartment. Although each area is a work of art, the author prefers to keep things relatively more straightforward for her bedroom. It's not as vibrant as the other parts, but it's still undoubtedly as lovely as it looks.
Christian Siriano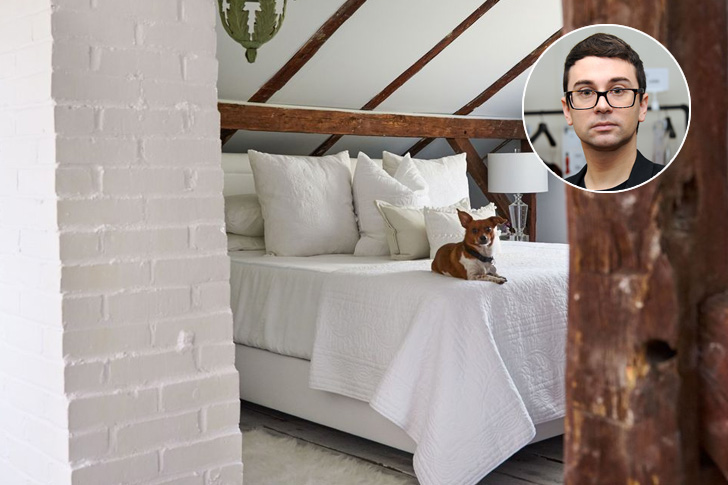 Throughout his childhood, Christian Siriano had a love for ballet and theater. Along the way, he discovered his passion for costume design, which eventually sparked his dream of pursuing a career in the fashion scene. After some time working as a freelancer, providing make-up and wedding gowns for his clients, Christian found his shot to fame when he competed in Project Runway.
After winning Project Runway's fourth season, Christian made investments in his very own brand. With the fortune he has accumulated, Christian spent a portion of it on his undoubtedly wonderful home. Everywhere you go, there's always something to admire and look at, such as the interior space's ever-vibrant walls and décor. However, Christian designed his bedroom with simplicity in mind, almost entirely different from the other parts of his home, but that doesn't mean it isn't just as charming.
Marisa Tomei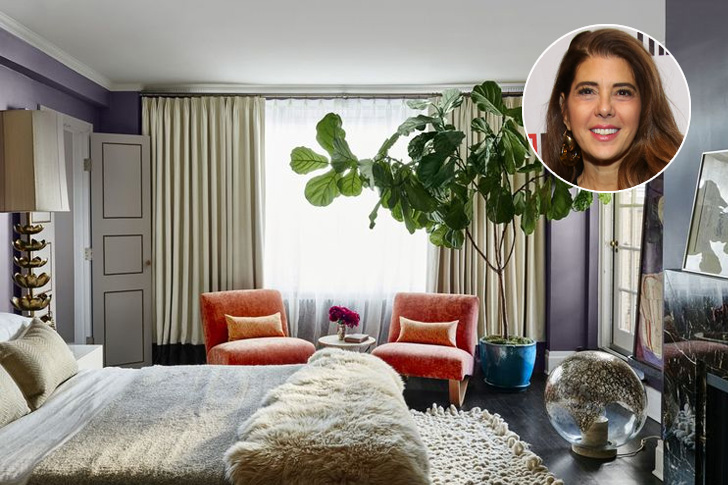 Throughout her childhood, Marisa Tomei often accompanied her parents. Both have a deep love for theatre—Broadway productions. After a while, this inspired Marisa to pursue an acting career. Marisa is recognizable nowadays for her work in titles such as A Different World, My Cousin Vinny,
The Ides of March, and of course, for her role as May Parker in the Marvel Cinematic Universe.
Besides acting, Marisa also loves furniture and would often browse online stores during her free time. For her Manhattan apartment, the actress spent a few points off her credit card to buy some of its furniture. Along with its gorgeous interior design, her home has undoubtedly become quite an artwork in its own right, with each area radiating nothing short of creativity. One such example is her bedroom, which showcases a vintage atmosphere that's quite apparent from its chairs to even the bed itself.
Roberto Cavalli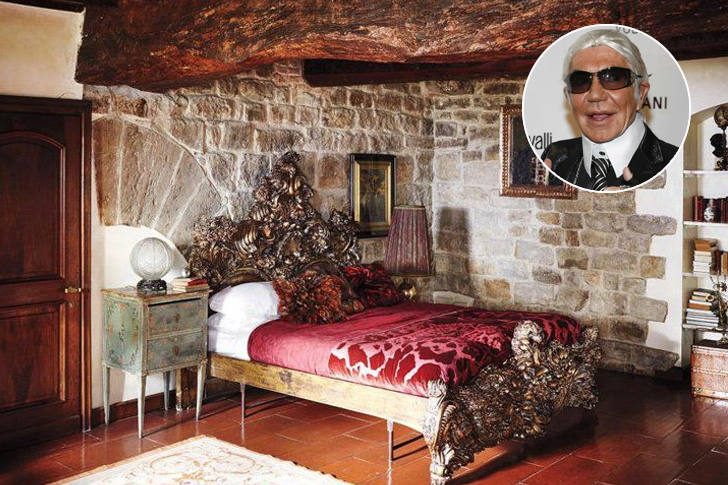 Another notable figure in the fashion scene, Roberto Cavalli, discovered his passion for art during school. He knitted a variety of flower prints at that time, which eventually caught more than a few fashion companies' attention. Since then, thanks to all of his hard work through the years, Roberto now has his very own eponymous fashion house.
Looking at his many designs, it's pretty apparent that Roberto has a knack for creating extravagant art pieces. Besides outfits, Roberto also isn't afraid of going all out with his house's interior design. With no hesitation and his foot stepping on the proverbial gas pedal, the designer's Tuscan villa is nothing short of luxurious. The bedroom alone is already akin to the stuff of royalty, featuring the
ever-so-lovely bed and its mirror-like headpiece, reflecting the artworks displayed around the room.
Kim Kardashian-West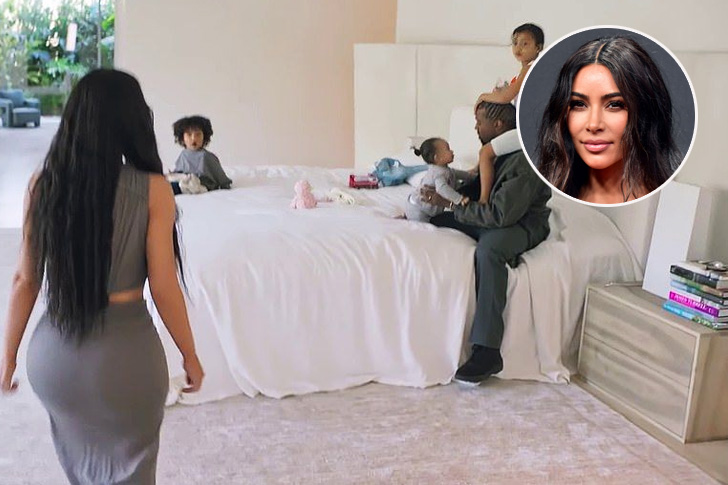 Kim Kardashian-West is well known for being a purveyor of a fashion statement in the industry. However, she doesn't just express herself in the clothes she wears because this entrepreneur also puts in huge investments toward designing her home precisely the way she wants it. Most of us know that the residence she shares with her husband, Kanye West, is a unique, monastery-like sanctuary, but have you ever wondered what it looks like from the inside?
Inside their home, you can see a predominantly white color can be seen almost everywhere. It's very spacious yet elegant. The bathroom is just as light and opens as the rest of the house, with
floor-to- ceiling glass doors that frame the view outside. An interesting countertop-like sink features a minimalist feel to it. Its unique design allows the water to drain away neatly with a tiny rectangular hole on the surface. Pretty cool, right?
Mark Badgley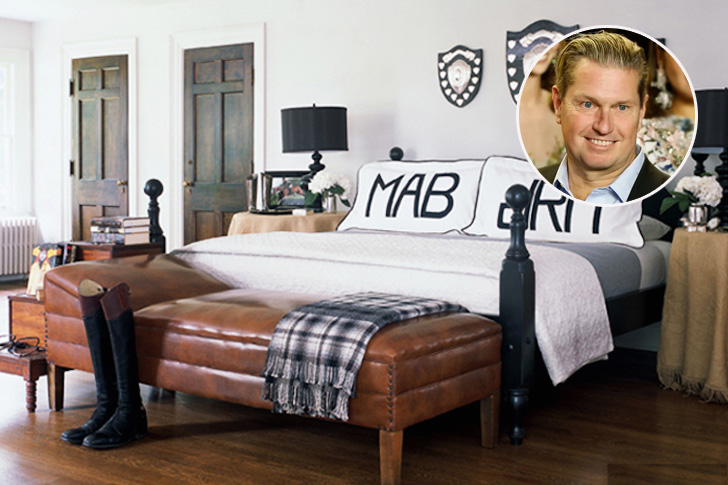 Fashion designer Mark Badgley is one of the founders behind the famous brand Badgley Mischka. He currently lives at the Moon Stone Farm, in Kentucky, with his partner James Mischka. Like everything else this duo touches, their countryside abode is a mixture of chic and casual, with hints of antiques and Hermes everywhere—huge investment, I suppose. A prevalent cottage theme is highlighted by items from the pair's luxury home brand. They also display some of their travel memorabilia, including two gorgeous candelabras from Mumbai.
While the living spaces are decorated beautifully, they certainly didn't leave out areas like the bathroom. In fact, the master bath features Carrara-marble flooring and walls and Duravit Sinks, which were fitted by Lefroy Brooks. Even the towels and bath mats are thoughtfully picked out and were from Leontine Linens. It is one of the most Zen places in their home, we assume.
Gwen Stefani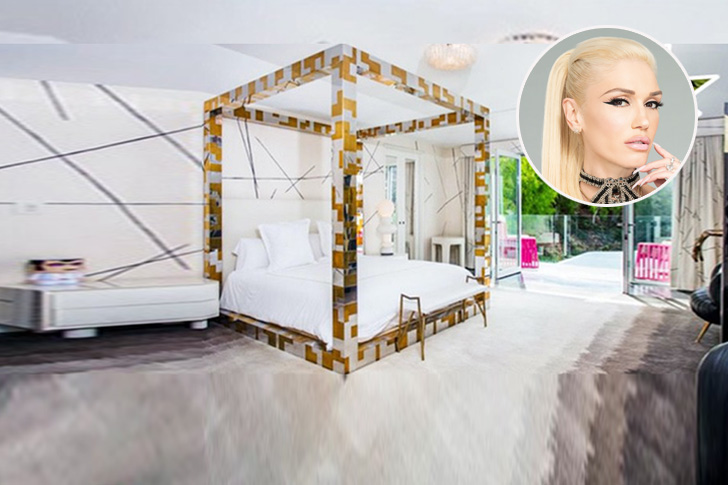 Gwen Stefani is among the artists who helped define the late 90s and early 2000s style. Her eclectic yet chic fashion is admired by many and certainly reflects her fun personality. She is also the designer behind the brand LAMB, so you know she'll be very hands-on when it comes to putting together the home she shares with her family. The singer-host currently lives in a multi-million dollar mansion, and every room has a degree of her creative touch.
Just take the master bedroom, for example. The most eye-catching piece is her gilded bed frame, which sets the tone for the rest of the space. The walls are painted in a neutral style but accented with patterned wall-paper. Stefani also has a panoramic view of the outdoor, thanks to the floor-to-ceiling glass doors that open up to a balcony.
Michael Bay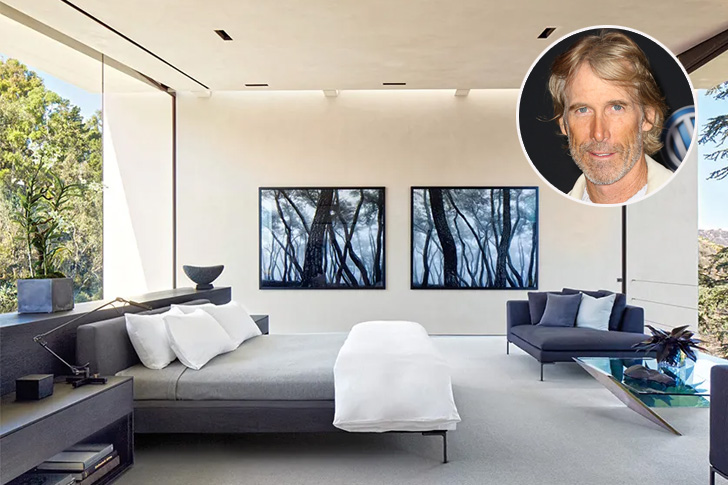 Director Michael Bay might be best known for movies rife with action and explosions, but his humble abode is a picture of calm. The three-story residence is the filmmaker's brainchild and brought to like by famed Miami architect Chad Oppenheim. It certainly is visually appealing, with sweeping lines and plenty of open space. The real highlight, however, is the living room that is surrounded by tall glass windows. It also opens up to the outdoors, where there are pool and entertainment areas.
The master suite mirrors this same theme. Furnishing might be sparse, but the bespoke walnut bed and art pieces that dot the space help maintain the Zen theme. Who needs a TV when you have an entire glass wall framing the gorgeous Los Angeles skyline? It is simple, in terms of décor, but worth the investment money he put into it.
Sabyasachi Mukherjee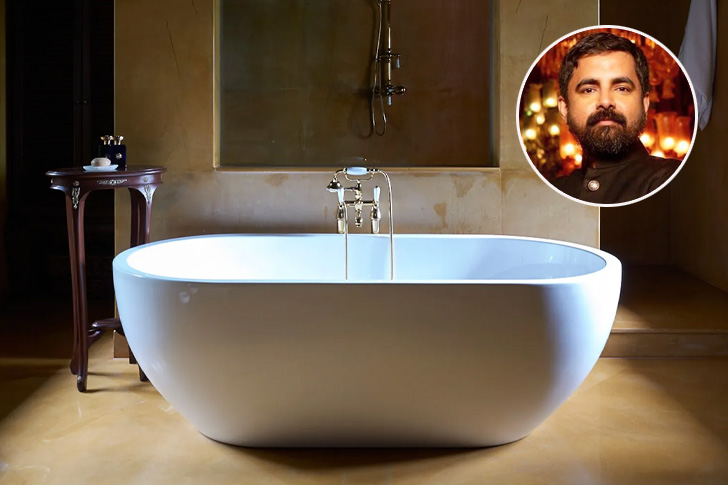 Sabyasachi Mukherjee's mansion in Calcutta is an absolute dream. Befitting the designer's brand, it certainly doesn't shy away from color and décor. We've seen some beautiful yet minimalist spaces so far, so his maximalist style is a refreshing break from all of that. Thanks to his eye for layering, he is able to execute everything tastefully and without it looking cluttered. Just take his bathroom for, example. It is as regal as it gets!
The centerpiece is the gorgeous bathtub, which should make you feel royal whenever you take a dip in it. The chandelier, which is hand-painted, hangs overhead—adding to the luxurious feeling of the space. Despite the grandiosity of the décor, however, everything still has a degree of coziness and warmth to it. It is every bit a family home, as much as it is a manifestation of his creativity.
Kris Jenner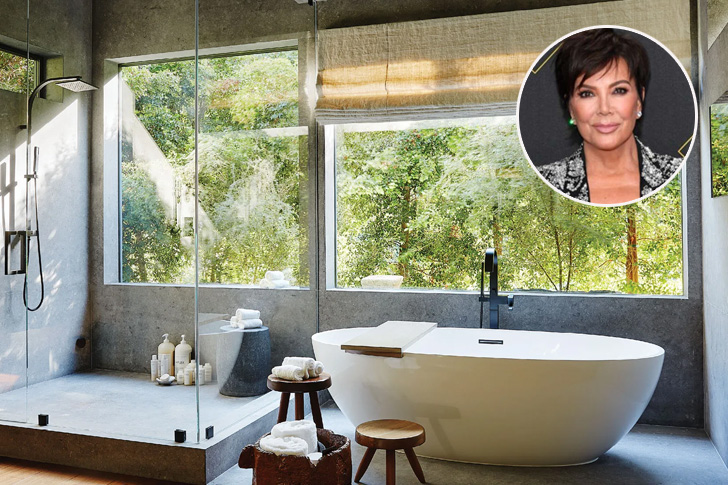 As the matriarch of the infamous Kardashian-Jenner clan, it's only expected for Kris Jenner to match the same level of extravagance that her daughters have. We're not sure if they had a hand in designing this walk-in wardrobe, but it certainly bears their mark. The mother-manager keeps her collection of Birkins in a special place in her home, one that befits their value. Any financial advisor might find these purchases bordering on the excessive side, but if it makes Jenner a happy woman, they are well worth it.
The walk-in closet is quite simple in terms of design, with neutral walls and a crystal chandelier that lends a subdued elegance to space. The neon sign that says "Need more money for Birkin" created by Beau Dunn welcomes anyone who enters it, setting the pace for what's to come. Spoiler alert—more of her luxurious collection!
Brian Atwood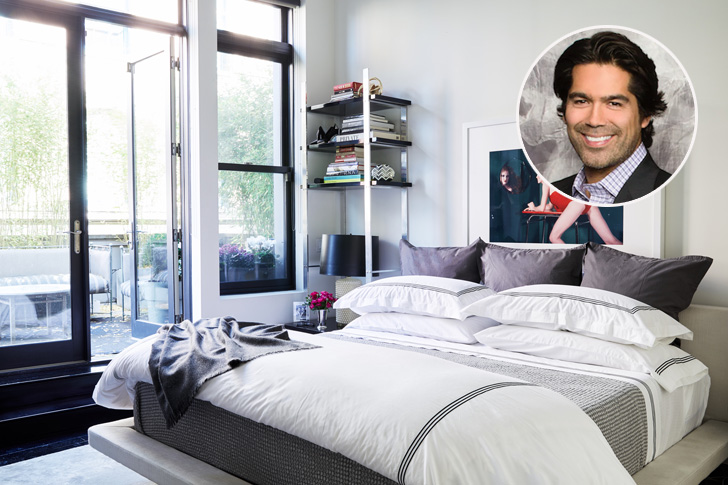 One great example of how you can make maximalism work for your home is Brian Atwood's Manhattan apartment, showing a degree of sophistication. The self-confessed "high-class hoarder" mixes different textures, patterns, and décor to create a space that is truly his. On display are some of his art books, a Tom Dixon tea set, vacation memorabilia, and his iconic designs over the years. Atwood is best known for his quirky collaborations with Arizona Iced Tea to create some truly memorable footwear.
This creativity lends itself to the interior design for the apartment's master suite. Atwood said that he wanted it to feel like a jewel box, hence using velvet wallpaper on both the walls and ceilings. The all-wood flooring grounds everything, keeping it from becoming too overwhelming. Balance is key when it comes to design, after all.
Cara Delevingne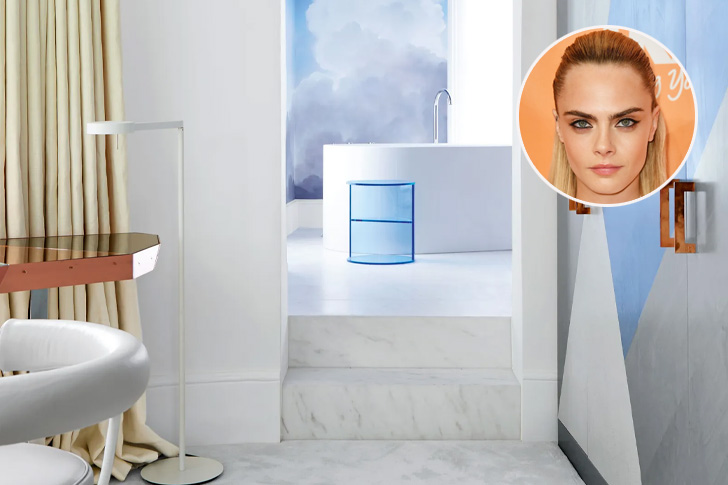 One might expect someone like Cara Delevingne to live in a high-rise that's decorated minimally. However, the supermodel continues to break stereotypes even when it comes to her home. Delevingne's property in London is a reflection of her fun and creative personality. It's got high ceilings and panoramic windows that bring in a lot of light to space. The décor echoes both classic and modern styles, but its overall effect is meant to create a peaceful sanctuary she can retire to after traveling.
The highlight, in our opinion, is the "heavenly" bathroom which features a cloudscape hand-painted by muralist Sarah Holcombe. It calls to mind Botticelli's "The Birth of Venus," which probably makes every bath an absolute delight for the model-actress. This one might have taken a bit of investment planning, but we're sure it's completely worth every penny.
Lindsey Buckingham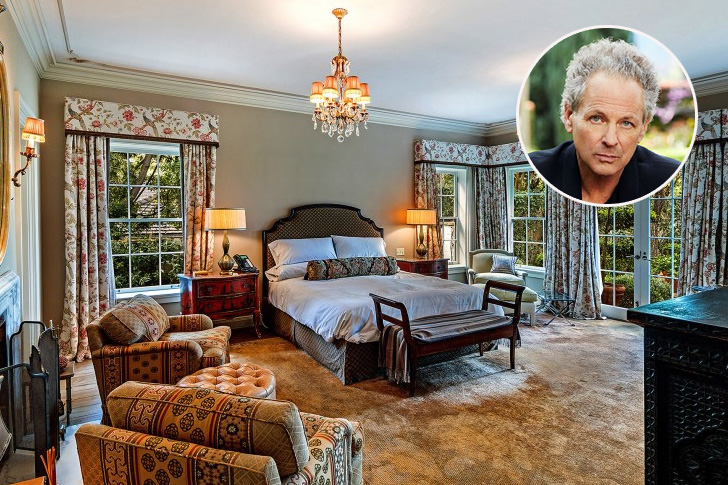 Former Fleetwood Mac member Lindsey Buckingham used to live in this beautiful Los Angeles Home, together with his wife, Kristen. They were both hands-on when it came to the design, but it was Kristen who really took the reins with the help of architect Kevin A. Clark. The couple went for a classic design with plenty of old-world sensibilities. Among their furnishings are brass-and-wood cocktail tables, as well as an antique chandelier from the 1940s. The walls are kept minimal, with colors that create more warmth in the space.
This same design can be seen in the master bedroom, where they keep a neoclassical writing desk and a 20th-century chandelier. The glass doors allow plenty of light in, keeping the room from being too stuffy. They do keep the flooring carpeted, but the peeks of light wood underneath certainly give the space a cottage-like feel— a wonderful investment, indeed.
Jennifer Lopez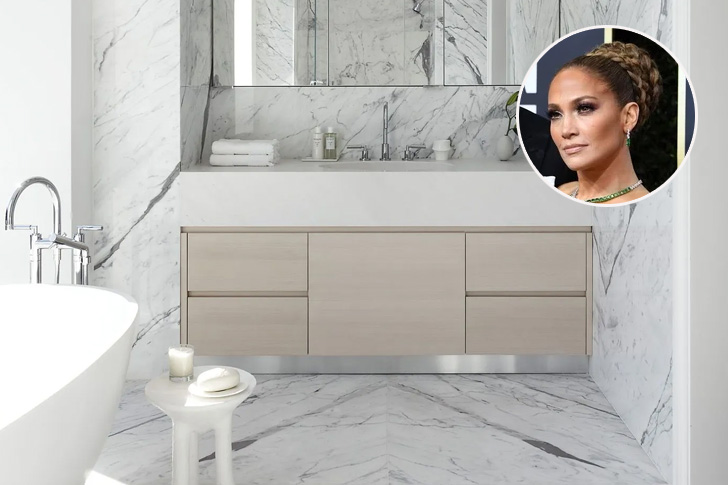 Jennifer Lopez exudes her brand of luxury that mixes street styles with more high-fashion brands. This is also reflected in the design of her Manhattan home, which she shares with Alex Rodriguez. The couple spared no expense when making their apartment, which is located in one of the city's tallest residential towers, truly their own. After all, they have the investment money for it! The first thing visitors will notice would be the gorgeous view—which we're sure is the biggest selling point for this property.
There are three bedrooms and four and a half bathrooms comprising the space. The design is exquisite, but it's the bathrooms that are really eye-catching for us. It has marble walls and floors, with silver fittings. It might be monochromatic, but details such as the three-legged stool and touches of greenery keep it from becoming boring.
Kourtney Kardashian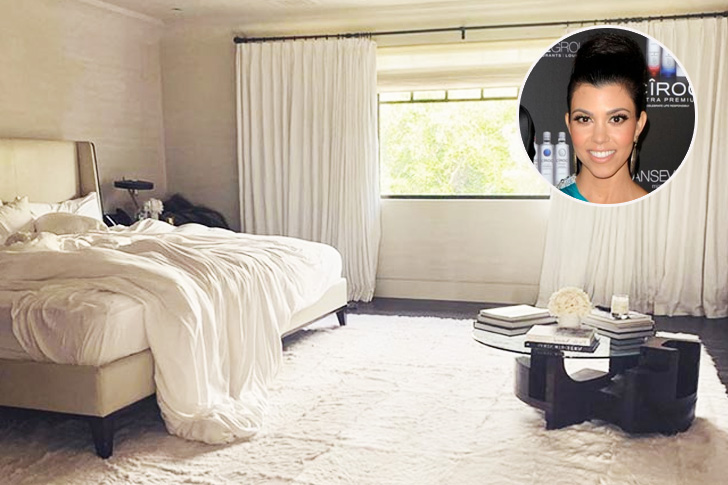 It might seem that the Kardashian sisters have similar tastes when it comes to their homes, but Kourtney Kardashian does break the mold with some of her choices. While she keeps with the neutral palette, there is something inherently cozier about Calabasas mansion. The home is valued at $7.4 million, and, of course, it is decorated according to her needs. Kardashian gave some of the credit to decorator Martyn Lawrence Bullard for designing each of the rooms including those for her kids—Reign and Penelope.
In particular, Reign's room features a "house bed," which also serves as the centerpiece. Unlike most children's rooms, it does lack a bit when it comes to color, but not in whimsy. There are also a number of elements that are both practical and visually appealing, including the built-in shelves that display Reign's books and toys.
Drake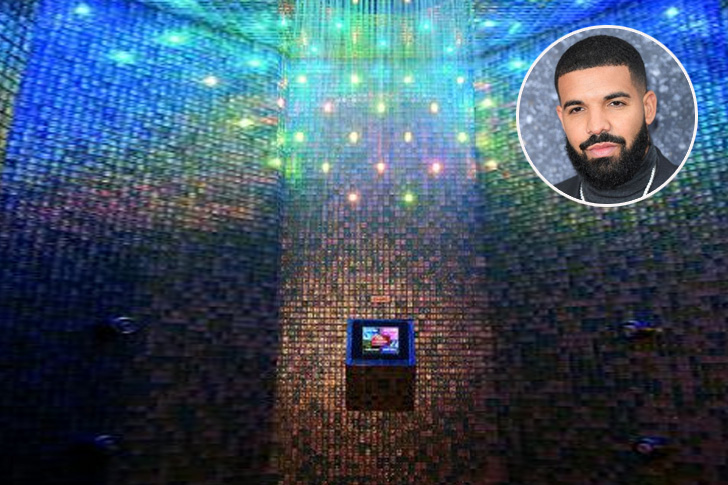 We've seen some truly interesting bathrooms on this list so far, but Drake might take the cake for this one. The rapper has installed an "experience shower" in his home. What exactly is it? It is meant for wellness enthusiasts who are looking to take things a degree higher when it comes to showering. With it installed, this simple activity becomes a multi-sensory experience with the help of sound, light, and aroma.
There are different combinations to suit the user's preference, including mist, monsoon, tropical rain, and waterfall. Needless to say, your few minutes in the bath are likely to last longer with this around.
Reports say that Drake has led lights installed in his, with pre-programmed settings that he can choose from. True to his brand of fun and luxury, we're sure Drake didn't mind spending a little extra on this feature.
Alec Baldwin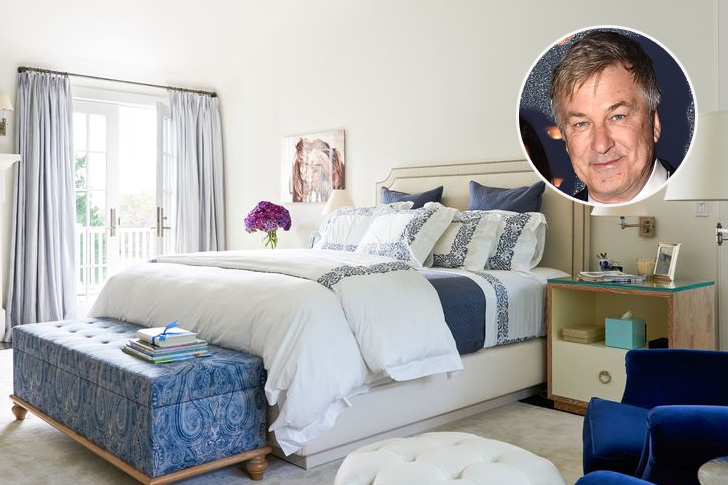 Actor Alec Baldwin's home in the East Hamptons hits all the right notes when it comes to design. Their 18th-century farmhouse is located on Long Island and serves as the family retreat whenever city life becomes too overbearing. They do have other properties located in Manhattan, but reports suggest the family spends most of their time here—away from prying eyes. The home was bought in 1982, and while it took some smart money management, they managed to transform it into the perfect family residence.
It is very "Hamptons" in feel and follows a neutral palette of whites, creams, and brass accents. The pops of blue in the master bedroom adds a nautical feel to the space while still maintaining its cottage charm. As you might notice, décor is a little sparse here as well, allowing for the ornate furnishings to shine more.
Natasha Poonawalla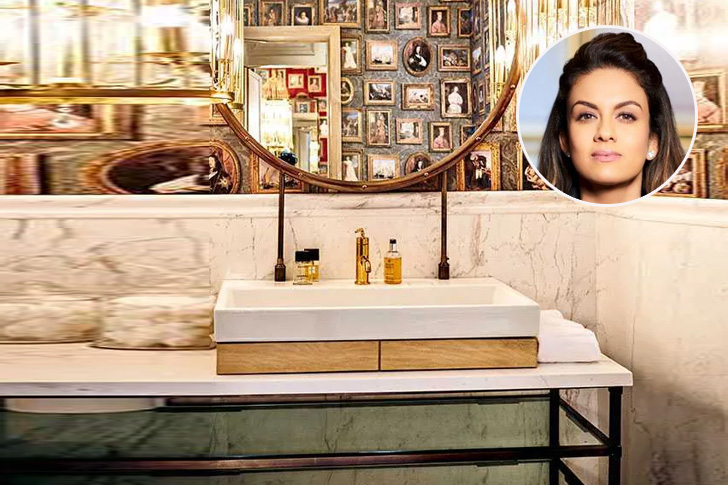 These days, cookie-cutter homes are becoming more common. While some follow the trends, there are people like Natasha Poonawalla who go against it. This attitude is certainly reflected her home's design, which looks like it's been ripped from the pages of a history book or a fairytale. The Indian businesswoman and executive director of Serum Institute of India is a maximalist at heart. Her home is gilded in shimmering gold accents and marble—a degree of affluence.
The bathroom alone is a sight to behold. It features wallpaper from the Museum collection by Andrew Martin, making it feel as if you've just stepped into one of the Louvre's galleries. This space is lit by custom-made birdcage lights made by artists from The Charcoal Project. With so many details to take in, from flooring to ceiling, the room is an art in itself.
Kylie Jenner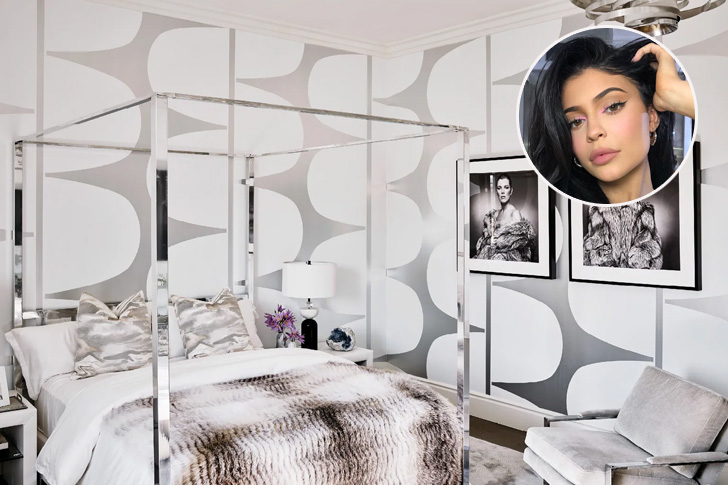 The Kardashian-Jenner clan is known for its big personalities and lavish lifestyles. Despite being the youngest, Forbes' youngest billionaire, Kylie Jenner, certainly isn't one to be left behind. The mogul already has quite a number of real estate properties in her portfolio, but the glam room in her Holmby Hills home is the one that's drawing the most attention. The property itself is worth $37 million, so you can be sure that she wouldn't skimp on its design, as well as its insurance.
The glam room celebrates her and her achievements. Framed photos of her magazine shoots can be seen decorating one of the walls, while another area features floor-to-ceiling shelves, which contain all of her make-up. There is a lot of stuff packed in the space, but everything is neatly organized and beautifully displayed. Pink, white, and gold dominate the space, giving it a girly yet retro vibe.
Elijah Wood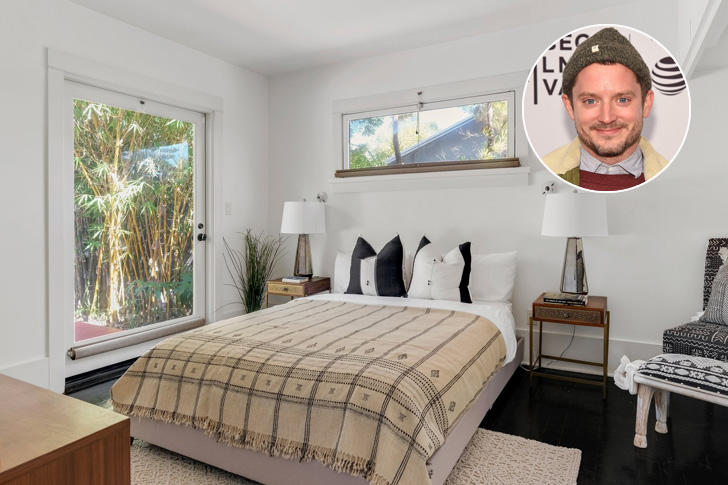 Elijah Wood owns a stylish micro-compound located in L.A.'s Venice neighborhood. The actor, known for his acting credit in The Lord of the Rings, has owned the property since 2004 and currently placed it on the market for under $2 million. The property shows impeccable craftsmanship as it dates back to the early 1920s. It also features two cottages that measure over 1,400 square feet of living space, each with one bathroom and one bedroom.
You could say that Elijah Wood's Venice home has a unique personality and motif to it. One of the highlights of his intriguing pad is his bedroom. The master suite in this pint-sized 1920s property is located at one of the two cottages we mentioned. It's modest, but it's a beautifully furnished room with an oversized glass door. The glass door leads directly to a spacious outdoor deck surrounded by foliage that's perfect for privacy.
Ariana Grande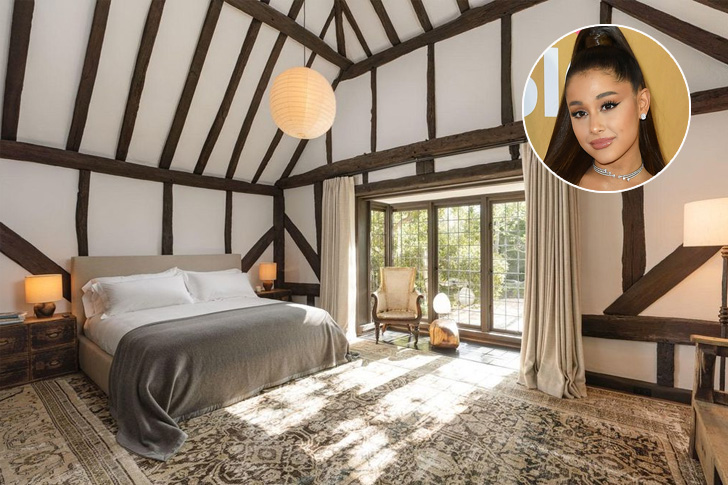 Ariana Grande is one of the most significant pop sensations today. She's solidified her name as the new pop princess as she released numerous studio albums throughout the past decade. Ariana also went on a steady diet of touring performances and concerts, earning millions in the process! She's certainly putting her finances into fair use as she's known to have acquired numerous real-estate investments over the past few years!
Being the pop sensation that Ariana Grande is, it's hard to imagine that she'd go for an old-fashioned mansion. On second thought, an old-fashioned Tudor-style home could be the perfect fairytale home for a pop princess! She bought a beautiful palace-like mansion fit for a princess in the celeb-packed neighborhood of Montecito, California. The home features many lavish and luxurious features, but her bedroom stands out the most. Ariana's bedroom features a country motif with large wooden beams! Fun fact, these wooden beams dating back to the 1700s and were shipped over from England!
Susan Sarandon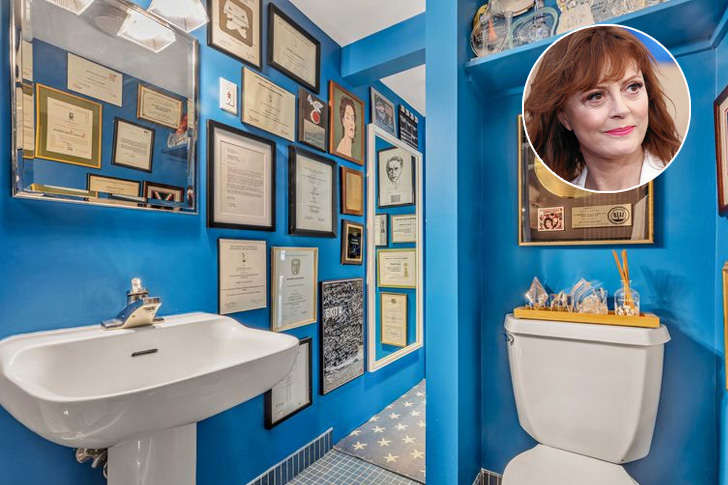 Susan Sarandon is an American actress and producer who's had massive success in the entertainment industry. Her illustrious career features numerous awards and recognitions, including a BAFTA Award, a SAG Award, six Primetime Emmy Awards, nine Golden Globe Awards, and more! In turn, she easily secured a spot on the Hollywood Walk of Fame for her contributions to the entertainment and film industry. Susan, through her illustrious career, managed to accumulate millions of dollars. As of writing, she's worth a whopping $60 million!
It's reasonable for an award-winning actress like Susan to splurge on a couple of real-estate investments. Her property of choice was a beautiful New York loft that she purchased back in 1991. The loft features a handful of luxury amenities and five bedrooms, with one of them being Susan's beautiful, elegant, flawless, and refined bedroom. The space is incredibly spacious, and it features a soaking tub with breathtaking views of New York! Without a doubt, Susan's bedroom is incredibly dreamy and envious!
Aaron Paul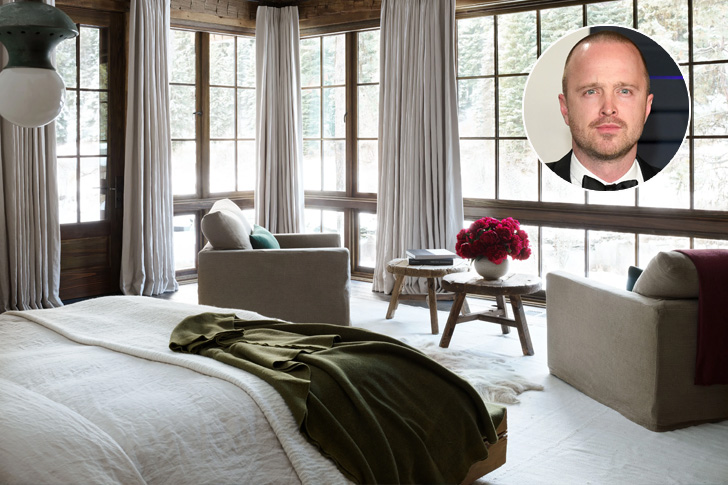 Aaron Paul is an American actor and producer who's won several awards in his young career. He's best known for the credit role of Jesse Pinkman in the hit AMC series Breaking Bad. Paul used the success that he's found from Breaking Bad into landing roles on other film and television projects. In turn, Aaron Paul accumulated a more-than-decent net worth of around $20 million. The actor was also reportedly earning over $200K per episode in Breaking Bad!
A salary and fortune like Aaron's could buy a luxurious property, and he purchased a beautiful L.A. home that's packed with luxurious amenities. What catches our attention is his cozy bedroom that's oozing with warmth and character. Aaron's bedroom is positioned on the second level of the home, and it comes with a walk-in wardrobe and elegant hardwood flooring. It also has a seating area that offers breathtaking views of the glittering lights of Los Angeles!
Justin Timberlake
Justin Timberlake is a successful musician, songwriter, record producer, and actor. Timberlake first achieved popularity when he became one of the two lead vocalists of the 90s boy band NYSNC. After NYSNC disbanded, Justin pursued a solo music career wherein he achieved massive success, winning a good number of awards in the process. Timberlake released numerous studio albums and hit singles over the past two decades and managed to earn a substantial $250 million net worth from his illustrious music career.
It's completely reasonable to expect a celebrity who has a $250 million fortune to splurge on a couple of real estate investments. Timberlake definitely splurged when he purchased a beautiful property in the SoHo area of New York. The property features three bedrooms and three and a half baths. One of his home's best features is the master bedroom that sports floor-to-ceiling windows that showcase impressive views of the Big Apple. The bedroom also has its own outdoor terrace – we can only imagine how it feels to unwind in this area!
Zooey Deschanel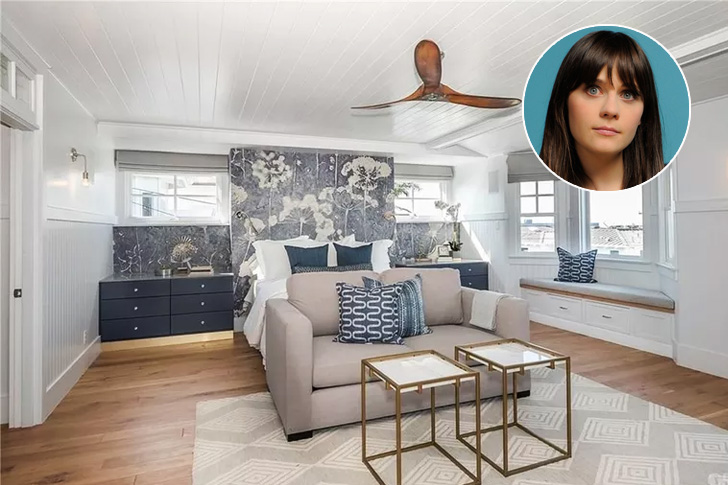 Zooey Deschanel has appeared in a good number of films over the past two decades. Some of Zooey's notable acting performances were in Mumford, Yes Man, 500 Days of Summer, Manic, and many more. Deschanel also managed to cultivate a successful acting career in television as she starred in the hit Fox sitcom New Girl between 2011 and 2018. Indeed, she's one of the most recognizable stars in Hollywood today, and she's earned millions of dollars in the process, $25 million to be exact!
Zooey Deschanel chose to be smart with her finances by acquiring a real estate investment in Manhattan Beach, California. The property features five bedrooms and 5.5 bathrooms in approximately 4,900 square feet of living space. One of the best spots on the property is the bedroom, as it definitely radiates Deschanel's chic personality. The master suite sports a rustic design with white painted timber details and even has its private balcony, a walk-in closet, an ensuite, and access to a separate gym!
Kelly Clarkson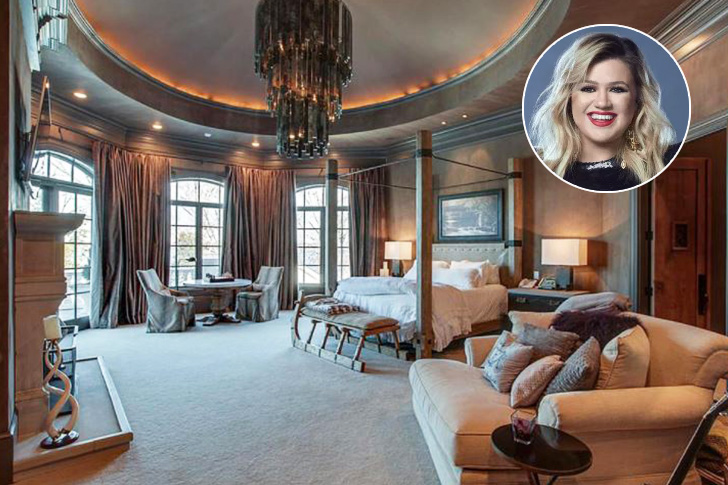 Kelly Clarkson is a well-known American singer and television personality. She first rose into prominence after she won the first season of American Idol back in 2002. Kelly then cultivated a widely successful career as a singer, constantly releasing hit singles and critically-acclaimed studio albums. Indeed, Kelly's music career brought her numerous awards and recognition as well as an incredible net worth of $45 million!
It's certainly reasonable to expect that a celebrity like Kelly Clarkson would have a couple of luxurious real estate investments under her belt. One of Kelly's properties is her beautiful waterfront property in Tennessee. It offers a perfect mix of contemporary luxury and traditional styling. In the master suite, you'd be able to see delicate timber coving detailing, antique casement windows, and a fireplace that infuses the room of heritage drama. The suite is definitely large as it sports numerous seating areas together with a stunning four-poster bed. Despite its size, the master suite of Kelly's Tennessee home still feels incredibly intimate and cozy!
Christina Hendricks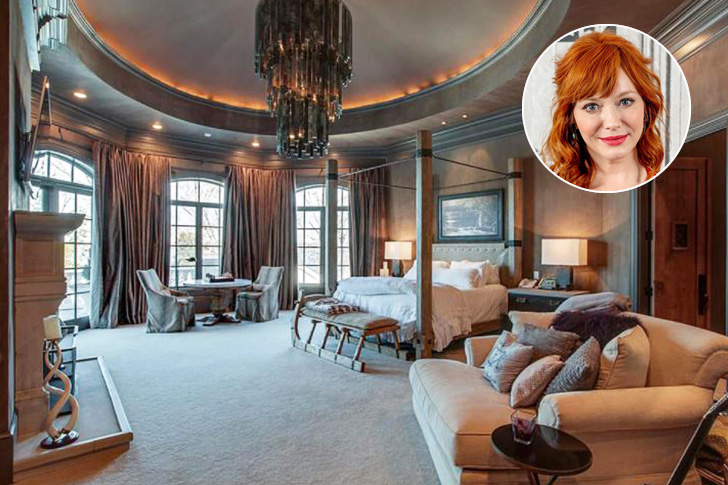 Christina Hendricks is a well-known American actress who's best known for her credit role in "Mad Men." Hendricks has received numerous awards and recognition, and she's even been named "The Best-Looking Woman in America" by numerous magazines and publications. With that said, Hendricks didn't win numerous awards just by being "a pretty face" alone. Throughout her career as an actress, she's shown that she possesses exceptional acting talents and skills.
Christina Hendricks has been cast in numerous television shows and movies, and she's managed to acquire a net worth of $10 million. When it comes to her home, Christina Hendricks has shown that she prefers a property that has a classic vibe to it. She owns a stylish Manhattan pre-war condo that's packed with features from the charming period. Her bedroom is also something to marvel at as it features oak hardwood floors, antique-style furnishings, and traditional casement windows. It tops it all off with overlooking views to a stunning landscaped courtyard!
Katie Holmes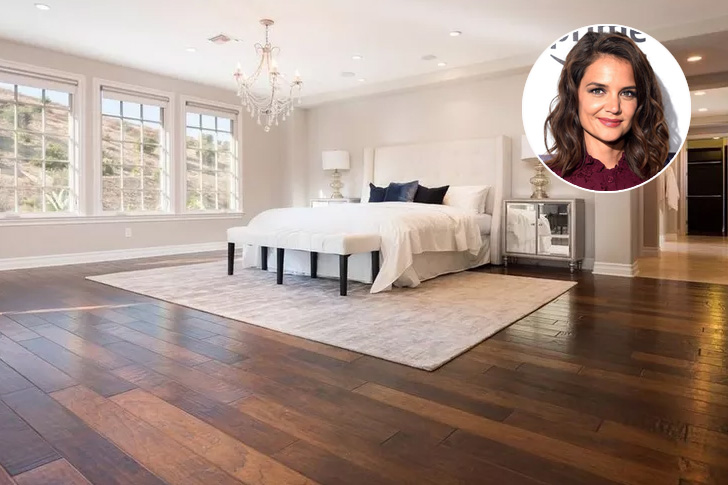 Katie Holmes is one of Hollywood's beautiful faces. She first achieved fame when she took on the credit role of "Joey Potter" on the hit television series Dawson's Creek. Holmes also went on to star in various film projects throughout the rest of her career and managed to rake in millions of dollars and numerous awards. As of writing, she's worth $25 million and is the owner of a beautiful home located in Calabasas!
Katie's stylish house sits in the celeb-packed neighborhood of Oaks, Calabasas. The property boasts five bedrooms and one separate bedroom for the guest casita on the property. One of the highlights of Katie's Calabasas pad is her stylish bedroom. The master suite is the definition of a sun-soaked haven for unwinding and relaxing. It also sports a walk-in wardrobe, a private lounge and terrace, and a luxurious ensuite with travertine tiles!
Sylvester Stallone
Sylvester Stallone is one of the most celebrated and most accomplished actors in Hollywood. He's managed to appear in countless movies over several decades, and he's still appearing in quite a handful of films today. Some of his best acting performances came in movies like the Rocky franchise, The Expendables, Rambo, and many more! Sly has had incredible success as an actor, and his acting career allowed him to earn a colossal fortune. In turn, he uses his millions on acquiring real-estate investments that are incredibly luxurious!
One of Sly Stallone's properties is a beautiful 8-bedroom and 12-bathroom located in California. Sly's crib has every luxurious amenity you can think of, from a gym, a swimming pool, spa, and many more. Of course, the part of this home that stands out the most is Sly's bedroom. Interestingly, we never expected that Sly would have a classic taste in interior design! His bedroom features a colonial-style motif with a huge bamboo-framed bed in the middle!
Travis Scott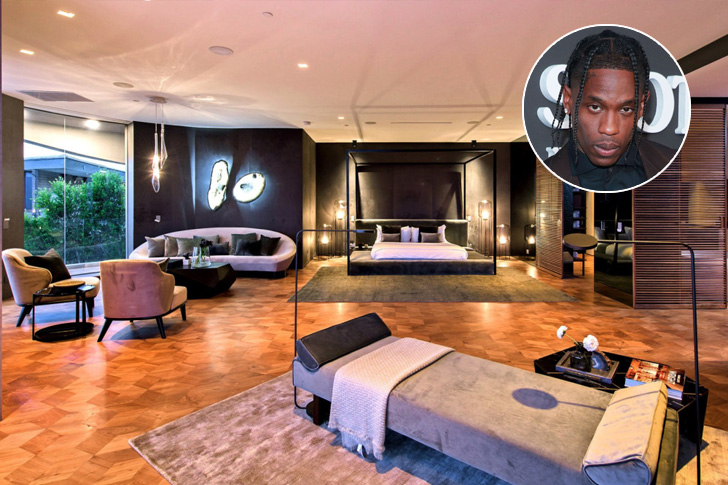 Travis Scott is a rapper, songwriter, and record producer. Travis has been one of the highest-paid and most recognizable rappers in the world today. He's released numerous studio albums in a decade, and he's been able to see a meteoric rise in his net worth! As of writing, he's worth around $50 million. Don't expect Travis' cash flow to run dry anytime soon as he's easily earning $40 – $60 million from his various endeavors!
It's only reasonable that an incredibly popular rapper and pop-icon like Travis would go any splurge on a lucrative real estate investment. He did just that when he paid $23 million in cash for a luxurious property located in Brentwood. The property features interior details and designs that are incredibly fabulous! It also features two master suites on the penthouse floor, with one of them featuring a spa-style bath, a balcony, dual closets, and incredible views of Los Angeles!
Olivia Newton-John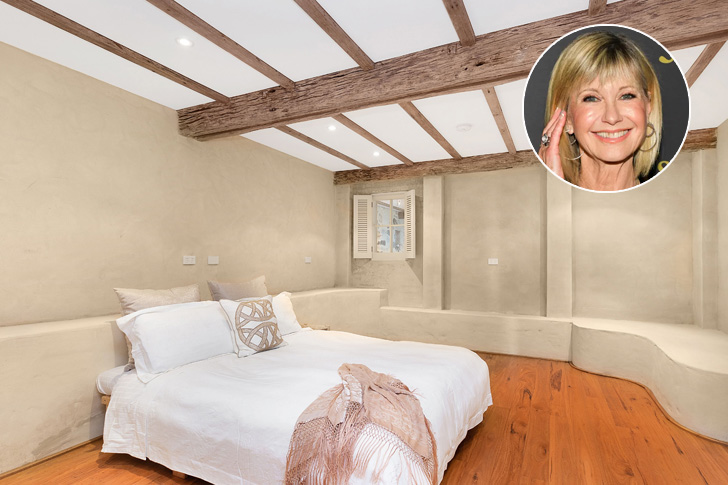 Olivia Newton-John is an award-winning singer, songwriter, actress, and activist. Olivia won a Grammy Award four times, and her chart career includes ten Top Tens on Billboards Top 100 and five US number ones! Some of her best-selling albums were If You Love Me, Have You Never Been Mellow, and Let Me Know. Her music career has reached massive success, allowing her to accumulate a fortune worth $50 million!
Olivia Newton-John isn't a stranger to acquiring real estate investments of her own. She purchased a beautiful country home located in New South Wales, Australia, back in 1981. We certainly love a country motif, and Olivia's Australian farmhouse is one that we envy the most! One part of Olivia's farmhouse that we envy the most is her bedroom. It comes with polished pine floors that infuse the room with an elegant country character. It also has doors that lead into a picturesque terrace with breathtaking views of the countryside!
Lena Dunham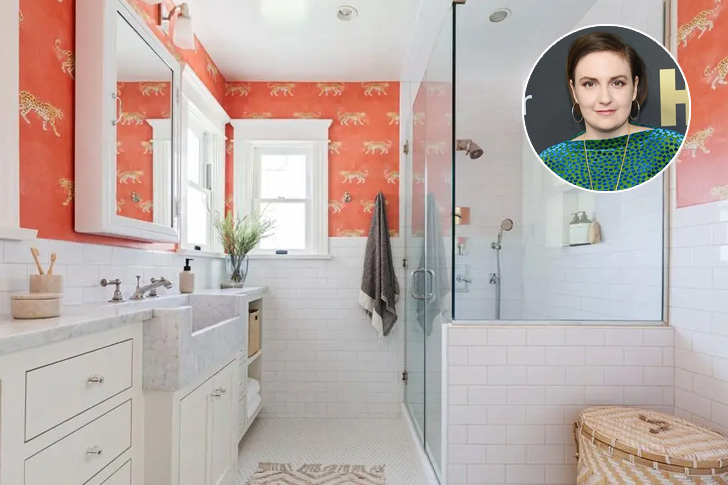 Lena Dunham is a celebrity who's managed to achieve massive success as an actress, director, writer, and producer. Dunham is best known for writing, creating, and starring in the hit HBO television series Girls, which earned her several Emmy Award nominations and two Golden Globe Awards. Besides winning awards and various recognitions, Dunham also managed to accumulate a fortune worth $12 million! One property that's included in her net worth is her beautiful condo located in Williamsburg, Brooklyn.
Lena Dunham's $2.9 million-condo in Brooklyn didn't prove to be a good investment as it sold for only $2.6 million in 2019, recording a loss of around $300K. One thing's for sure, the master suite of Dunham's former condo didn't have anything to do with the loss. The master suite space featured a raised platform for the bed, which must've allowed Lena to lie back and take in the breathtaking Manhattan skyline. The bedroom also came with custom-fitted wardrobes and a highly elegant bathroom with marble floors.
Jason Statham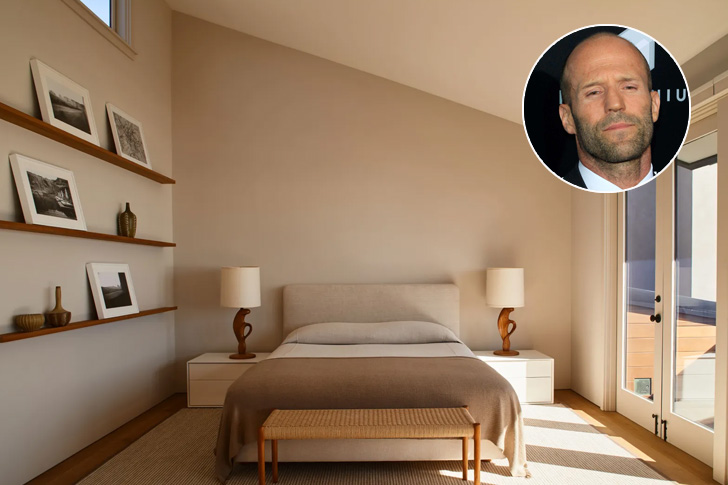 Jason Statham is an English actor who's managed to appear in numerous films over the past two decades. He's best known for his antihero roles that portray tough, irredeemable, and machiavellian characters. Some of his most notable acting credits came in films like The Mechanic, Fast & Furious franchise, The Expendables, and many more! Without a doubt, he's one of the most recognizable actors today, and he's also incredibly wealthy as he's worth a whopping $90 million!
Jason is living the action star life together with his supermodel wife in their stunning Malibu mansion. One of Statham's home's most exciting features is a gorgeous master suite located on the second floor of the house. The bedroom sports a set of clerestory windows that bring in natural light and elegant French doors, which frame breathtaking views of the ocean. We can only imagine all those glorious sunsets that Statham and his wife witnessed from this master suite!
Michael McDonald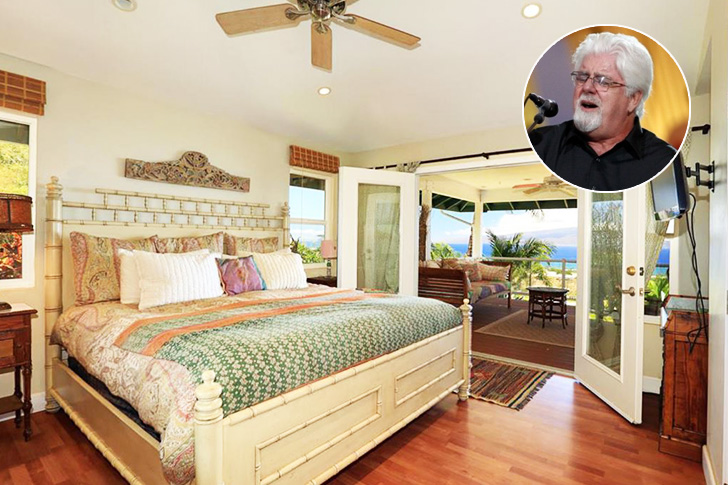 Michael McDonald is one of the most prominent musicians in modern music history. McDonald is best known for his distinctive and soulful voice during his time with the "Doobie Brothers" and during his time as a solo artist. He's had significant success in the music industry as he's been able to release nine studio albums and a long list of hit singles, including music credit for the hit I Keep Forgettin (Every Time You're Near), which dominated the music charts back in 1982. For his success with the Doobie Brothers and as a solo artist, he's been able to rake in a $50 million net worth and a beautiful beach house in Maui!
Michael's Maui residence has all the luxurious amenities that you can think of. What we're intrigued about is his dreamy and envious bedroom! Michael's bedroom features stunning views of the ocean that are incredibly breathtaking! However, ocean views aren't the only highlight of his bedroom. The 1,709 square feet master's bedroom has access to a dazzling veranda that overlooks the beautiful West Maui Mountains!
David Arquette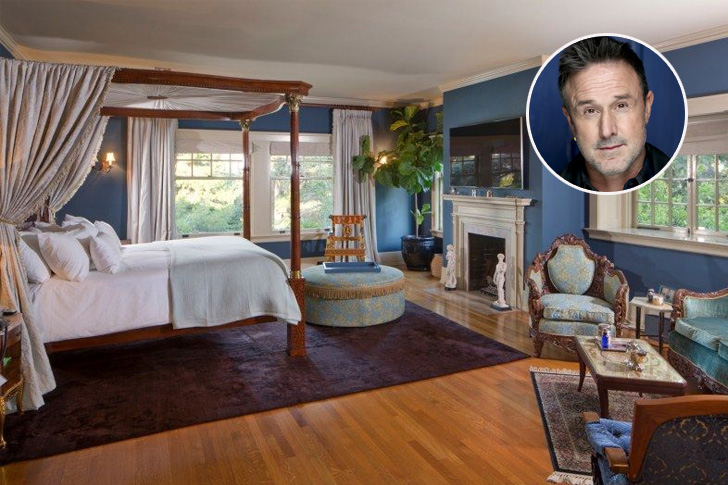 Despite his eccentric personality, the Scream actor has a history of owning conventional, luxurious homes. This house is one of his real estate investments that's worth yelling for. David Arquette is best known for his roles in Never Been Kissed and the Scream film franchise, but he now has a new title to add to his portfolio. Arquette's home was on the market for just under $5 million, which is a little out of our financial reach. At first glimpse, this 1950s ranch-style house appears to be a typical celebrity residence. In fact, it's far from it. This four-bedroom, three-and-a-half-bath home boasts 4,332 square feet of living space.
Each of the home's four bedrooms is located in its wing and has a courtyard view. Like the dining room, the master's suite has a wall of glass sliders that open directly onto the patio. There are also dual dressing areas, a marble bathroom with a deep soaking tub and a glass-fronted steam shower, and a lounge area in the suite. This is definitely the kind of place where you'd like to spend your weekends.
Norah Jones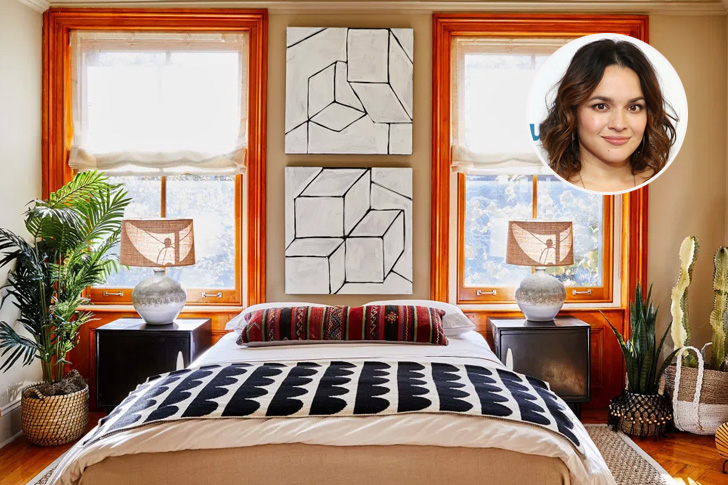 It did not take hard work for a buyer to say Come Away with Me to Norah Jones's darling Brooklyn house. Its four stories are full of detail and energy, and they have the same warm consistency that the eight-time Grammy Award winner's songs do, which may explain why the property was sold in just four months. The investment house built in 1843 has five bedrooms and three bathrooms, totaling 4,500 square feet. There are a variety of intimate and open spaces available for gatherings. Hand-carved moldings, exposed wooden beams, and exquisite Greek Revival ironwork are among the original features woven throughout the four floors.
The master's suite is situated on the third floor and includes a spacious bathroom with a steam tub and an elegant black marble furnace. The light and airy fourth floor has two more of the home's five bedrooms, as well as a large loft-style second living area with its private kitchenette and bath. All about the structure is both conceptual and well-organized in a certain way.
Adam Levine
He is a force to be reckoned with, either you recognize him from his popularity with the band Maroon 5 or as the mentor on the famous singing contest The Voice. Little do we know, Adam Levine is interested in high-end real estate investments. In reality, he often buys expensive celebrity homes, stays in them for about a year, and then resells them. Let's take a peek at his Beverly Hills Home, which he listed for $45 million. The residence has three floors with intelligently updated features throughout, including crown molding in many of the main living spaces on the first floor.
The 2,000-square-foot master's suite on the second floor is undeniably the home's pinnacle. The suite features a lofted ceiling, a private atrium, and a luxurious and stylish en suite bathroom. The bathroom comes with a marble double vanity sink and a modern freestanding deep-soaking tub. A fantastic walk-in closet with many shelving and several mirrored closet doors is also included in the master's suite. It's a dreamy atmosphere, and pretty much everything you'd hope to see in a celebrity's house worth that much.
Shaquille O'Neal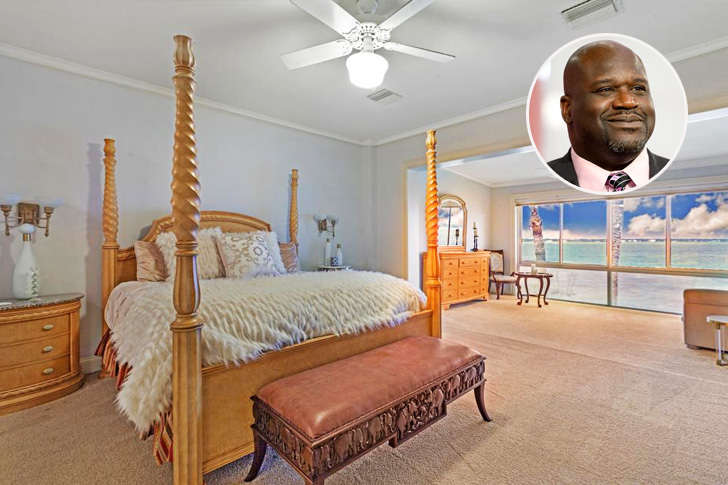 Where does a multimillion-dollar basketball player reside? In Shaquille O'Neal's case, it's a grand house in Windermere, Florida. Shaq's shack is impressively 31,000 square feet, with 12 bedrooms, 15 bathrooms, and 700 square feet of lake promenade. Shaq's passion for Superman is well-known and is relatively evident in his mansion.
Shaq had a circular 15-foot-by-30-foot Superman-themed bed custom-built for him when he wanted a place to rest his massive frame. The bed takes up 450 square feet of space! He also got a Tempur-Pedic bed custom-made for him. Shaq's master bathroom was supposed to be large, but it's bigger than most people's dining and living rooms combined. The bathroom has an enormous built-in vanity, a standalone hot tub, and two separate showers, one of which has the Superman logo on the entrance. Shaq's bathroom has a vast, marble-lined tub with its marble step. There's no doubt that he has put so much investment money into this house. It is indeed a dream come true for any basketball fan.
Michael Jordan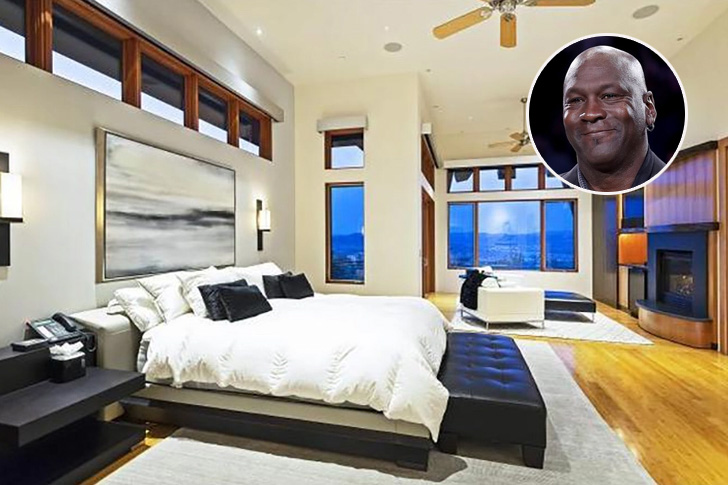 Michael Jordan has earned numerous awards during his illustrious career in basketball and other endeavors. As a result, he has amassed a formidable real estate portfolio, including several multi-million dollar investment homes. Jordan's listed home in Park City, Utah, is incredibly luxurious, as you'd expect from a man who still earns $130 million per year from Jordan Brand. The property is just over 9,500 square feet of living space with breathtaking views of Glenwild Golf Course and the Wasatch Mountains.
MJ's grand house comes with eight bedrooms and five bathrooms and features a combination of modern and rustic finishes. A light-filled master bedroom lies beyond the loft, lit by fantastic pictures and clerestory windows everywhere. The room has bamboo flooring throughout and easy access to a private deck. What is the best way to describe it? Well, it's easy to say that it's a stylish bedroom in the modern age.
Mark Ronson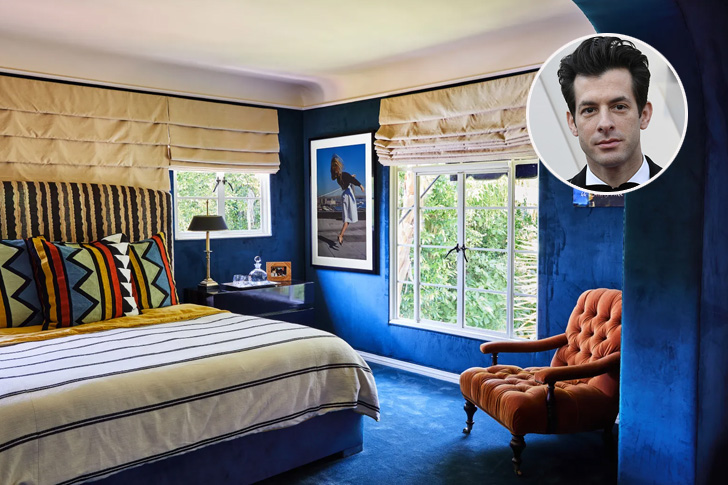 Mark Ronson, one of the world's highest-paid musicians, has sold his West Coast investment home for a whopping $5.4 million. The 6,263-square-foot house was designed in 1935 and sat on a third of an acre. The property has various period features, including Saltillo tile flooring and carved-wood ceiling beams, most noticeably in the step-down living area.
The master suite is found on the second deck, accessible through a spiral staircase. Ronson created the palatial space by combining two bedrooms and two bathrooms. The bedroom suede walls complement the velvet carpeting, stylish upholstery, and luxurious linens. A light fixture Ronson purchased one year at Design Miami/Basel hangs above the sofa. Within each bulb is a transporting projection: laidback scenes of gentle rain or calm waters. The bathrooms are luxurious, with one having a separate wet room and the other having a whirlpool bath. Now, if this is not a goal for you, we don't know what is.
Louis Tomlinson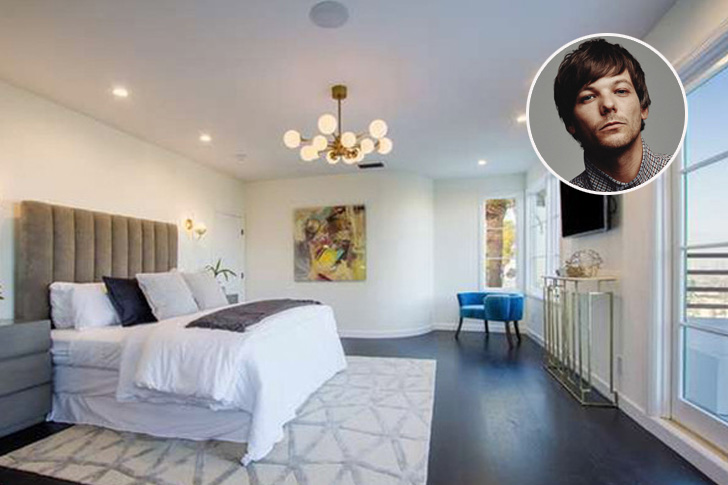 Take a tour of Louis Tomlinson's investment home in Los Angeles if you're a die-hard One Direction fan—or enjoy a dreamy listing when you see one. Art-deco elements, grand verandas, and stunning Los Angeles views can all be found in this 1937-built house. The four-bedroom, five-bathroom home is opulently modern on the inside, with ebony-stained hardwood flooring, a wide range of high-end mid-century furniture buttermilk-colored walls.
Each of the three luxurious guest suites has its private terrace. The master's suite encompasses a walk-in wardrobe and a spa-like bathroom with a huge shower and soaking tub in the middle. Oh, and there's also a patio. The master's bathroom is enormous, with black and white floor tiles and powder blue cabinets around the sink and dressing table. A free-standing white bathtub sits in the center of the space, flanked on either side by plush rugs. You didn't anticipate the style, did you?
Jennifer Lawrence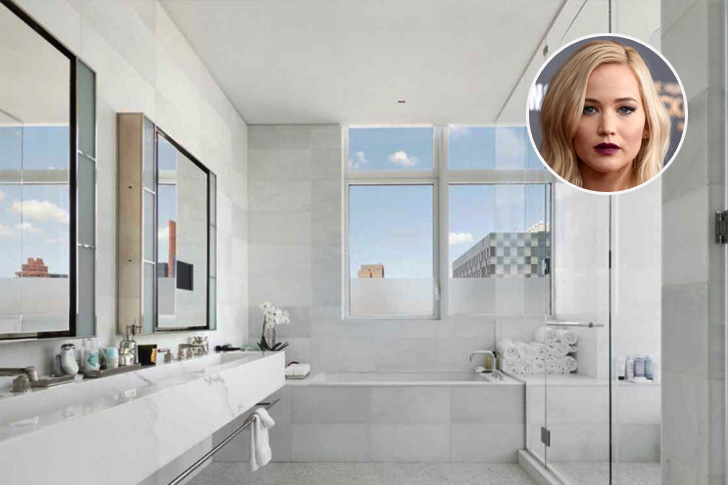 Being one of Hollywood's highest-paying actresses comes with a few perks. Beautiful homes are one of those advantages, and Jennifer Lawrence is no exception to the lap of privilege. The 3,000-square-foot home is situated on the 30th floor of a condominium. It features two-story outdoor terraces, not to mention the bright and airy interior spaces and the lovely outdoor spaces with the capital's views.
The corridor is lined with two vivid bedrooms with en-suite baths and a powder room. At the end is the spacious and stately master's suite with a lovely dressing room. This stunning bedroom directly accesses the outdoor space's eastern portion and offers stunning river and city views. There's an enormous soaking tub, an oversized glass walk-in shower, and a marble double-trough sink in the spa-like master's bathroom. We have the impression that this investment home is soothing and relaxing. GOALS!
Heather Graham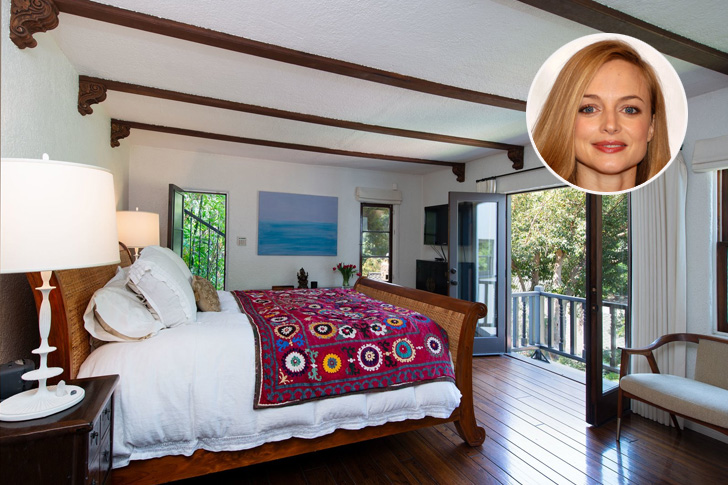 Heather Graham is best known for her role as Rollergirl in Boogie Nights and the viewer's favorite, The Hangover. Her stunning Beachwood Canyon home in Hollywood Hills, which was recently listed, is something you may not be aware of. The historical detailing tells of the home's celebrity culture dates back to 1927. Splashes of color and a sunlit sitting area are found in the three-bedroom, 4.5-bathroom investment home.
The house has been carefully maintained throughout the years, with most of the original design still unchanged. A little touch of Moroccan combined with mid-century creates a western world decorative vibe. The master bedroom on the second deck has its private balcony with stunning scenery of the patio and tiered garden beneath. The adjacent bathroom's surfaces are lined with striking blue tiles. After a long day of Hollywood living, Graham's bedroom setup is the ideal place to unwind.
Jessica Alba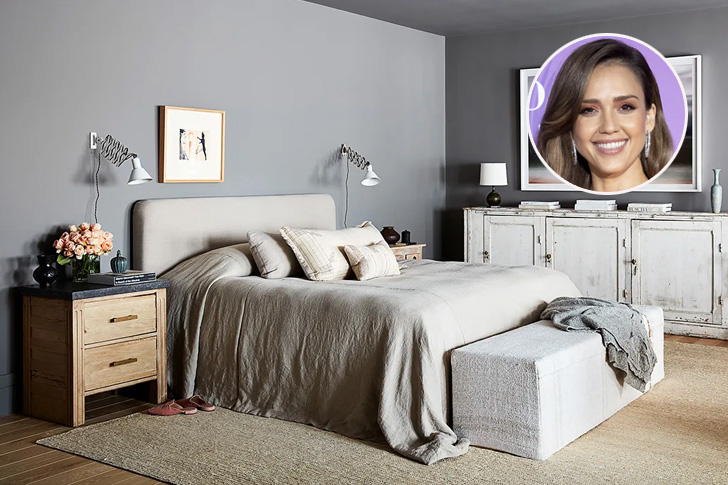 Jessica's early career as the leading lady on Dark Angel gained her a cult following, and she went on to become a well-known Hollywood actress. It's no wonder, then, that Jessica Alba's house is proof of her career investments. Jessica and her husband have shared the breathtaking interiors of their new Los Angeles home after living in the city for over ten years, and her self-proclaimed "dream house" is nothing short of picture-perfect.
The master's suite of the couple is nothing but spectacular. The oversized bedroom is decorated in a tranquil gray-blue shade, and the headboard is upholstered in washed Belgian linen. The bedroom overlooks the sprawling backyard and dramatic canyon peaks. There's even a lounge area in the bedroom that was once hosted to a fireplace. Glass doors leading to a balcony were installed in its place by Jessica herself. A large master's bathroom with all the bells and whistles is located on the opposite side of the bedroom. The result is indeed stunning – it's the room of everyone's dreams.
Kirsten Dunst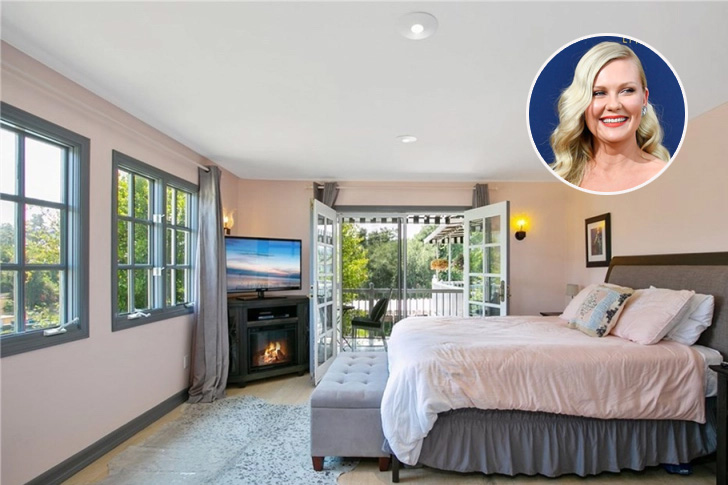 While you may recognize Kirsten Dunst from films such as Bring It On and Spiderman, you may not be aware of her real estate investments. The five-bedroom, four-and-a-half-bath home has a slew of A-list amenities and measures 4,333 square feet. This lakehouse is a relaxing break from the hustle and bustle of Los Angeles, only a short distance from the Hollywood sign and the Warner Brothers' Studio.
The master's suite is anything but perfection, with an antique chandelier dangling in the middle of the room. It also includes a cozy seating area opposite a massive fireplace with a carved mantle. Numerous French doors open onto a private terrace with views of the water beneath. An en suite marble bathroom connected to the master bedroom was built for elegance, with another chandelier illuminating over a huge deep-soaking tub. We would love to spend our mornings here with a great book and a nice cup of coffee.
Lea Michele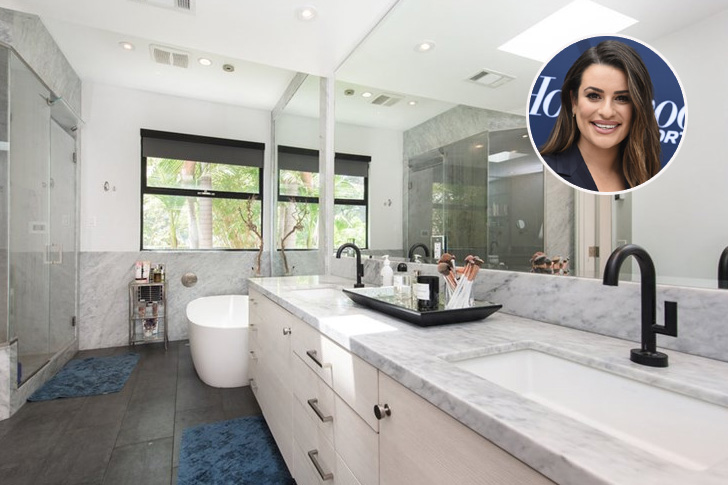 Thanks to her hit show Scream Queens, Lea Michele has plenty of drama in her life. So it's no surprise that the actress prefers calm to chaos when it comes to her real estate investments. Her house has four bedrooms and four bathrooms, all of which are light, trendy, and stylish. Although white and black appear throughout, the emphasis is more on neutral tones. Wooden accents, as well as warm grays and beiges, can be found in nearly every corner of the house.
The master's suite has a high canopy with black-and-white backdrops depicting a birch tree forest. Her monochromatic bedroom reminded us that there could be nothing more relaxing than climbing into a fluffy cloud of white sheets. A white bedside table with a snowy table lamp adds to the serene atmosphere, while a natural woven storage basket keeps the surface vibrant. Her bathroom features a marble-lined steam shower and separate soaking tub. Who wouldn't want to unwind with a cup of tea in this tranquil setting?
Lucy Liu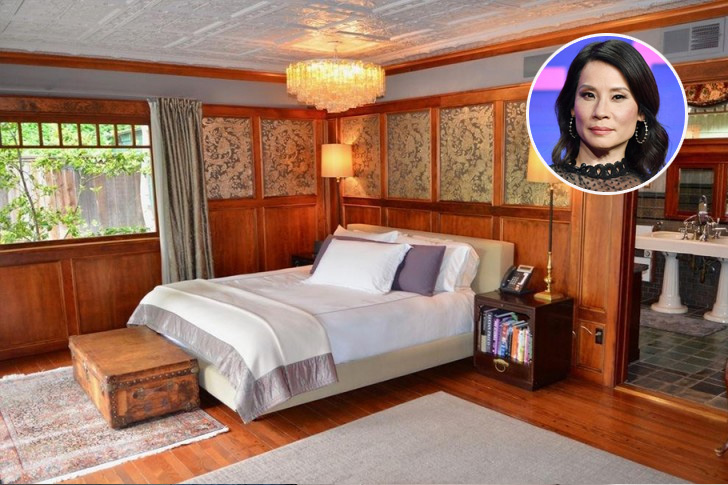 Lucy Liu has listed one of her real estate investments on a leafy lane in Los Angeles' Fryman Canyon suburb for $3.06 million. The 4,100-square-foot two-story house is hidden in an untamed weave of trees and was designed in the late 1950s. It was advertised as a "Craftsman gem" with four and possibly more bedrooms and five bathrooms, each featuring crafted ceramic tiles.
Most of the guest bedrooms on the lower level are spacious enough to accommodate a lounge space. The paneled master's suite on the main floor features gold brocade fabric accents. Antique fixtures, a claw-footed tub, and a ceramic-tiled steam shower can be found in the stylish master's bathroom. The master's suite opens to a greenery and relaxed boho-chic garden with stone-paved balconies, an expansive circular spa, and a swimming pool through wood-trimmed glass sliders. There are no words to characterize her zen-like cabana adequately.
Vanessa Hudgens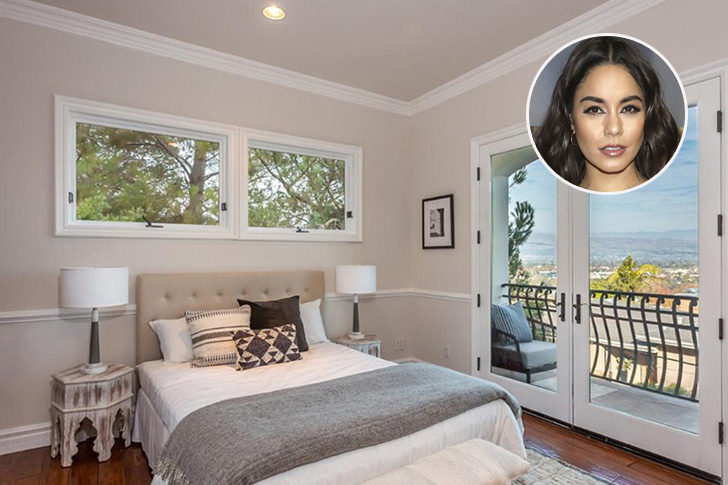 Vanessa Hudgens listed the Mediterranean-inspired investment property in the Los Angeles neighborhood of Studio City for $3.85 million. When Hudgens moved in about ten years ago, it wasn't exactly a fixer-upper, but she made investments to improve the house during her time there. She redecorated the house's exterior in a bright white color and introduced pieces influenced by Moorish architecture, such as Moroccan lamps.
A concrete wall divides the spacious master's bedroom, which features a roaring fireplace surrounded by exquisite tile work. The divider separates the sleeping area from a second seating area with an arched window that provides an incredible view of the city beneath. Carpets, a chaise longue, rustic pots, and a potted tree complete the look. The master bathroom is Mediterranian styled with a soaking tub, perfect for that spa vibe. It's the ultimate reading nook for unwinding before bedtime.
Orlando Bloom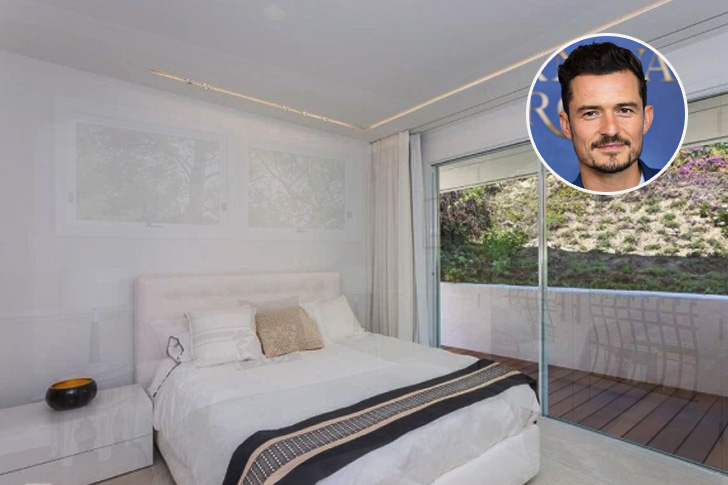 With the Hollywood actor getting engaged to Katy Perry, significant changes are on the way. The first point on his to-do list is to sell his stunning 4,011-square-foot investment home on Beverly Hills' "Billionaires' Row." This Sixties-era contemporary underwent extensive modifications. With four bedrooms and four bathrooms in just over 4,000 square feet of flooring, he turned the traditional 1950s ranch-style home into a lavishly sleek extravaganza.
The bedrooms are also very spacious. Two of the three guest rooms are suites with enough space for a bed and desk in the middle. The master suite has a skyline-viewing lounge and dining deck. It also has custom closets and a bathroom with a tub and a floor-to-ceiling glass slider. This leads to a secluded patio. Orlando has a choice of four bedrooms and four bathrooms, one of which is an excellent outdoor washroom. The entire atmosphere is cozy and reflective of a hotel with its color scheme.
John Legend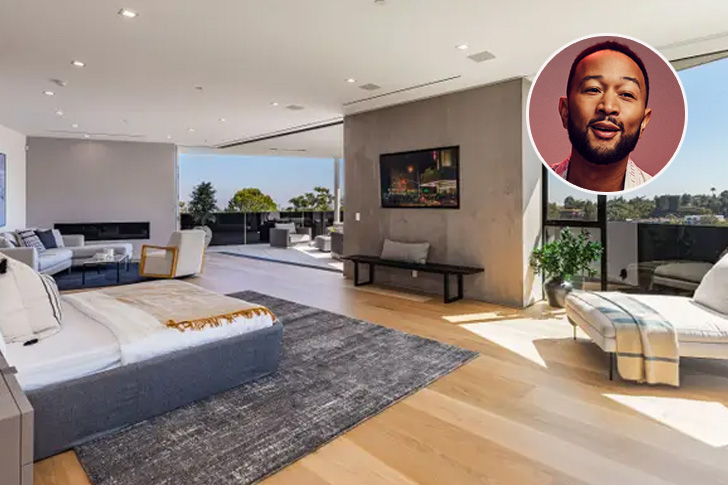 After selling their former home for $24 million, singer/songwriter John Legend and his wife model Chrissy Teigen moved to their recently bought $17.5 million Beverly Hills mansion. Their new home is reported to be much larger than the previous one, at 8,500 square feet of flooring space, and has six bedrooms and nine bathrooms. The master's bedroom features classic oak plank floors, suede panel walls, and dual walk-in closets for each of the couple. Through pocket doors, a shaded balcony with recessed infrared heaters can be accessed. Guest suites have their own private balconies, as well.
The couple's bathroom offers a five-star experience, featuring LED anti-steam electric mirrors, commercial-grade steam showers, and automated toilets. This is the perfect destination for John and Chrissy to unwind after a long day while at the comfort of their own abode. To ensure the family's safety, a smart-home system by Creston will be in great comfort and security.
Saoirse Ronan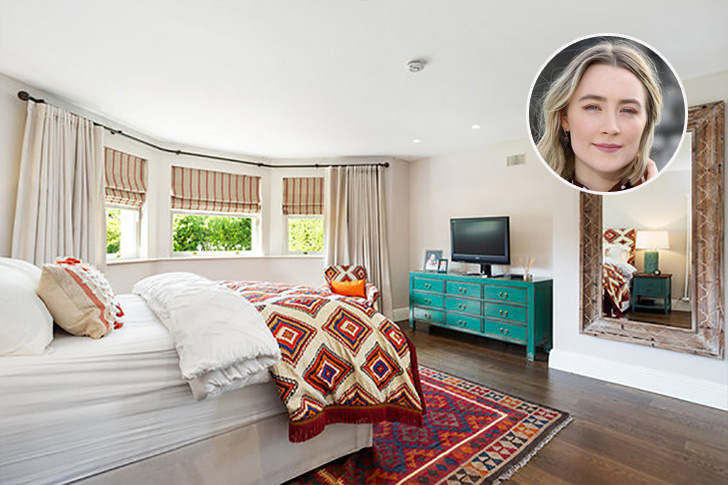 The Irish actress Saoirse Ronan has proven her acting prowess in several box office hits such as Lady Bird, Lovely Bones, and The Grand Budapest Hotel. She is given credit for being one of the most beautiful faces in the entertainment industry. Her chic style is evident not only in her choices of outfits but in her taste in real estate too. The twenty-six-year-old actress has made quite an investment for herself in her $1.66 million three-story home located in the coastal town of Greystones. The luxury house boasts of five bedrooms and five bathrooms that are just to-die-for. One of the actress's many bathrooms screams of practicality and class.
We can just imagine her coming home from a long day of film production and heading straight to her spa-like bathroom. The Little Women actress must have spent lots of her time here preparing herself for red-carpet appearances.
Vanessa Carlton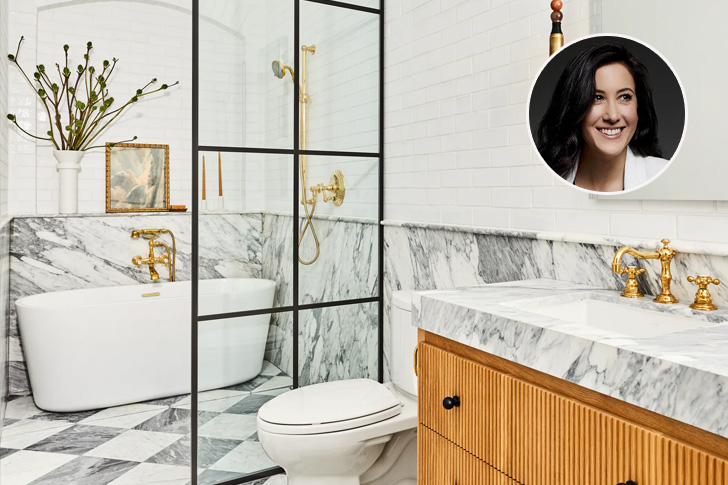 Vanessa Carlton is best remembered for her 2002 hit single A Thousand Miles that was featured in the film White Chicks. Her soft and relaxing voice can take anyone's worries away. Seeing her cozy bedroom, no wonder she gives off nothing but chill vibes. This brick-walled bedroom matches the rest of her Bohemian-inspired Manhattan pad. Natural light floods the room through its several huge windows. The rustic furniture adds even further charm to the full-floor apartment, completing its aesthetically pleasing look.
If you are already drooling with jealousy just by thinking about the chic master's bedroom, wait until you see her en-suite bathroom. The stylish room was crafted with the creative juices of well-known designer Sarah Samuel Sherman. The entire package is definitely worth the investments poured into it. The now forty-year-old Carlton currently puts the Soho apartment for rent at a monthly rate of $15, 500.
Alex Rodriguez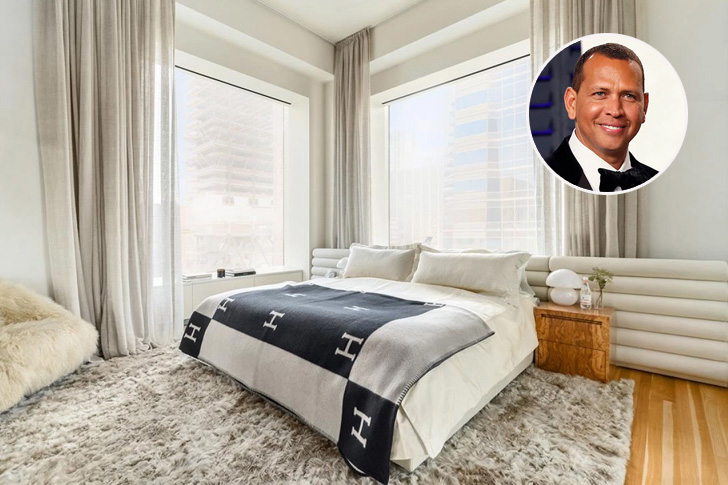 Newly engaged Alex Rodriguez and his partner Jennifer Lopez must be having the time of their lives raising a growing family in their luxurious New York City home. The former major league baseball player turned businessman has shared several photos of his partner relaxing in their gorgeous bedroom. The couple must have spent countless hours just lying in their cozy bed and binging on television shows. When nothing good is on TV, Rodriguez and Lopez can just open their curtains and take in the breathtaking view right outside their windows. They can just take the day off and stay in bed the whole day with a master's bedroom like this.
However, if you feel jealous of the couple's bedroom already, think again. They don't have just one but two master's bathrooms too. One can just imagine the investments that they must have poured into this prime real estate property.
Ashley Benson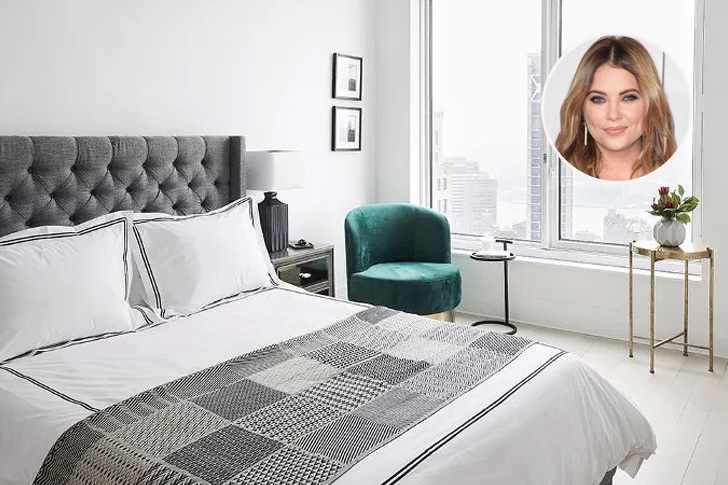 The Pretty Little Liars star Ashley Benson is known for her edgy looks. Not only does she show it in her outfits of choice but in her taste in real estate as well. She really poured out investments in glamming up her two-bedroom New York City apartment. There's no doubt that her main bedroom is every girl's dream den. After all, it is the thirty-one-year-old actress's little haven in the middle of the city's hustle and bustle. Her floor-to-ceiling windows offer an abundant amount of natural light with the view of the Big Apple on the side. It gives a bright and calm vibe that makes it the perfect destination for cozying up on her free time.
Benson's well-thought aesthetics was brought to life with the help of no other than interior designer Nicole Gordon. The bachelorette's pad is the epitome of minimalistic chic taste that reflects its owner's personal style.
Emilia Clarke
Emilia Clarke gained international prominence when she starred in the HBO hit television series Game of Thrones as Daenerys Targaryen. With the success of the show, Clarke became a household name, and her career showed no signs of slowing down anytime soon. The fruit of her labors came in the form of real estate investments. Clarke purchased the two-bedroom house located in Venice, Los Angeles, back in 2016, and the master's bedroom is one of the highlights of her luxurious home. The Me Before You star probably spends her rest days relaxing in her cozy bed while enjoying the natural light and view outside her window. The main suite overlooks her pool and her beautifully manicured garden.
Clarke's bedroom showcases her very own walk-in closet that connects to the en-suite bathroom. However, as of 2020, the thirty-four-year-old actress has, unfortunately, sold the house for $4.4 million.
Julianna Margulies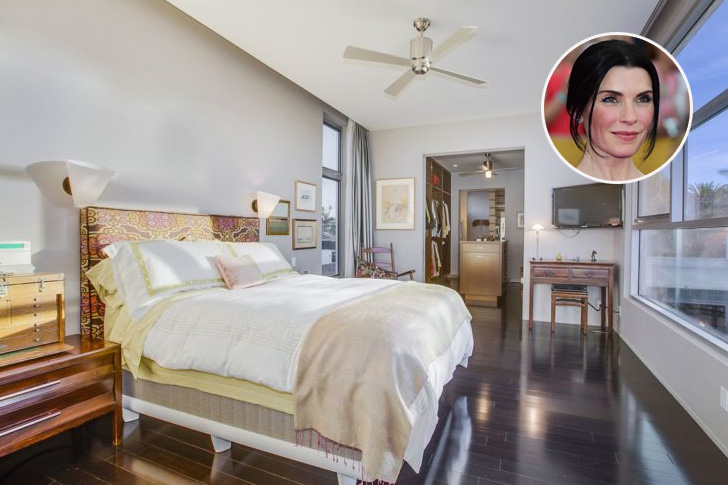 The Good Wife actress Julianna Margulies not only has her undeniable acting skills in her arsenal but an incredible taste in real estate as well. She and her husband, Keith Lieberthal, made great investments when they purchased their 2,200-square-foot SoHo apartment. The best part of the Manhattan pad is probably the Oriental-inspired bedroom. With windows that offer natural light and breathtaking views of the Big City, it is hard to imagine why one would ever want to leave such a gorgeous home. The master's bedroom's classic charm is even made complete by the sleek furniture ensemble. The perfectly-put-together pad can be hugely credited to Margulies's interior designer of choice, Vincente Wolfe.
The Manhattan apartment has just enough balance of comfort and class to raise their only child Kieran Lindsay. The actress has recently put up their former home for $5.75 million.
Heidi Klum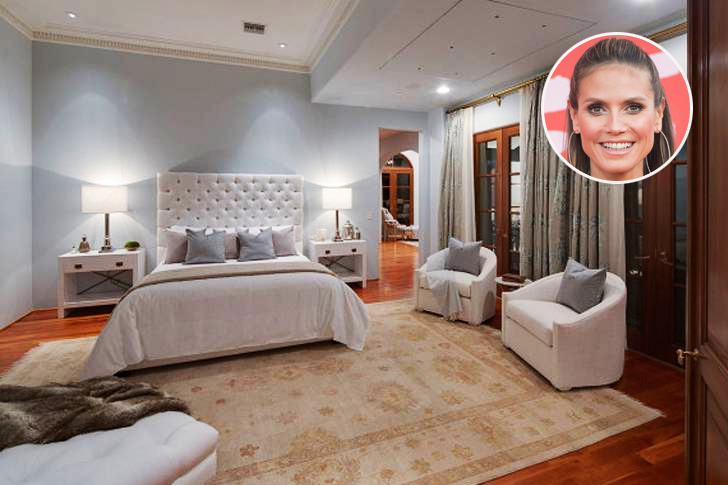 Supermodel Heidi Klum shows her classy taste beyond her runway outfits, and her Los Angeles mansion is an evident reflection of her elegant choice of style. Located in Brentwood, the Project Runway star's $25 million Italian-inspired luxury home holds eight bedrooms. It is home to Klum's master suite that serves as her go-to-lounge for relaxing. The room includes a cozy bedroom that anyone would want to sleep in so badly. Two closets for the mister and the missus give more than enough space for their respective wardrobes. In addition to the suite's amazing features is a personal terrace that offers a mesmerizing view of the estate grounds.
Klum poured tons of investment money into revamping the property that she bought for $14 million back in 2010, which brought up the property's real estate value. Valued at a whopping $25 million, you can write a check and own the house of your dreams.
Lady Gaga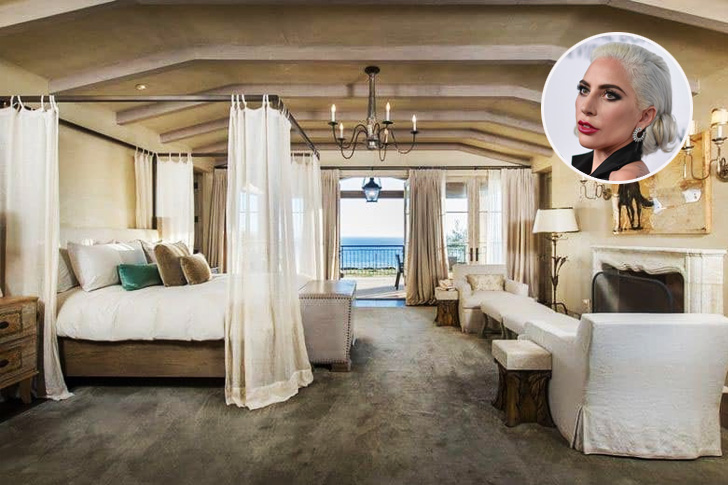 Lady Gaga has continuously proven herself in the entertainment industry. Some of her hit singles Bad Romance, Born This Way, and The Edge of Glory, are just a few of the reasons why her stardom continues to rise. The thirty-four-year-old musician must have tirelessly worked her way to achieve her successful music career. Of course, hard work comes with a bountiful reward. Lady Gaga got herself her personal sanctuary that she bought for a staggering $22. 5 million of her investment money. The Malibu mansion boasts three bedrooms, including the artist's very own master's suite. Her den leads straight out to a private terrace that offers an infinite supply of ocean breeze and breathtaking views.
The musician seems to like having things in double inside her bedroom, as seen with her two bathrooms and two fireplaces. What completes Lady Gaga's room is her huge walk-through closet that houses her collection of fashion ensembles.
Gisele Bundchen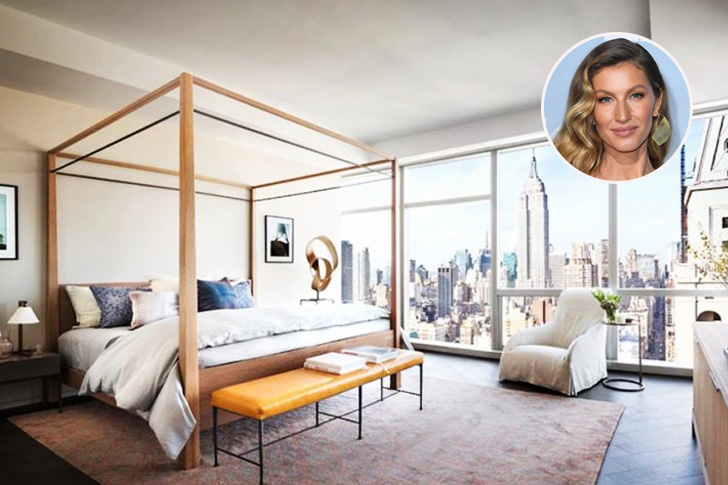 Supermodel Gisele Bundchen and NFL star Tom Brady's $14 million three-story New York City apartment at One Madison is easily anybody's dream home. The couple's minimalist bedroom looks chic and classy. Yet, it is no ordinary master's suite. It showcases an entire wall of floor-to-ceiling windows that offer an exquisite aerial view of the Big Apple, including the famed Empire State Building and the Statue of Liberty. Natural light fills the den with life, making it a warm and cozy nest for the celebrity pair.  The Manhattan pad also offers a scenic view of Madison Square Park that adds to its charm. It is like an oasis in the middle of the urban jungle.
The A-list couple made hefty investments when they bought the apartment in 2014. However, as of 2018, Bundchen and Brady have sold their luxury home.
Kid Rock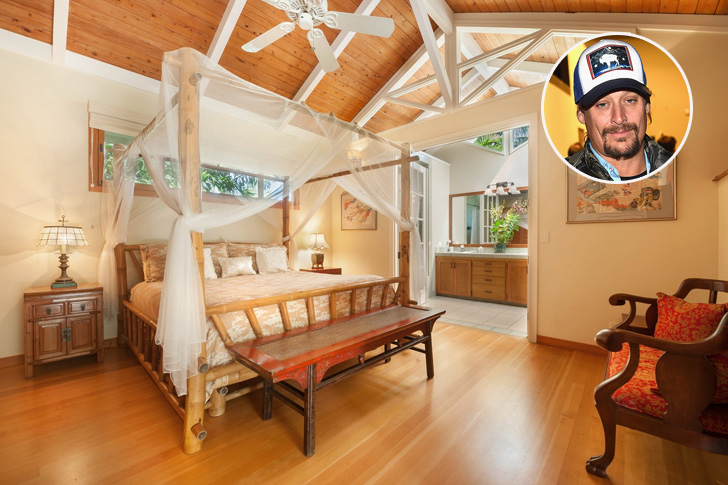 The dawning of the 21st century was an awkward transitional period for most, especially for those in the music scene as taste continued to evolve with experimentation. Kid Rock burst into the scene at exactly the right time, taking credit for the birth of metal/country rap and topping the charts consistently through the early 2000s. With the album sales flowing, Kid Rock sure wasn't afraid to live it up, purchasing an elegantly designed Balinese-style compound in Malibu for a reported price of $11.6 million.
The whole 1.5-acre property was detailed with intricate custom design work, but none as sophisticated as the work done in his bedroom. With handcrafted doors, dark wood panels, intricate ceilings, and a comforting blend of earthy colors, every detail seemed dedicated to counter the breakneck pace of a rock star's life. The perfect centerpiece is the Balinese colonial four-poster bed which completes the exotic facade. Kid Rock has since sold his compound in 2017 for only $9.5 million.
Millie Mackintosh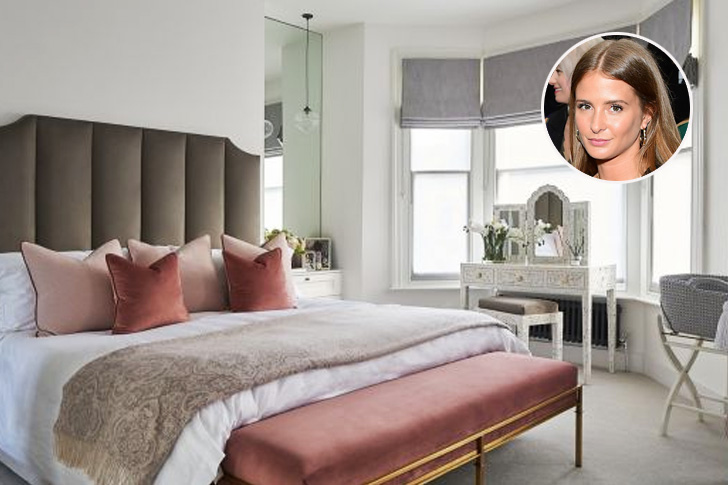 The home of Millie Mackintosh and her husband, Hugo Taylor, represents their chill bohemian lifestyle. The couple's abode features a white theme accented with some green motif throughout. Throughout much of the house, large windows are present to allow natural light to flood the space. It features a specially designed nursery for Mackintosh's baby daughter, Sienna, and a dressing room for the family. Surely, the property has a home security system as well for the whole family's protection.
Based on her Instagram photos of her house, the master's bedroom is quite spacious and well-lit, with a large white bed and large bay windows. Aside from that, the bed is flanked at the back with two large mirrors, a dressing table on its right side, a huge mirror on its left side, and a footrest on the end of the bed. The bed features a scalloped-edge headboard, cashmere pillows, and dusky pink paisley covering that usher good dreams. The adjacent bathroom is also decorated in white, making it the perfect spot to unwind. Given the power couple's high income and savings, they certainly did not need to make loans just to afford this impressive space.
Fearne Cotton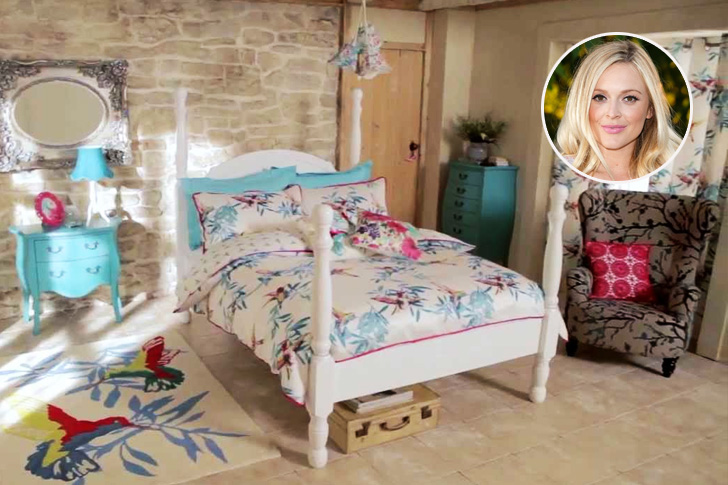 TV personality Fearne Cotton is not shy about sharing her house with her social media followers. Cotton and her family live in a Richmond period property in London that dates back to the 1850s. While small, Cotton and her family manage to make full use of their house. Based on her photos posted on Instagram, the house's interior design is quite chic and has retained its old charm while adding some modern features. The house's bathroom is lined with pink floral wallpaper and comes with jade-colored tiles. The bathroom features gold-accented taps and spigots, a wooden shelving unit on the wall, a traditional high-level toilet, and a well-rounded mounted mirror.
The bedroom, like much of the house, is lined with pink and white wallpaper with white flooring. It features a fringed green-colored floor lamp, Cotton's dressing table, and a wooden table with star-shaped figures etched into it. In contrast to much of the house, the bedroom is primarily cream-colored.
Michael C. Hall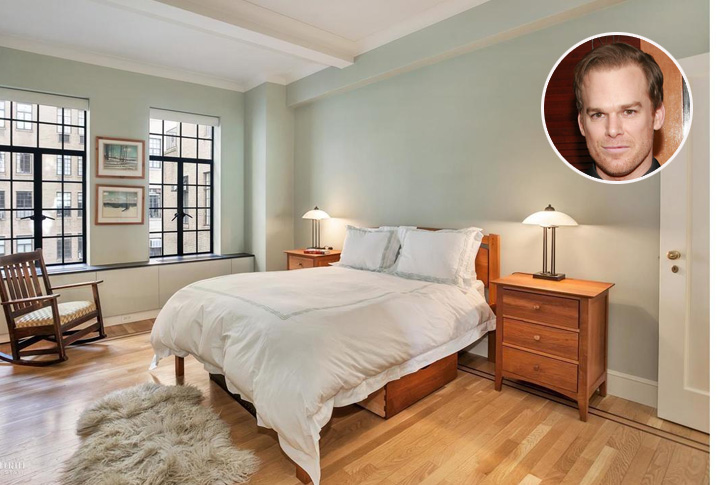 Dexter star Michael C. Hall's home is quite special for its location in Emery Roth-designed Eldorado, an iconic housing cooperative on Manhattan's Upper West Side. A beautifully renovated Classic Six apartment, the home has two bedrooms and three bathrooms, and with the 2,200 square feet living space, surely, it's more than enough for the actor. Each bathroom is lined with jade-colored wall tiles and is retro-themed, reflecting the Art Deco heritage. It definitely comes with a stylish experience beyond practicality. The master's bedroom features white oak flooring, a roomy walk-in closet, custom doors, a large LED flat-screen TV, and a much larger en-suite bathroom. Natural light floods the room through its large windows. The actor must have spent countless hours relaxing in his state-of-the-art den.
The house was bought by Hall and his wife, writer Morgan MacGregor for $4.3 million after selling his former home in Los Angeles.
Michelle Keegan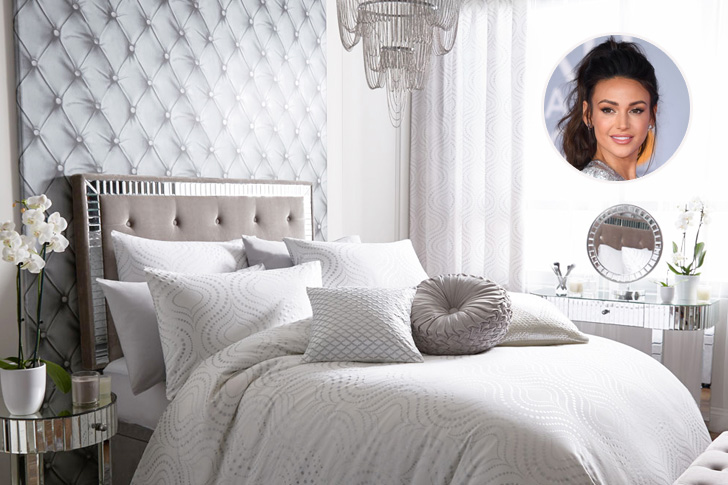 While building their dream home, actress Michelle Keegan and her husband, football player Mark Wright, took up temporary residence in their $2.8 million mansion in Essex, England. While their time in the said place is only limited, the home did not hold back in being quite large and stunning. It features five bedrooms, three bathrooms, and 3,000 square feet of space. Their home is filled with a lot of mirrors and glass décors. It also offers a well-maintained lawn for them to enjoy the breeze and sunshine.
Their bedroom is quite muted, with white decors and furniture from top to bottom. A flat-screen television is mounted on the wall opposite their bed, based on Keegan's Instagram photos. Like their bedroom, their bathroom is adorned with white motif and décor. The pair's comfort room features a free-standing bathtub and shelves for storage. It is the best spot to relax and unwind after the couple's busy schedule if you ask us.
Roman Kemp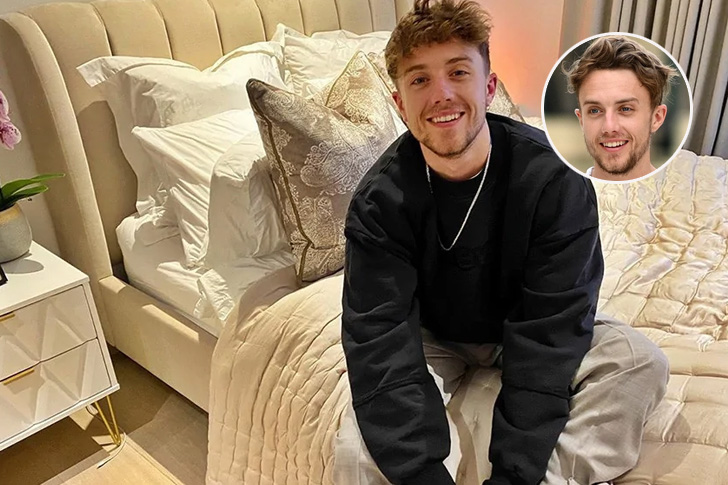 When it comes to sleeping in style, Roman Kemp knows how to make his bedroom an extension of himself. Kemp's known for his fantastic work in the radio hosting and TV industry from notable shows like Marin & Roman's Sunday Best and Celebrity Gogglebox. After recently moving in with his girlfriend, Anne-Sophie Flury, the English celebrity simply knew that their bedroom needed some major makeover.
Following the theme of a neutral-toned minimalistic approach, the couple opted to have a more straightforward layout of their place to rest since the bedroom is where you start and end your day. From the simple and traditional two-drawer at the side of the comfy bed to a single framed photo of a pink orchid, this bedroom is stylistically minimal. The design of the whole place perfectly captures Kemp's calm nature, which goes to show that a simple flooring choice could perfectly represent your personality.
Ruth Langsford and Eamonn Holmes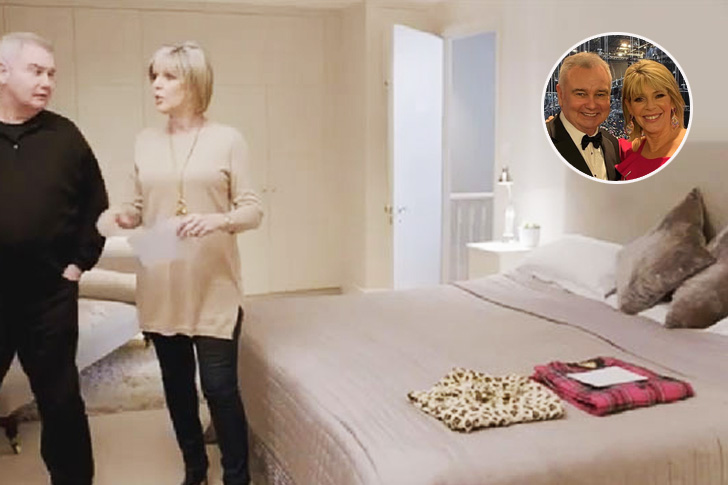 Comfort and style is the theme these couples are aiming for! Ruth Langsford and Eamonn Holmes' bedroom is the perfect vibe to your bedroom fantasy. Popularly known as the well-renowned presenters of This Morning, Ruth Wendy Langsford and her husband, Eamonn Holmes, aren't only good behind the camera but in room design as well. Adorned with nothing but a relaxing palette of neutral colors and a huge king-size bed with velvet cushions, Langsford and Holmes truly have a bedroom made for comfort.
To add to the theme of minimalistic design, the couple opted for a white bedside table with matching lamps on the bed's side which dramatically adds to the comfort of the room. It looks like the design could be given credit to both the broadcaster's inclination to a more peaceful vibe when catching some Z's at night.
Lorraine Kelly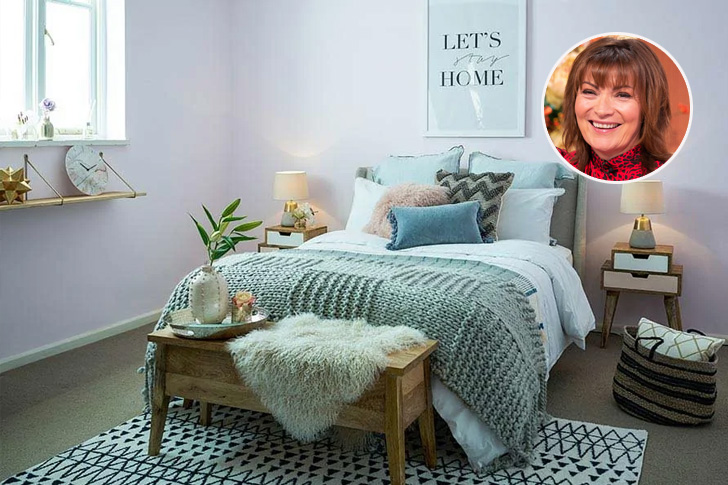 Next on this list of amazing celebrity bedrooms, Lorraine Kelly's updated crib will definitely have you wanting to try some of her furniture yourself. The Scottish actress and TV presenter is most notably known for her TV shows Lorraine, Good Morning Britain, and This Morning. Throughout her career, it was evident that Kelly opts for a more relaxing and simple type of living, and it's quite apparent in her choice of design when it comes to her bedroom.
With a stylish blue armchair and a dashing grey chaise longue decorating the room, Kelly's bedroom is absolutely stylish and compact. It seems like she's not done updating her room yet, though, since she's stated that these two pieces of furniture would simply serve as a good base for adding more accessories and furniture. With a triangular window letting in some natural lighting and sleek white flooring to complement the whole room, Kelly's room is an absolute icon for comfortable living.
Stacey Solomon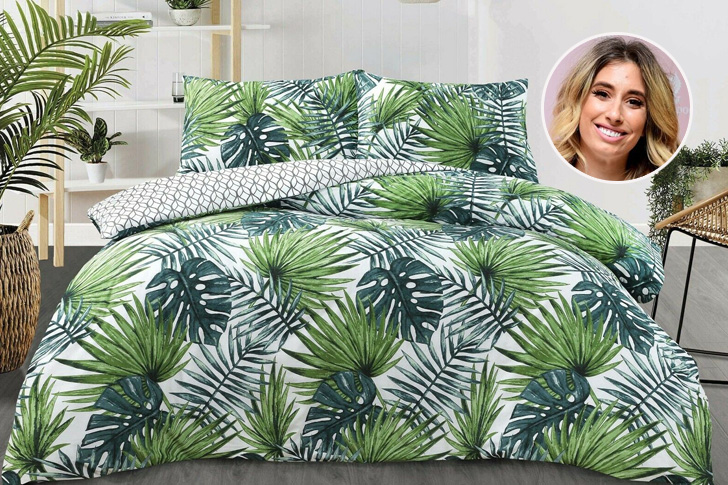 Waking up to the beauty of nature hasn't been so comforting until you get to see Stacey Solomon's new bedroom layout design. Standing out from the rest of the celebs in this list, Stacey's choice for a more botanical design could be given credit to how amazing her room looks. The English singer and tv personality is best known for her appearance and victory in the 6th season of The X Factor. It turns out that Stacey's hidden talent is having a knack for comfortable designs and picking superb themes for rooms since her bedroom looks absolutely amazing.
With stylist palm print duvet sheets and a sleek upholstered headboard in grey, Stacey's bedroom is something worth sinking in on late at night. Since the whole room was aiming for a more natural approach, the wooden table as a bedside completely finishes off the amazing masterpiece.
Zoella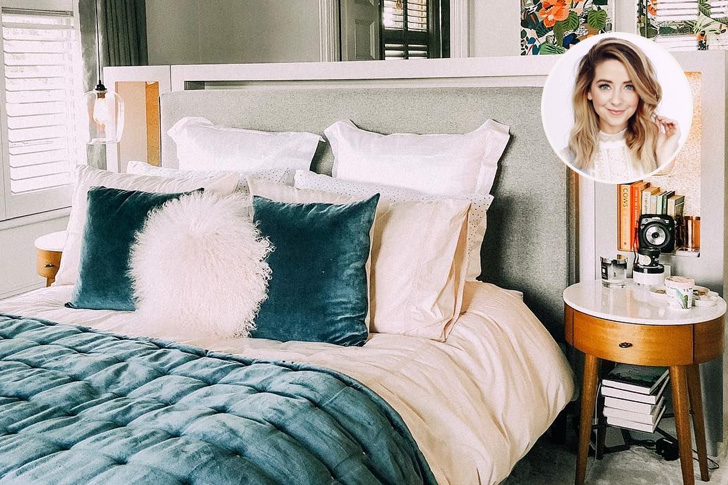 Dominating YouTube as the hit channel Zoella, Zoe Elizabeth Sugg shows the world that she isn't only good behind the camera but making sure her room is fabulous as well. Having a cozy theme of being retro and pastel, Zoe's room has a lot to cover when it comes to everything that makes it stylish. First on her list on what makes her room absolutely stunning is the grey marble-like flooring, which perfectly sets up the mood of the room.
The wonders don't stop there, though, since the teal sheets and dark green curtains easily complements the whole design since the room's overall color is white. The light theme also makes the colors of her bed, table, and paintings pop since everyone knows that Zoe likes her room pretty and gorgeous. To top it all off, a stylish bookshelf beside the large double-bed is the final touch to something insanely comfortable and fashionable.
Geri Halliwell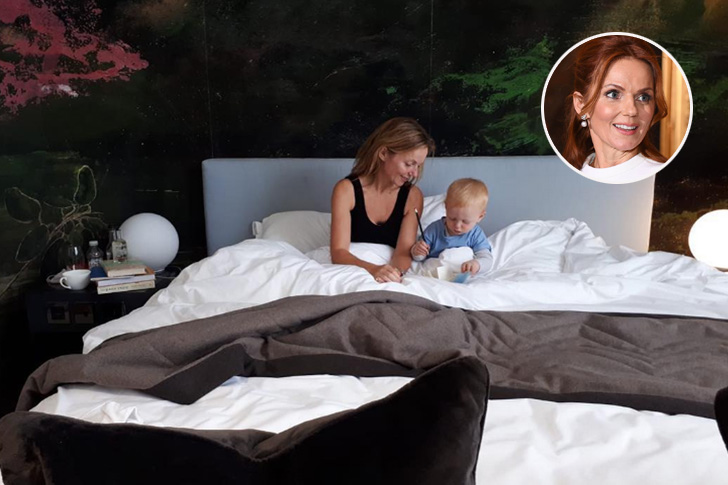 The next celebrity bedroom about to be featured is quite different than the standard light-themed, neutral color-based rooms previously mentioned, but it's nonetheless a a spectacular room. The Viva Forever and Wannabe singer Geraldine Estelle Horner, popularly known by her stage name as Geri Halliwell, is an absolute fashion icon on stage and even in her bedroom. Aside from having an artsy personality which she's loved and known for, Geri's bedroom perfectly captures the singer's essence of the love for the arts.
With a wallpaper adorned on her wall that's dark green with some splashes of lighter green and pink, that's simply one thing that makes Geri's bedroom a literal art exhibit. The way the singer designed her room with matching color schemes and furniture is something genuinely worth admiring. From the flooring to the bedsheets and furniture, Geri's overall theme of dark and earthly colors is something worth trying out yourself.
Amy Dowden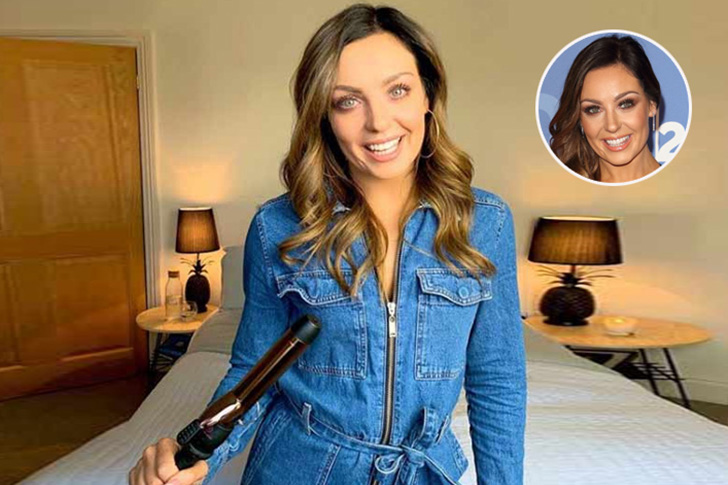 Both fashionable on and off-camera, Amy Dowen's aesthetic simply leaves the whole world in awe every time she shares something from her life. Known for her fantastic skill in ballroom dancing, the Latin American dancer recently gave the fans a little sneak peek into the life of luxury she's living in. Following a nice and cozy theme of neutral and light colors, Amy's bedroom is absolutely in a different degree when it comes to comfort and style.
The calm and relaxing overall tone and mood the dancer's room has is absolutely perfect for someone of Amy's personality since she's both beautiful and graceful—like her stunning bedroom. Aside from perfectly color-matched wallpapers and furniture, the added matching lamps shaped like a pineapple adorably completes the entire design of this masterpiece. With how amazing the bedroom was designed, sleeping in and not getting up from bed is without a doubt tempting.
Lucy Fallon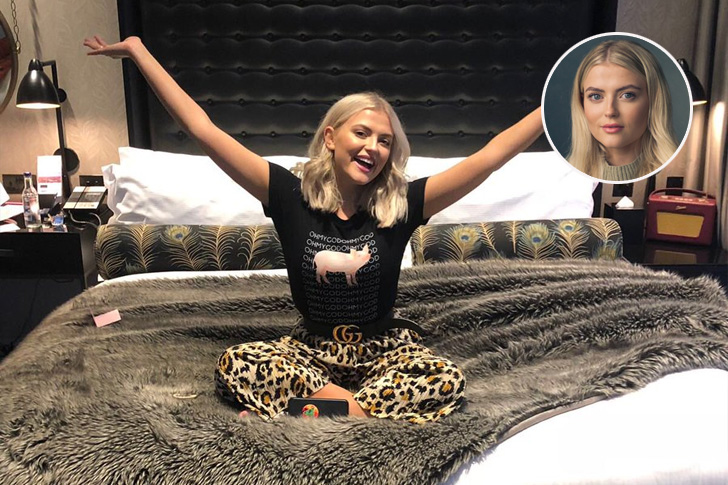 From rocking the TV screen in Don't Rock the Boat and the Coronation Street franchise, Lucy Fallon has another hidden talent other than acting—room designing. Easily standing out in this list of celebrity bedrooms, Lucy's room is absolutely jampacked with quirks and personalities. Every corner of the room has a little bit of art and flair in them, and it's impossible not to be amazed when you see her room every time.
Starting off the long list of what makes her room unique is a patterned wallpaper which immediately breaks any bland vibe entering the room. The blue and pastel pillows and bed sheet also add a vibrant burst of energy to the room, increasing the overall design of the masterpiece. Her room is so lovely that even the flooring has a sense of her personality. From a zigzag patterned bed covering to a bright display of thunderbolts on her wall, Lucy's room is anything but boring.
Jamie Oliver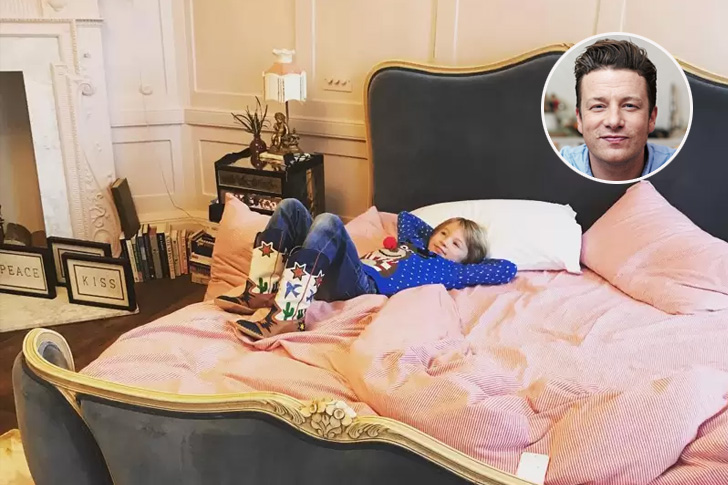 The British chef Jamie Trevor Oliver may be good in the kitchen, but when it comes to designing his bedroom, he's even greater. Living in luxury is easily seen in Jamie's sense of style when it comes to his aesthetic in bedroom designs, and you'll soon see why. From prestigious flooring and carpeting to a bed fit for a king, you'll be in awe at how grand this chef's room is.
Focusing on the main attraction of the room, you have the king-size bed complete with a golden ornate bed frame as well as pink bed sheets and pillowcases. The light and pastel design of the room is bubbly and prestigious at the same time that it easily looks like something from a fantasy. Also, it's not every day that you get to see a fireplace inside a person's bedroom, but you're in luck since Jamie has just that. With his bedroom design, living in luxury has never been so comfortable and stylish.
Lady Amelia Windsor.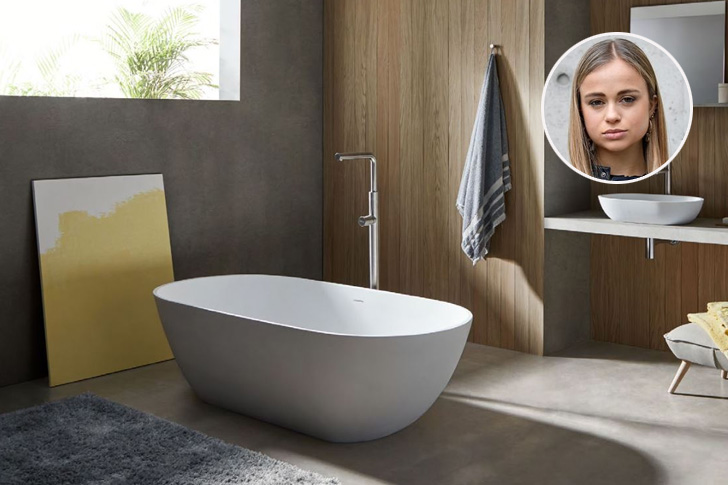 Taking a break from the grand bedrooms of other celebrities, Lady Amelia Windsor's bedroom is something that's adorably simple. Despite being part of royalty and, without a doubt, one successful English fashion model, Amelia Sophia Theodora Mary Margaret Windsor opts for a more simple bedroom design. The down-to-earth plan could be given credit to the Lady's calm and nice personality, which makes her bedroom an extension of herself— and that's beautiful.
Decorating the plain cream walls, Amelia's personal photos could be seen hung around the room to break the monotony of the simple walls of her room. You could also see Amelia's quirky passion for vintage photographs too in her numerous polaroid snaps found clipped in her dressing table mirror! In addition, the overall aesthetic of her room is perfectly tied-up with various ornaments adorning the room like a colored feather and a pot filled with skincare products. If there's a word that could describe Amelia's room, it would easily be adorable.
Rochelle and Marvin Humes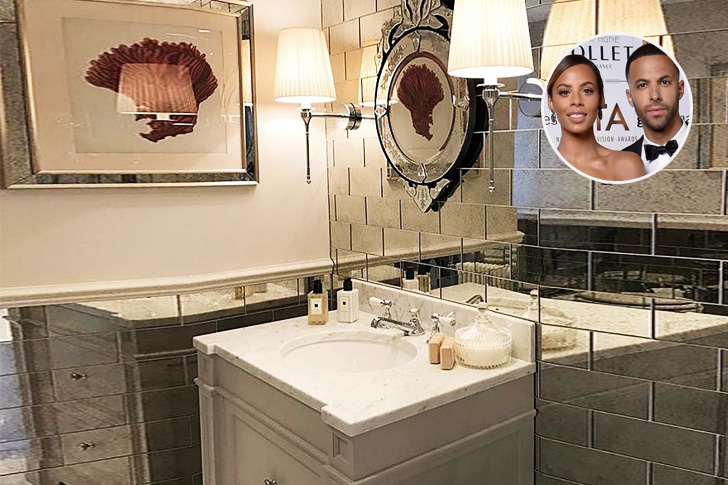 Old school never loses its touch, especially when it's the vibe you're looking for in a room you wake up to every day. The hit English singer and tv personality Rochelle Eulah Eileen Humes gave her fans a sneak peek of her lovely room while doing a birthday post for her husband on Instagram. Aside from being totally sweet and adorable with her husband, Marvin Humes, you can tell that the couple is rocking their design when it comes to their bedroom.
For this celeb couple, their theme is plain and elegant, and it's 100% amazing to look at. With grey walls and a grey ornate carved headboard made out of wood on a large king-sized bed, these celebrities are living like royalty. You could see their dedication to the room's overall tone, too, with their notable investment in a white retro house phone on a table. Now that's a comfy and elegant room.
Matthew Perry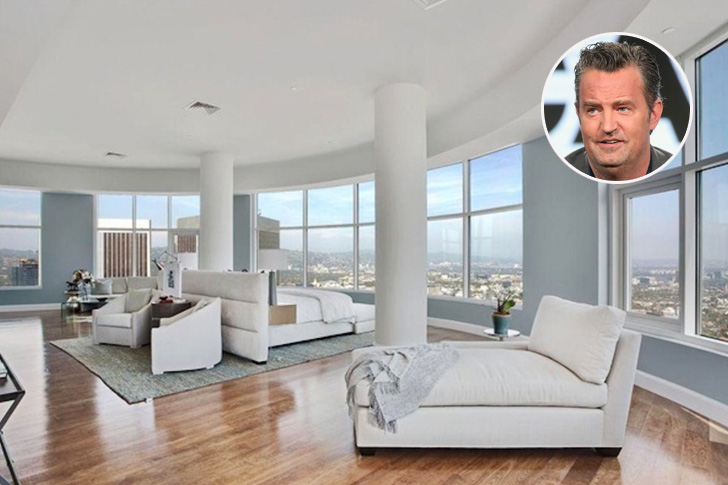 You can make up for the lack of decorations and furniture in your bedroom if your main wall décor is a wonderful view of Los Angeles. Matthew Langford Perry absolutely aces it when it comes to celeb bedrooms since his $20 million penthouse up in Los Angeles speaks for itself. With an overall tone of white and light colors, the million-dollar penthouse is what you'd expect a multi-millionaire actor to be living in.
Upon entering this celeb's crib, you'd immediately be greeted with a beautiful aerial view of Los Angeles and its amazing horizons, and that alone is priceless. Further in, you'd see Matthew's liking to the simple design with white bed sheets, white cushions, light-toned bedside tables, and white lamps to go around with the overall design. The whole room is perfectly topped off with elegant wooden flooring which really brings out the elegance of the room.
Novak Djokovic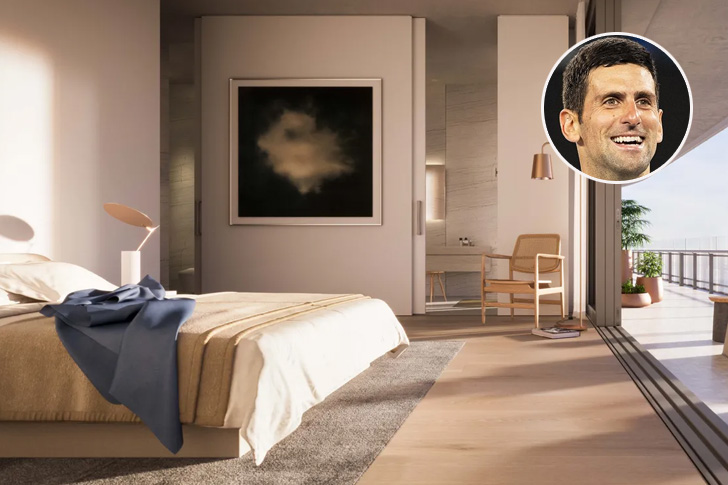 Some celeb houses have nice color palettes in their designs, some have a nice view of a city, but not most have a rocking view of the sea outside their window. Professional Serbian tennis player, Novak Djokovic's crib is something worth freaking out over because of its insanely good architectural design and incredible view. Aside from an already nice design overall with the house with a nice light earthly tone to it, it has something way better than any theme—the sea.
Upon opening the sliding glass in Novak's room, you'd wake up to a nice sea breeze waiting to wake you up every morning. Other than a fantastic view and relaxing use of light tones, the bedroom has its standard colossal king-sized bed and a very nice lounge outside the balcony. Now that's one of the best investments you can make, especially if you're a multi-million tennis superstar like Novak.
Natalie Portman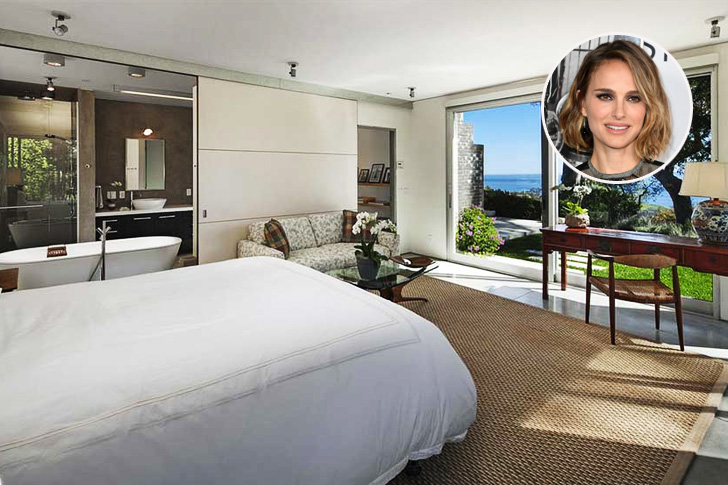 If you have millions at your disposal, you'd want it to go in the best possible investments available—like living by the ocean! The Israeli-born American actress Natalie Portman is no stranger when it comes to celebrities spending their money on the grander things in life, and her master bedroom is no exception.
The Black Swan actress lives in luxury in a terrace situated bedroom whereupon opening its sliding doors, you'd be greeted by the nearby Pacific Ocean. Aside from the breathtaking view, the million-dollar home comes fully furnished with the finest of furniture, from a king-size bed to a standard free-standing bathtub. Portman could afford to live in such luxury considering she's one highly-accomplished actress in her craft from notable box-office hits such as Closer, V for Vendetta, and Thor. With an estimated net worth of $90 million, living in this home is but an everyday expense for the actress.
Angelina Jolie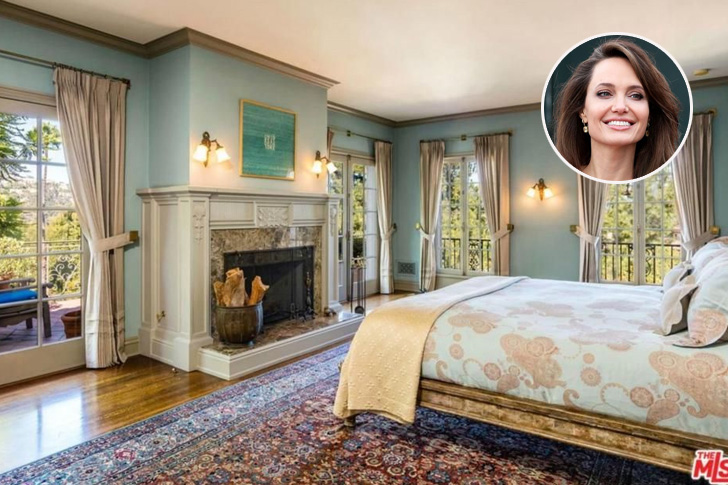 Celebrities really have a thing for having a nice view from their beds, and Angelina Jolie might just have won the best bedroom of all time award. To put it into perspective, Jolie's house costs around $25 million, and you already know that amount of money will give you only the finest things in life. It's hard not to win the best bedroom award if you have six bedrooms in one house, but one particular bedroom stands out in Jolie's million-dollar home, though.
Aside from having a direct access to their private patio with the amazing view of Los Angeles, this bedroom has every possible décor an old-schooler would love. Beautifully decorated with dark wood, an elegant fireplace, and complete wooden flooring, this bedroom simply screams millionaire. The bedroom is everything you'd expect from a multi-award winning actress to live in— and you can tell that Jolie's $100 million net worth is being put into good use.
Kris Jenner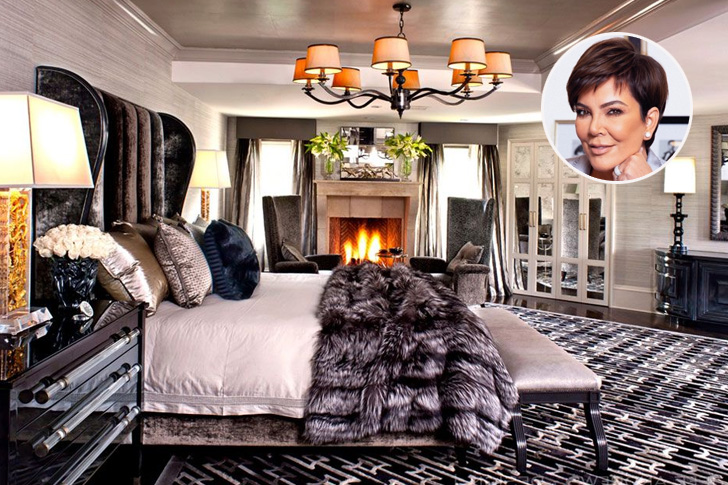 Kris Jenner listed her primary home in the Hidden Hills neighborhood of Los Angeles for $15 million in August 2020, but she owns four other houses: three condos in Calabasas and a sprawling mansion in La Quinta, California. Previously, she also possessed the famous Kardashian family house, but it has since been revealed that her son, Rob, had moved to the property when he showed his daughter, Dream, the Christmas renovation of their home.
It's not clear exactly where Kris has been living since she sold her main residence, but over the years she's shared many pictures within each house. Kris showed her bedroom when designer Diane Von Furstenberg joined her. As with most of the rest of her houses, there is a muted cream and white color scheme, with a low-rise bed and cashmere covers. With wooden walnut flooring, high ceilings, and sliding glass doors positioned to the degree that it offers easy entry to the garden, Kris' bedroom is genuinely magnificent.
Johnny Depp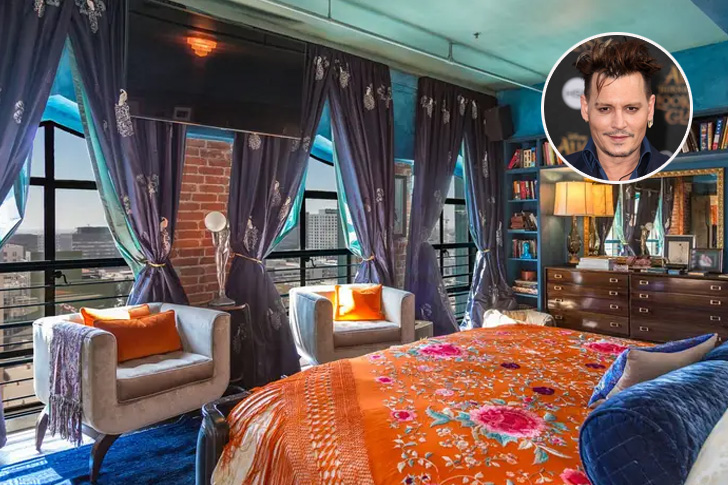 Johnny Depp has been the owner of several unusual property investments over the years, including a collection of penthouses in downtown Los Angeles, a 45-acre private island in the Bahamas, and a horse farm in Kentucky. He has a large portfolio but spends much of his time at his home in LA's Hollywood Hills. One of his residences, which he sold in 2017 for $1.425 million, was a 1-bedroom, 2-bathroom condo.
The unit had vaulted ceilings and exposed brick walls in the master suite, as well as a marble bathroom and a lounge space. How big is the condo, you ask? It's 1,839 square feet of luxurious living space. One of the highlights of Johnny's LA penthouse is the master bedroom with expansive floor-to-ceiling windows and great views across the Los Angeles skyline. With exposed brickwork and pipes, the space has a chic, loft-style atmosphere and is currently furnished with a portrait of Johnny's personal art collection, which is not available for sale.
Eva Longoria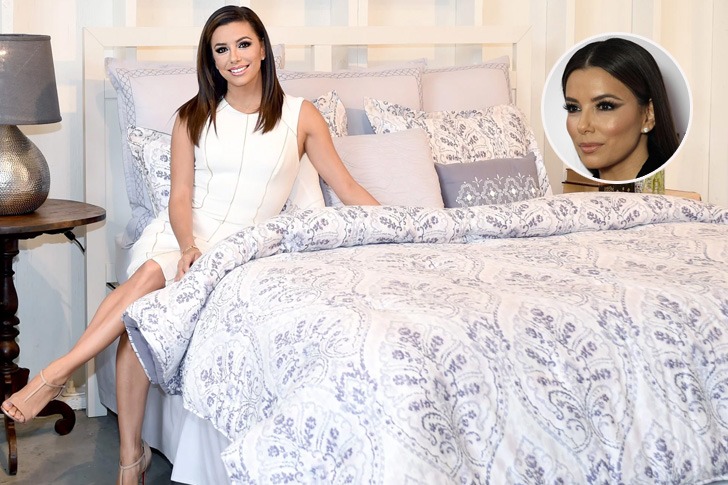 Eva Longoria lives in Beverly Hills with her husband José Bastón and her son Santiago. After moving in 2017, the actress has added bold colors to her real estate investment. The original property listing shows that the expansive home had a very simple monochrome decor, but since the family moved, as seen on Eva's Instagram feed, it has had a colorful makeover.
The highlights of Eva's mansion include the sweeping view of Hollywood Hills, the outdoor patio, the pool house, and the on-site tennis court. To add, the lavish master suite in has its own private den and bar area, its own bathrooms, and walk-in closets — the ultimate dream bedroom for a lot of women. The room has a king-size bed, couch and armchairs, a fireplace, and a view of Beverly Hills from the huge windows. Family life will be such a bliss when you're like Longoria, who lives in luxury at the comfort of her mansion.
Vince Vaughn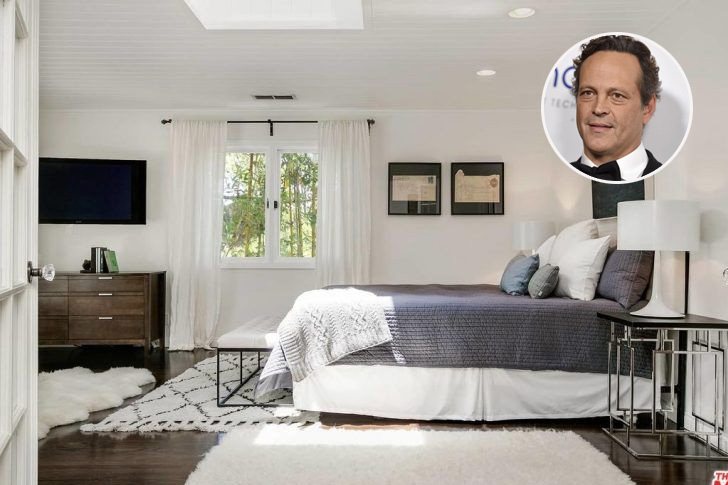 Vince Vaughn's house (formerly owned by Kate Bosworth) has three bedrooms, including this huge master suite, which has plenty of space for a king-size bed, a separate chaise longue, and a dressing table. The space has a double-sided view across the garden, with a private balcony, en-suite bathroom, and two walk-in closets.
On the ground floor of Vince's real estate investment are two guest bedrooms connected by a spacious bathroom, which has its own French doors opening into the side yard, where there is a narrow lap-lane swimming pool. The house, which sits just over half an acre, was built in 1955, but the interiors have been renovated since then. An array of iron gates separates the home from the main road, and a long driveway leads to the unassuming entrance. A row of big windows peers out over the front yard. If this estate is not the epitome of a dream home, then we don't know what is!
John Krasinski and Emily Blunt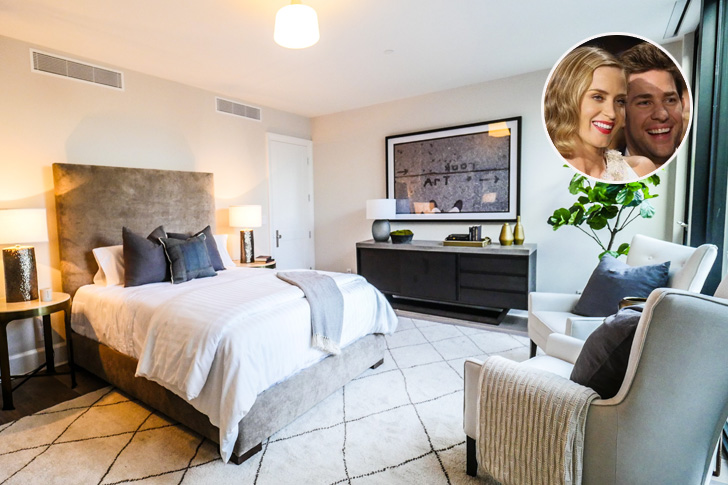 John Krasinski and Emily Blunt have taken their earnings and made an investment into Brooklyn real estate, buying a $15.3 million apartment in the borough's most celebrity-friendly residence. They reportedly bought two units, combining both into one epic dwelling.
The master bedroom and the bathroom take up an entire floor of the house. The bedroom is spacious enough for a king-size bed and two wooden console tables with a lush peach couch in the bay window. It is painted with a distinctive pastel-stripe wallpaper, with a broad gray rug spread across the wooden floor. The pair also got a gym, a 24-hour concierge, a kid's playroom, and enviable views of Manhattan for the hefty price tag of buying into the building. Both properties are on the 8th floor, below their fellow film star Matt Damon, who bought the building's penthouse apartment in September 2017.