Living Stars From Hollywood's Golden Age – See How They Live Now
ANN-MARGRET – 79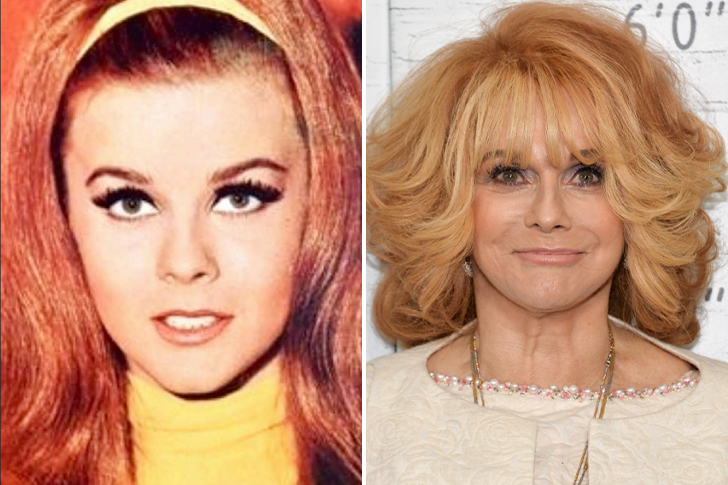 At age 79, Ann-Margret Olsson has had an illustrious and highly successful career. She was fortunate to have supportive parents who poured investments towards her love for the arts. She started her career in 1961 when she began recording for RCA Records. Simultaneously, she tried her luck at acting. She immediately became a highly promising performer, with accolades for her debut performances. She reached superstar status after starring in Bye Bye Birdie. It got to a point where she was branded as the 'female Elvis'.
She became heavily associated with the King of Rock and Roll, to the point of being romantically linked to him. Since then, her achievements throughout her 60 years in the business included five Golden Globes, two Grammys, six Emmys, a Screen Actors Guild Award, and two Oscar nominations. Furthermore, she was awarded the Swedish Royal Order of the Polar Star in 1988.
ARNOLD SCHWARZENEGGER – 73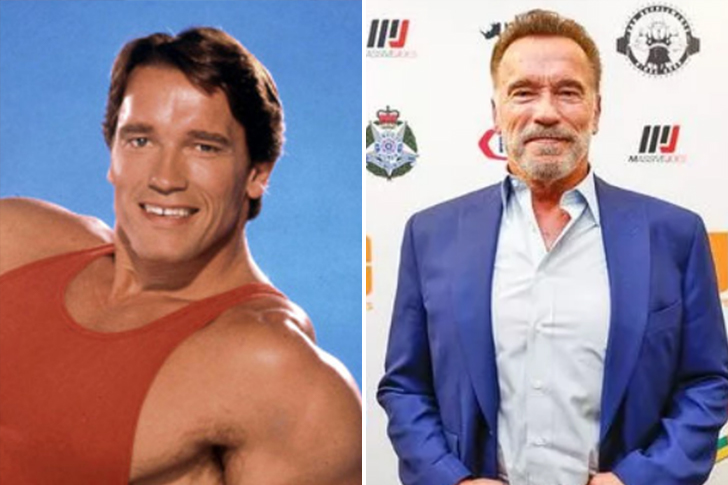 Arnold Schwarzenegger has become a global icon in his 60-year career. He made a name for himself in bodybuilding at age 15, joining and winning European bodybuilding contests. Eventually, he joined Mr. Universe and Mr. Olympia, winning those titles thrice and seven times, respectively. This made Schwarzenegger one of the most legendary male bodybuilders of all time. This also became the impetus for his fledgling acting career. He became world-famous for his roles as Conan and the Terminator.
Aside from that, he starred in classics such as Total Recall, Commando, Predator, and Kindergarten Cop. He eventually slowed down his acting and bodybuilding career to focus on politics. He was elected Governor of California in 2003. His tenure lasted until 2011 when he no longer became eligible to run for another term. Since then, he has returned to acting. He ventured into business and investments and has a net worth of $400 million. At 73, the Terminator is still as active and influential as ever.
BARBI BENTON – 71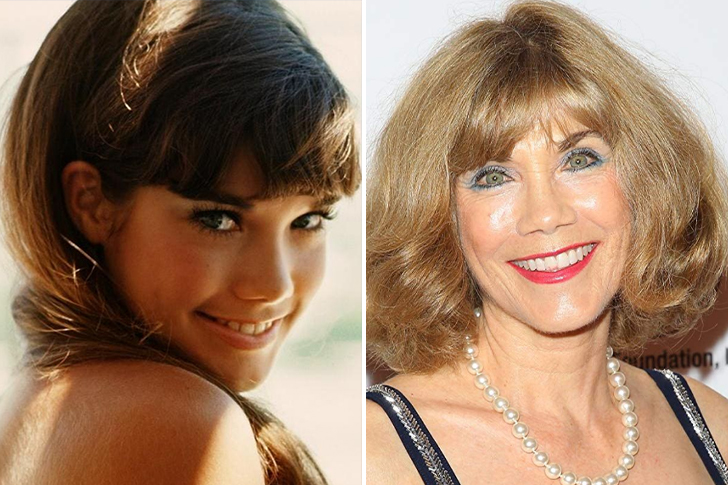 Barbi Benton was a sensation during her career in the 1970s. While studying at UCLA for her veterinarian degree, she started to work for Playboy, with her first job being appearances in the show Playboy After Dark. Playboy founder Hugh Hefner then took an interest in her and the two began a relationship in 1969, which lasted until 1976. During that time, she changed her name to Barbi Benton and became the face of Hefner's enterprise.
She appeared on the cover of Playboy four times. Benton became successful in her modeling career with modest success in singing and acting. She appeared in TV shows like Fantasy Island, The Love Boat, and Hee Haw. The now 71-year-old Benton eventually retired from the industry in the 1980s to focus on her family. The model has two children with her husband, real estate developer George Gradow.
BARBRA STREISAND – 78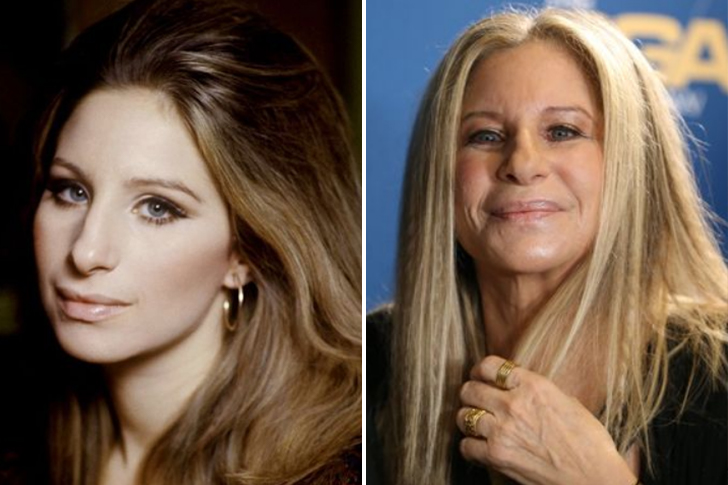 One of the greatest singers of all time, Barbra Streisand is still captivating many people around the world. She started her career in the 1960s, performing in nightclubs and Broadway productions. This led to a record deal with Columbia Records, with her debut album released in 1963. It became an instant hit and won Streisand two Grammys, including Album of the Year. She then began her acting career in 1968 with Funny Girl, which won her an Oscar for Best Actress. Her other film credits include A Star Is Born, Yentl, and What's Up Doc?
A pioneer in the industry, Streisand became the first woman to win a Golden Globe for Best Director and an Oscar for Best Original Song. Throughout her more than 60 years in the industry, she received various accolades and awards, including a Presidential Medal of Freedom, and became one of the best-selling artists of all time. Even at age 78, she remains a powerful and respected figure in the industry.
BOB BARKER – 97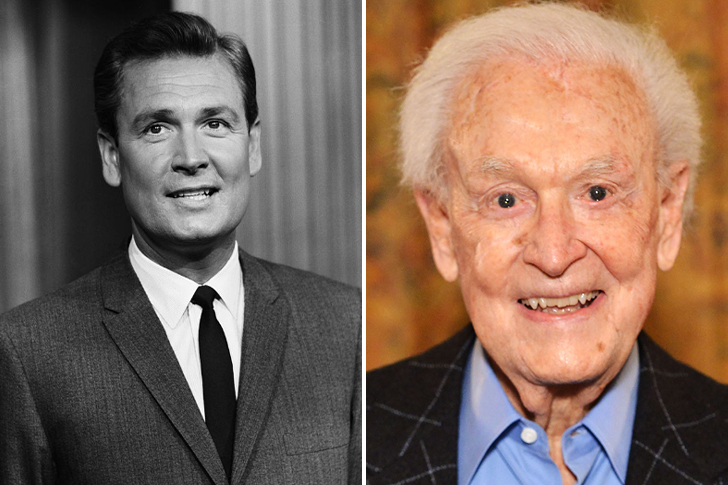 Known for being the former host of The Price Is Right, Bob Barker has become a household name for many Americans. He started in radio while he was earning an economics degree at Drury University. In 1950, he moved to California for work and eventually got his eponymous radio show. It lasted for six years until 1956, when he went on to host his first game show, Truth or Consequences, until 1975.
Barker's break into popularity was when he chose to host The Price Is Right in 1972. His stint lasted for 35 years until 2007 when he retired from the show. However, he had three return appearances since his retirement. Other than The Price Is Right, he hosted Miss Universe and Miss USA pageants, becoming the longest-serving host for those pageants. Today, at age 97, Barker is active towards advocacy for animal rights, which he started during the 1970s.
BRIGITTE BARDOT – 86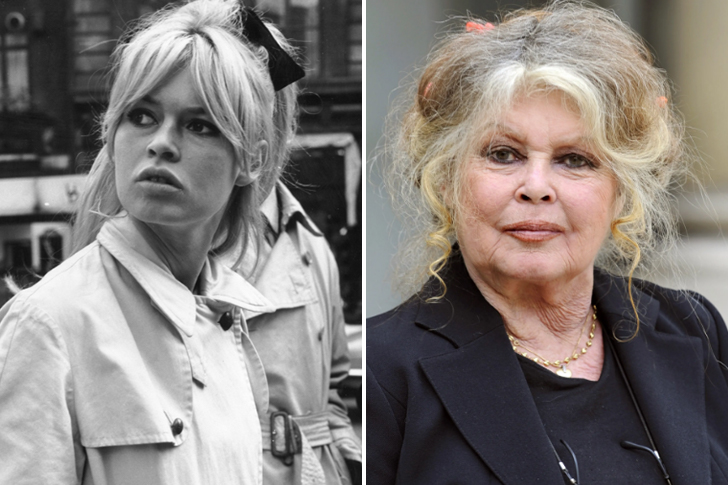 Brigitte Bardot remains a cultural icon to this day as one of the biggest bombshells of the 20th century. She began her career in 1949 when she was hired as a fashion model by Elle magazine director Hélène Gordon-Lazareff. She appeared on the cover of the magazine for the first time in 1950. She did another cover appearance in 1952, which led to her first movie role in the comedy film Crazy for Love.
Bardot was propelled into stardom for her role in the movies Naughty Girl, Plucking the Daisy, The Bride Is Much Too Beautiful, and And God Created Woman. However, she announced her retirement from acting in 1973. Aside from her acting, she became known for her animal rights activism, using her fame to promote it around the world. She poured investments into animal welfare programs. Even at age 86, she remains active in her advocacy and has dabbled into political discourse, which made headlines in France and abroad.
CATHERINE BACH – 67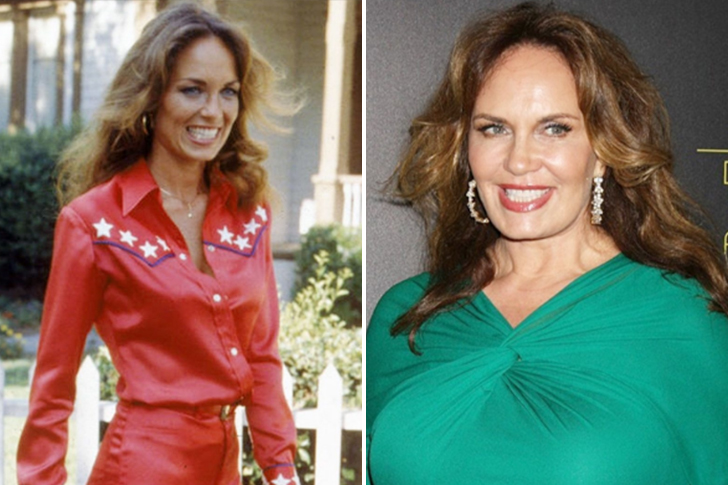 Catherine Bach has made a mark in popular culture with her long and successful career. She made her debut as one of the children in a theatrical production of The Sound of Music. Her first on-screen appearance was in 1973's The Midnight Man. Her big break, however, was when she was cast as Daisy Duke in the action-comedy TV series The Dukes of Hazzard in 1979. Her character's outfit, improvised by Bach herself, of a tied-up T-shirt, highly cut-off denim shorts, and high heels turned her into a sex symbol and a cultural icon during the show's run.
Her character's shorts, in particular, eventually became known as 'Daisy Dukes' as an homage to her. After the series' run had ended, she had modest success through her subsequent roles in African Skies, Monk, and The Young and The Restless. Outside of acting, she poured investments into business plans. In 2002, she started her diamond jewelry line. In 2016, she opened a store in Nashville called Daisy Country, which features her line of clothes, jewelry, and vintage memorabilia.
CHER – 74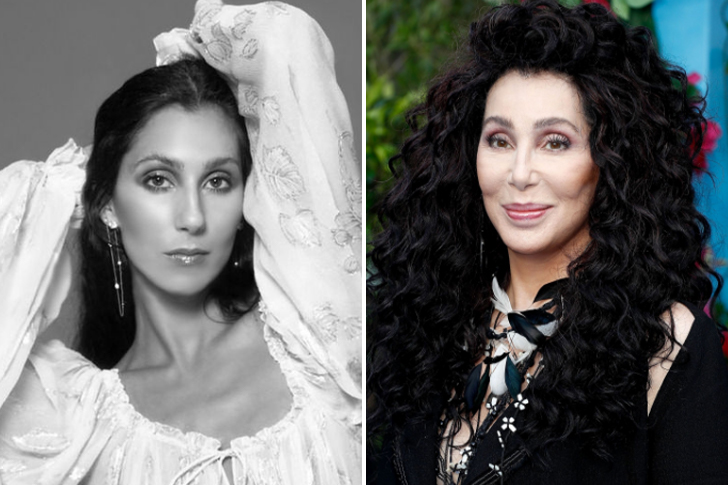 There is no doubt that Cher is one of the most acclaimed stars in the entertainment industry. Her countless contributions to music and the arts have paved the way for many aspiring dreamers. The beginning of her mile-long career was in the duo Sonny and Cher with her then-husband Sonny Bono. Together, they went on to release hit singles such as I Got You, Babe, A Cowboy's Work Is Never Done, and The Beat Goes On. However, Cher defied the once male-dominated industry with the launching of her solo career.
The now 74-year-old Cher did not only rule the music charts. She has more than a couple of acting credits under her name. Among the list of films that she starred in are Mermaids, Burlesque, and Moonstruck. Her artistry has inspired generations of artists, including Jennifer Lopez, Beyonce, and Christina Aguilera. She is also a notable trendsetter in the world of fashion and has been considered an icon of the LGBT community.
CHRISTIE BRINKLEY – 67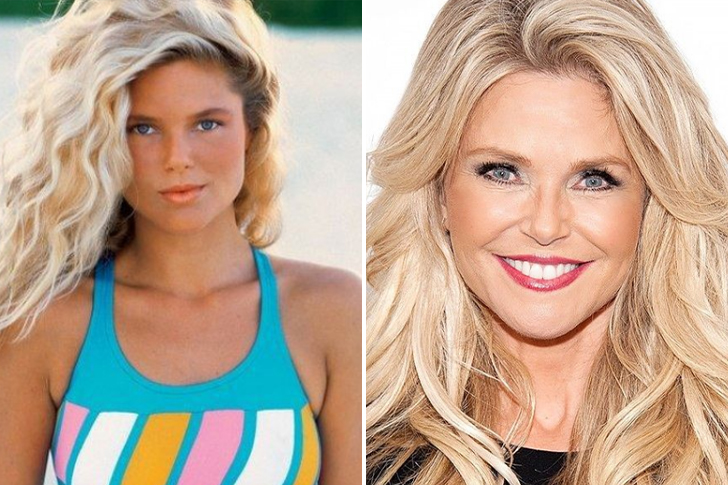 The 1970s became known as the year that the world discovered Christie Brinkley. After being discovered by a photographer, the model's career has never ceased to rise. Several magazines such as Sports Illustrated Swimsuit Issue, Rolling Stone, Cosmopolitan, and Harper's Bazaar have featured the blonde beauty on their covers. She became the It girl of the cosmetics company Cover Girl after signing a 25-year contract with them. It is safe to say that she filled every guy's dreams to some degree with her gorgeous face and perfect curves.
However, Brinkley soon ventured into the world of acting. She appeared in 1983's National Lampoon's Vacation and its sequel Vegas Vacation. Even at 67 years old, Brinkley has maintained her flawless figure. It is like she has not aged since her magazine feature. She has invested heavily in keeping her beautiful skin by following a beauty regime and a healthy diet.
CHRISTOPH WALTZ – 64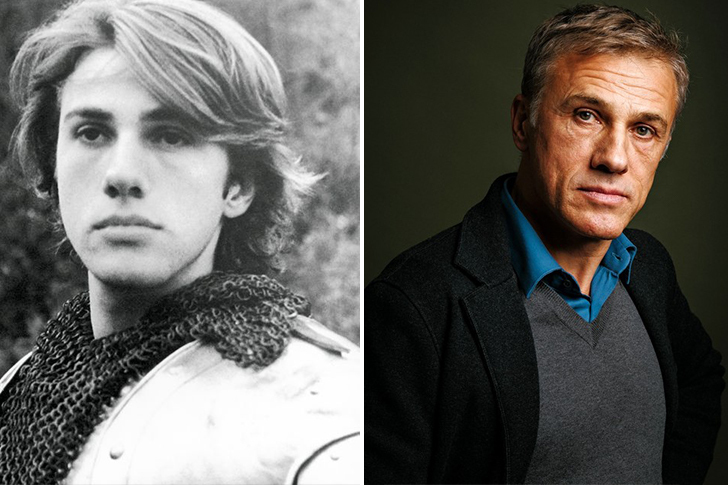 Christoph Waltz is one of the biggest celebrities in the entertainment industry. His international prominence and fame are all thanks to his undeniable acting prowess. His talents were well met with numerous accolades, including two Golden Globes, two Academy Awards, two Screen Actors Guild Awards, and two British Academy Film Awards. He began making his mark in show business in Europe until eventually finding his way to Hollywood.
His breakthrough role in the US was as SS-Standartenführer Hans Landa in the 2009 Tarantino film Inglorious Basterds. His performance earned him several recognitions and praises from audiences and critics alike. Some of his notable acting credits come from films such as Love Scenes from Planet Earth, Water for Elephants, and Django Unchained.  In 2019, Waltz earned his directorial credits in the film Georgetown. The now 64-year-old actor continues to leave the world in awe of his incredible craft.
CATHERINE O'HARA – 67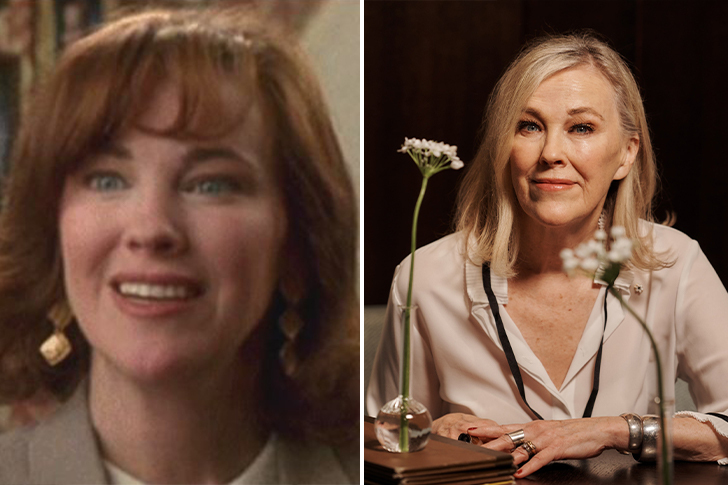 Catherine O'Hara has made a legend out of herself in the entertainment industry after starring in the 1988 Tim Burton film Beetlejuice. She played the role of the eccentric Delia Deetz alongside actors Winona Ryder, Jeffrey Jones, Michael Keaton, and Alec Baldwin. Her performance marked her eventual collaboration with the esteemed director in several films moving forward. She is also remembered for playing Kevin McCallister's mom Kate in the 1990 classic Home Alone.
Some of her other notable acting credits come from films such as Lemony Snicket's A Series of Unfortunate Events, The Last of the High Kings, and Killers. Outside of the big screen, she ventured into the world of television and appeared in Saturday Night Live, Tales from the Crypt, and The Last Kids on Earth.  The now sixty-seven-year-old O'Hara remains active in the show business. She is currently working on an animated film Extinct.
CYBILL SHEPHERD – 71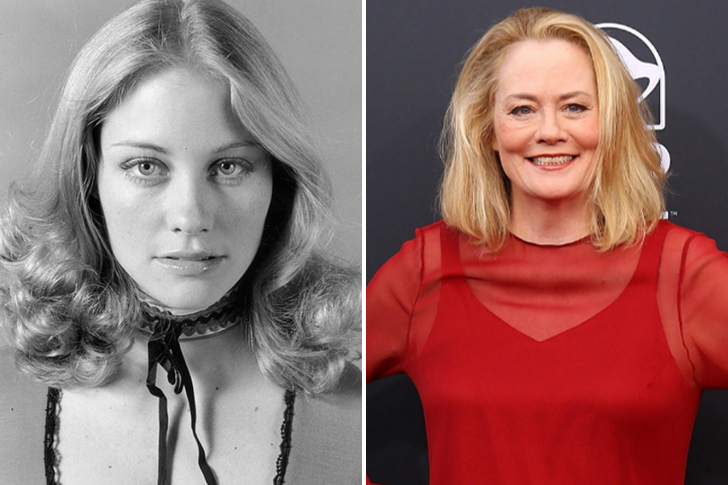 Cybill Shepherd's natural blonde hair, piercing blue eyes, and overall gorgeous beauty have captivated myriads of fans. Almost every guy in the 60s had a poster of her hanging on their bedroom wall. At the age of 21, Shepherd starred in her debut film, The Last Picture Show. The film's director Peter Bogdanovich saw her face on the cover of Glamour magazine. Her portrayal of Jacy Farrow paved the way to a Golden Globe nomination.
Not a lot of actresses could have pulled off something like it at the beginning of their career. She soon went on to add more roles to her resume and starred in films like At Long Last Love, Secrets of a Married Man, She's Funny That Way, Taxi Driver, and Love is Love is Love. The now 71-year-old Shepherd has a lot of gas left in the tank and remains active in the industry. She has three children named Clementine, Cyrus, and Molly.
DICK VAN DYKE – 95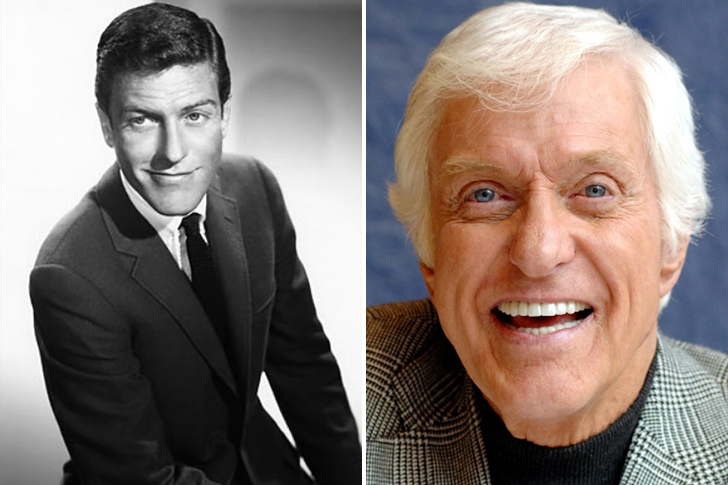 Award-winning Dick Van Dyke has been creating his legacy in the entertainment industry for seven decades. Prior to his breakthrough in the world of films, the actor started as a radio disc jockey in the 40s. From there, he went on to explore television and appeared in shows such as The Pat Boone Chevy Showroom, The Phil Silvers Show, and The Dick Van Dyke Show. His performance on the series earned him not just one but three Emmy Awards.
However, the veteran actor's undeniable prowess and electricity in his projects led him to get more big-screen roles. He starred in several films, including 1964's Mary Poppins, 1968's Chitty Chitty Bang Bang, 1969's The Comic, 2006's Night at the Museum, and its 2009 sequel. The now ninety-five-year-old Van Dyke received a star on the Hollywood Walk of Fame in 1993 for his contributions to television.
DOLLY PARTON – 75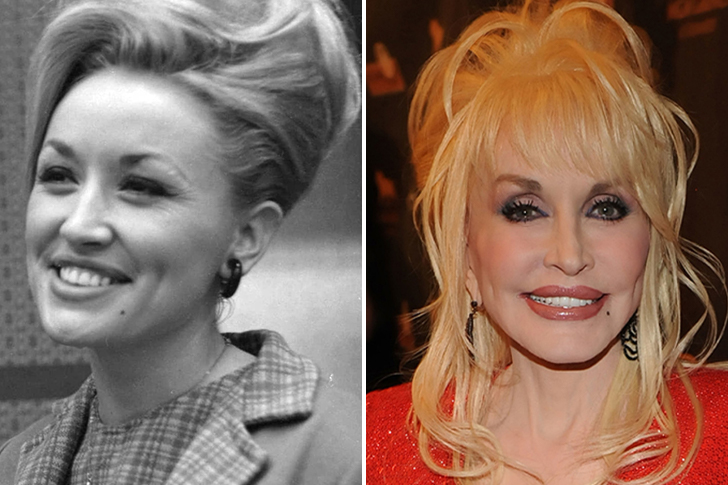 Dolly Parton is a big name in the music industry. The 75-year-old singer is considered one of country music's most iconic artists. Her hit singles I Will Always Love You, Jolene, and Love is Like a Butterfly, have resonated across generations of listeners. In her six-decade-long career, she has released a total of 47 records since her first album Hello, I'm Dolly came out in 1967. Her countless contributions to music have led to numerous accolades, including ten Grammy Awards and seven Academy of Country Music awards.
She was also given a star in the Hollywood Walk of Fame in 1984 for her achievements. She also used some of her investment money to launch the Dolly Parton's Imagination Library, which sends books to children once a month. Outside of acting, Parton explored the world of film. One of her notable performances was in the comedy 9 to 5 alongside Lily Tomlin and Jane Fonda. For this, she received two nominations for a Golden Globe Award. She also appeared in 1984's Rhinestone and 1989's Steel Magnolias, among others.
ED ASNER – 91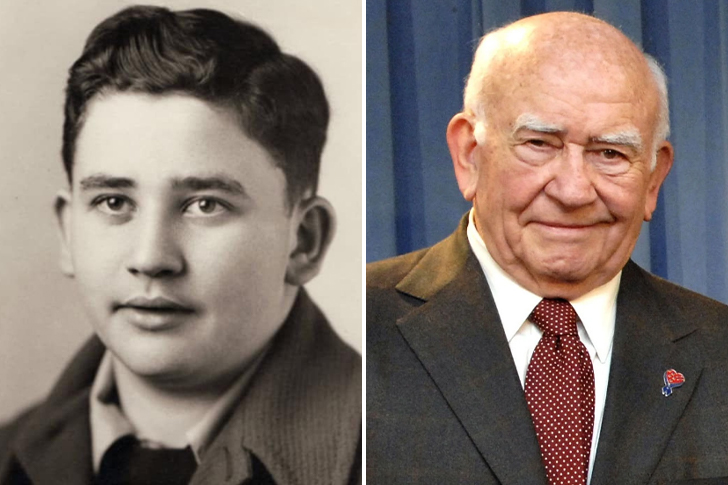 Ed Asner rose to a certain degree of fame as the first actor to win an Emmy in comedy and drama for playing the same character, Lou Grant. Born in November 1929, he worked as a regular guest star on shows such as The Fugitive and Mission: Impossible before landing his iconic role. After seven seasons of playing the part for laughs, CBS expanded the character into the television series Lou Grant. Asner is the only male celebrity in the Emmy Awards history to have received seven Primetime Emmys.
Following the series' success, he landed into more remarkable portrayals in films like JFK, Elf and appeared on TV shows like The X-Files and ER. He had a successful career doing voiceovers well into his golden years, most notably as the grumpy Carl Fredrickson in the Pixar hit Up. Over the years, Asner remained a remarkable icon and one of Hollywood's hardest workers.
ELLEN BARKIN – 66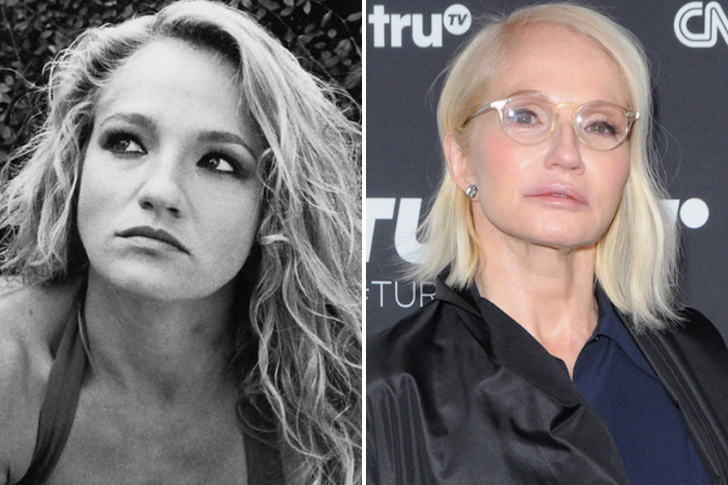 Ellen Barkin, a formidable, no-nonsense blonde, made her acting performance in a 1980 New York stage production of Irish Coffee before starring in Extremities' original off-Broadway set. Born in April 1954, she gained experience as a member of the soap opera Search for Tomorrow cast before marking her feature breakout role in the ensemble film Diner. Following that success, Barkin showcased her talent even more in Tender Mercies and Daniel. However, it wasn't until 1986's Desert Bloom that she ultimately realized her ravishing ability, delivering a beautifully splashy performance as a glamorous star who reinvigorated the picture whenever she was on film. Since then, she has never taken her foot off the gas pedal.
Barkin had never looked better, and she quickly made a name for herself in prominent roles, including The Big Easy and Sea of Love. Barkin transitioned to blockbuster movies as the lone femme fatale in Ocean's Thirteen while also starring in Brooklyn's Finest. She gained critical acclaim for her character in Another Happy Day, confirming her status as one of the most versatile and admired actresses on the screen.
EMMA THOMPSON – 61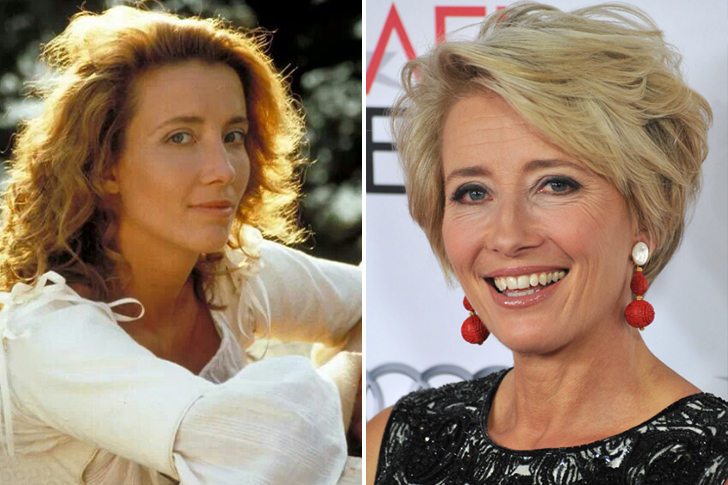 Born in April 1959, Emma Thompson grew up in England and was drawn to writing and the arts, eventually pursuing an English degree at Cambridge's Newnham College. She made her way onto the small screen when she finished school, breaking out in the mid-1980s with appearances on shows like Tutti Frutti and Fortunes of War. Thompson received critical acclaim for her performance in Howards End, which won her several accolades under her belt. She became the first woman to be nominated for two films in the same year. Her performance and her screenplay in Sense and Sensibility earned widespread praise, earning her yet another Academy Award nomination, this one for Best Adapted Screenplay.
In several Harry Potter films, she also played Professor Trelawney and starred in more complex dramas like Saving Mr. Banks. Thompson continued to grace the scenes while appearing in blockbuster hits like Beauty and the Beast as part of her comeback to more mainstream films. She was thrilled to discover a dozen years later that she was being given better roles now than when she was younger.
EVA MARIE SAINT – 96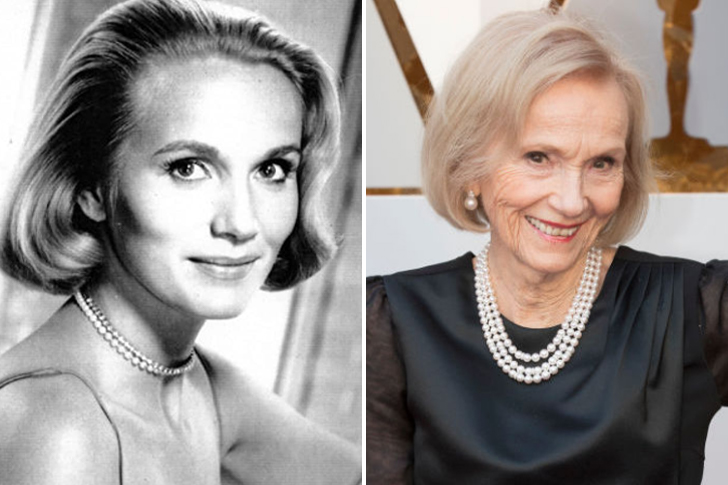 Eva Marie Saint is indeed one of Hollywood's legendary figures with a seven-decade career. The blonde beauty was not only a favorite of Alfred Hitchcock's; she also starred in the classic film On the Waterfront. Born in July 1924, she got her breakthrough role and burst onto the Hollywood scene. Even though it was Saint's first film, she completely nailed it. In reality, she was nominated for and received the Academy Award for Best Supporting Actress for her performance, which is no small accomplishment.
When renowned director Alfred Hitchcock was casting his film North by Northwest, he shocked everyone when he launched Saint, who was still relatively unknown at the time. She beat out hundreds of hopeful actresses to star opposite Hollywood heavyweights in the film. The actress was the talk of the town in the second half of the 1950s. Her return to the silver screen in Superman Returns reminded audiences of her timeless, earthly elegance and her acting prowess, which had been significant enough to maintain her degree in the Hollywood world.
GEENA DAVIS – 65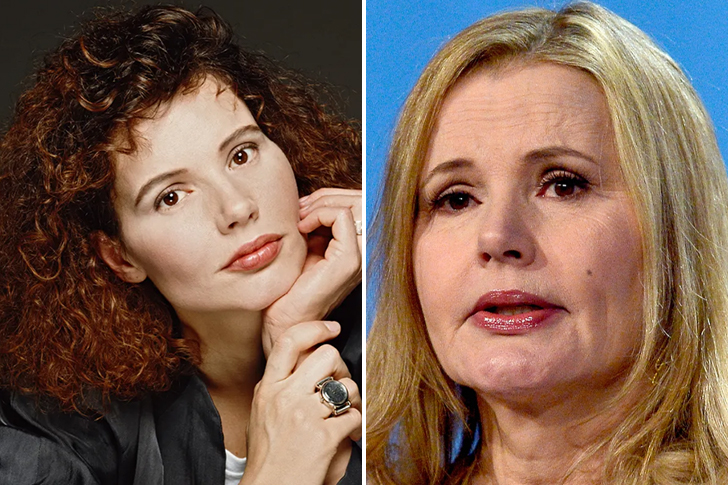 The former fashion model carefully constructed a successful screen persona that made her one of Hollywood's most coveted actresses emerging in the early 1980s. Geena Davis' humorous charm worked well in eccentric comedies Beetlejuice, but she also had a flair for drama, as demonstrated by her Oscar-winning performance in The Accidental Visitor. She cemented her status as a legend even more with her career-defining appearance in Thelma and Louise.
Her formidable physique also provided her with a reputation that enabled her to play athletes and other physically demanding roles. After a career setback, Davis soared with a series of serious parts that kept her in the spotlight, including a stint in Grey's Anatomy. The actress is as well-known to make serious investments in the causes she believes in, such as her tireless promotion of gender equality in the mainstream. The actress, who recently turned 65, claims that she becomes wiser and more in tune with herself as she grows older.
GOLDIE HAWN – 75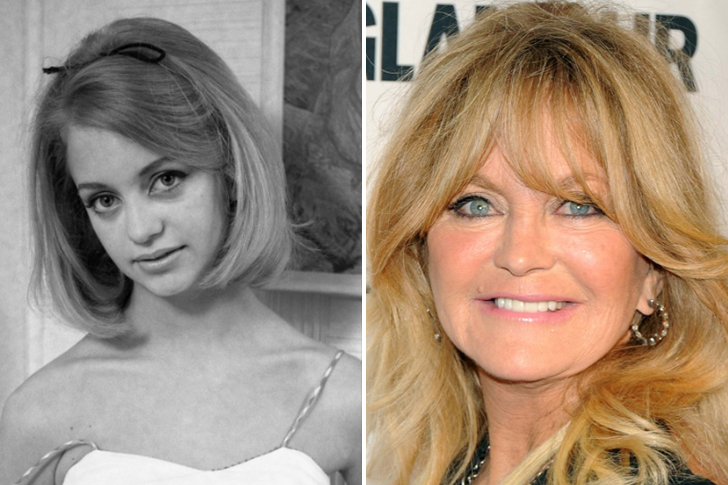 Goldie Hawn's lasting star strength is a rare occurrence for a conventional Hollywood actress. After a brief run on television as a dancer-comedienne in the late 1960s, she began to propel her fame. She then moved on to the cinema as an acclaimed supporting character before rapidly ascending to stardom. Her notable appearances even earned her an Academy Award in the film Cactus Flower.
Long considered one of the few actresses who could launch a big motion picture, Hawn had a string of box office hits ranging from Private Benjamin before gracefully moving into semi-retirement, punctuated by films like The Banger Sisters and Snatched. Without making any significant changes to her persona, the now gracefully middle-aged showbiz veteran has retained her celebrity and bolstered her credit report in the industry. Sharp-eyed audiences may have noted a slight shift, but she stayed ageless and delightedly giggly girl for decades to the general public.
HARRISON FORD – 78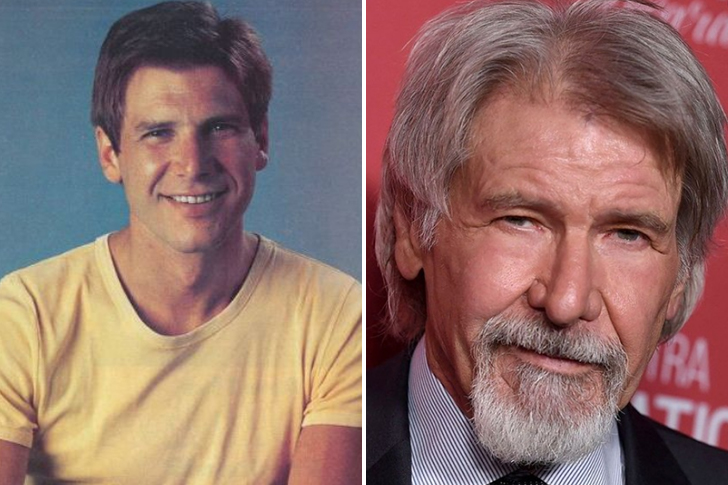 Whenever a carpenter at MGM Studios scored the male lead in a Hollywood blockbuster, it was a story of fate. Even after breaking into the industry with a minor but unforgettable appearance in the movie American Graffiti, Harrison Ford continued to make a living doing roof repair and fixing up houses. After starring in Apocalypse Now, Blade Runner, and two installments to the George Lucas classic, he eventually achieved fame through his role as Han Solo in the Star Wars films.
Ford's roles as Han Solo and Indiana Jones cemented his status as one of Hollywood's most prolific male actors. He received an Academy Award nomination for Witness, and he appeared in five of the top ten blockbuster movies of the decade, garnering over $1 billion. His success hasn't waned in the decades since his first hit, as shown by his impeccable performance for K-19: The Widowmaker. At 78, Ford has established himself as a skilled actor who is as tidy as Jack Ryan, as striding as Han Solo, and as rough as Indiana Jones.
HARVEY KEITEL – 81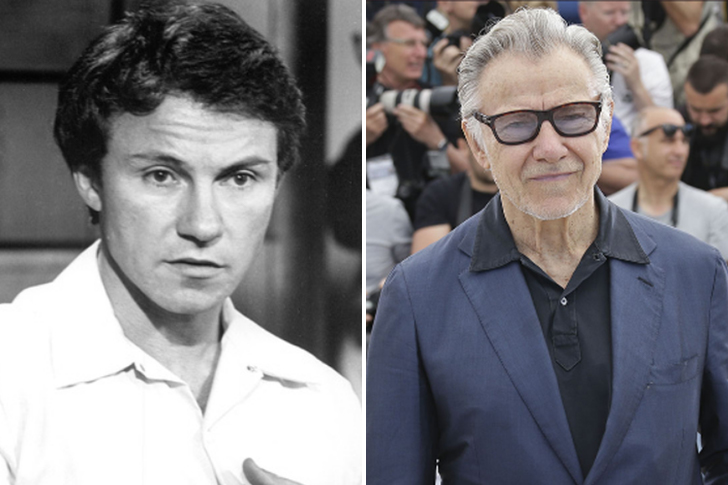 Harvey Keitel has a degree of his own with a hundred projects under his name over a four-decade career. His illustrious but slow-burning tenure started with supporting roles in Taxi Driver and Alice Doesn't Live Here Anymore. After failing to find an appropriate role in mainstream cinema, he switched to European films. A supporting role in Bugsy, for which he earned an Academy Award nomination, marked a new start for him on American soil.
He started to gain a cult following his involvement with Quentin Tarantino's cult classics Reservoir Dogs and Pulp Fiction. Keitel had several hits when he wanted to channel his soft inner side, such as The Piano. Still, he was best known for portraying potentially volatile everymen, gruff police force officers, and G-men in both discrete indies and big-budget stories. At the age of 81, Keitel is determined and adamant about being the best actor and man he can be.
HELEN MIRREN – 75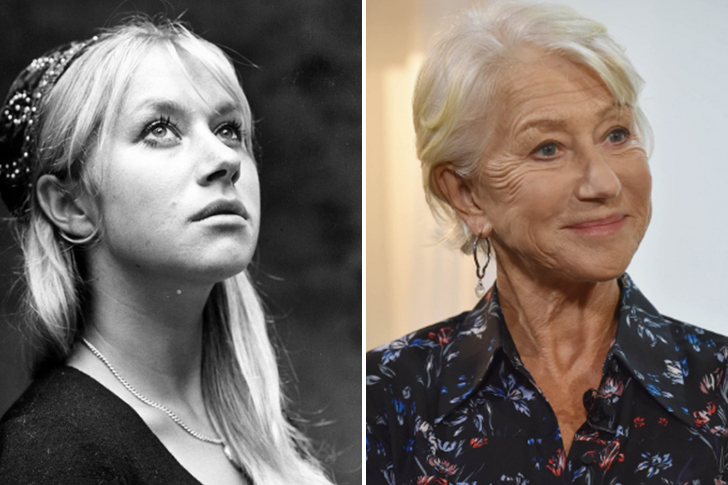 Born in 1985, Helen Mirren began acting at a young age, performing in school productions during her childhood. She wanted to try a career on the stage after becoming "obsessed" with Shakespeare as a child. She remained involved on scene until the late 1970s, when she began to concentrate more on film, with roles in movies such as Hamlet and Excalibur. However, Mirren's role in the TV series Prime Suspect made her famous in the United Kingdom.
Her performance as the unglamorous cop in the 1990s drama won several accolades under her belt. She earned a worldwide degree of fame at the age of 61 for her portrayal of Elizabeth II in the film The Queen and her television appearances as Elizabeth I. She repeated her Golden Globe double win, and she quickly rose to the top of the odds to win Best Actress at the Oscars that year. She's the star with a damehood and a dazzling career, adored as a pin-up in her youth, and now basically the patron saint of graceful aging.
JACLYN SMITH – 75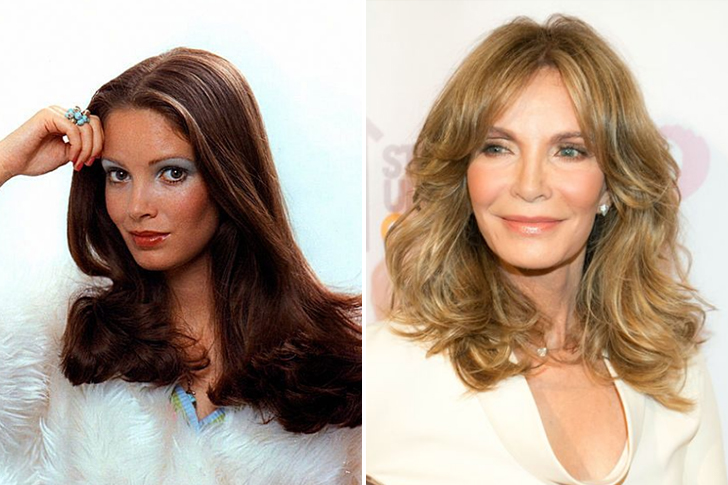 Following the success of the season premiere of Charlie's Angels, Jaclyn Smith's life transformation became instant. Smith, who played private investigator Kelly Garrett, was the only actual Angel to remain with the program for its entire five-year run. After the victory of Charlie's Angel, she continued to play significant roles in films. She appeared in various movies, including Jacqueline Bouvier Kennedy.
Her performance in the feature won her a Golden Globe nomination for Best Actress in a Motion Picture. She also made an appearance in George Washington and starred in Florence Nightingale the following year. Smith, a savvy businesswoman, turned her "Angels" notoriety into a successful business partnership with K-Mart. Now at 75, Smith plunged into marketing the clothing line investment, believing that it would reflect "elegance, class, and sophistication" to justify her decisions to those who thought she had devalued her career.
JACQUELINE BISSET – 76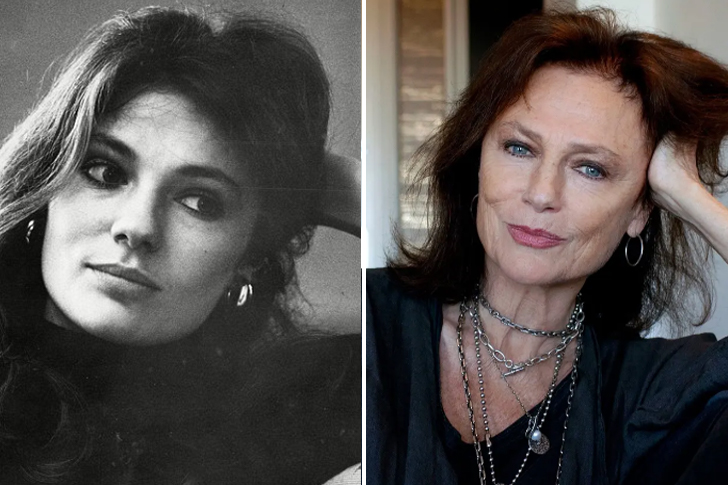 Jacqueline Bisset rose to fame in the 1970s as the ideal beauty for several top actors while appearing in films like Bullitt and The Detective. Few of her roles allowed her to convey something other than her glam. Still, movies like Day for Night and Under the Volcano gradually exposed her talent for insightful, dynamic performances. She received the Légion d'honneur in 2010 and earned nominations for Golden Globe and Emmy Awards for her appearances.
Since the mid-1980s, Bisset has starred in many made-for-TV films. Her TV credits include Jesus and At the Beginning, as well as the miniseries Joan of Arc. Unlike other celebrities her age, Bisset remained successful and in demand, portraying everything from fearless mothers to socialites. Her astonishing beauty held steady throughout her four-decade career, retaining her iconic status as one of cinema's great foreign beauties.
JANE FONDA – 83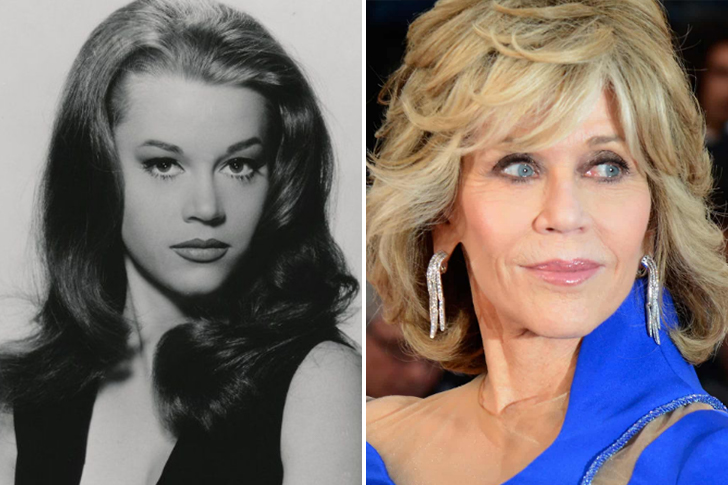 Jane Fonda experienced many changes in her profession as a cat has lived, with each new period of her life enthralling the world. She leveraged her father's fame into an acting career that started with Tall Story. Her comic success in Cat Ballou preceded a full-fledged transformation in the flick Barbarella. With great films like Coming Home and 9 to 5, Fonda was able to shake off her image while also launching a new career as Queen of the Fitness Video, which turned out to be an excellent investment as her aerobic workout tapes helped promote at-home workout and raked in millions.
She took a break away from the spotlight in 1990 and resurfaced in 2005 to rekindle her acting career. The 83-year-old actress has appeared in a long list of films, but she is best known for her role as Grace Hanson in the famous Netflix series Grace and Frankie. Over the years, Fonda firmly established herself as one of Hollywood's most iconic actresses.
JENNIFER LOPEZ – 51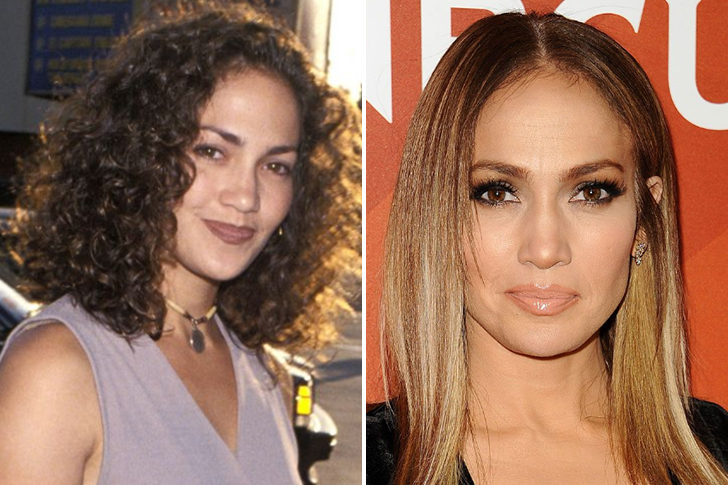 Jennifer Lopez is one of only a few celebrities who has effectively mixed a music and film career. She became the first Hispanic celebrity to gain more than $1 million per film. Lopez began her career as a Fly Girl on the hit variety show In Living Color, where she rose from performer to best-selling recording artist. She then made her name in the biopic Selena, but her onscreen dynamic in Out of Sight launched her into a certain degree of fame.
Her first hit, If You Had My Love, reached number one on the Billboard Hot 100 in 1999, cultivating a secure, expressive style. With her second album, J.Lo, and her lead role in The Wedding Planner, Lopez became the first female star to top the music charts and the critical acclaim in the same week. The singer, fascinated with fashion and beauty products, unveiled a fashion and beauty line. At 51, Lopez defined herself as a multifaceted force to reckon with and one of the wealthiest and most prominent Latina performers of all time.
JUDI DENCH – 86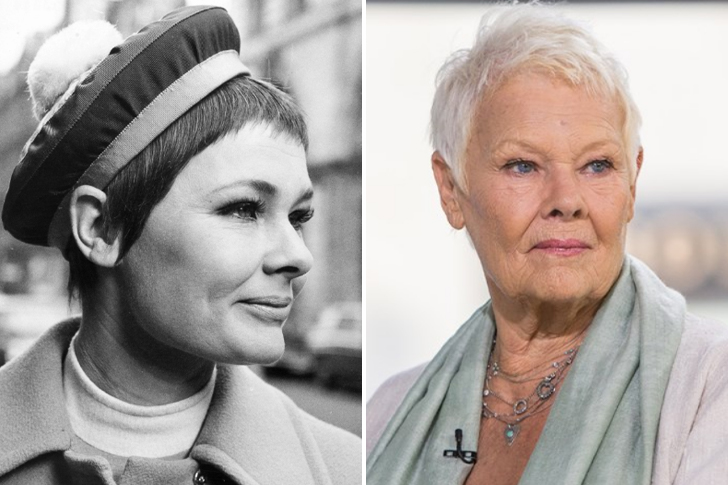 Judi Dench is a British cultural icon who spent the first half of her career on the stage with numerous prestigious theatrical productions before stepping into Hollywood with award-winning roles in Mrs. Brown and Shakespeare in Love. She was born in Yorkshire in 1934, and her first professional role was as Ophelia in Hamlet. She appeared in several remarkable portrayals, including in features like The Importance Of Being Earnest.
Despite her numerous awards and nominations, Dench keeps her investments in context. She has starred in over 80 plays worldwide and has had success in various genres, including TV sitcoms like A Fine Romance and Hollywood blockbuster movies like The World Is Not Enough. Dench isn't going to let the grass rise beneath her feet. Even at her age, she still has a passion for acting and stars in two to three films a year.
KELLY LEBROCK – 60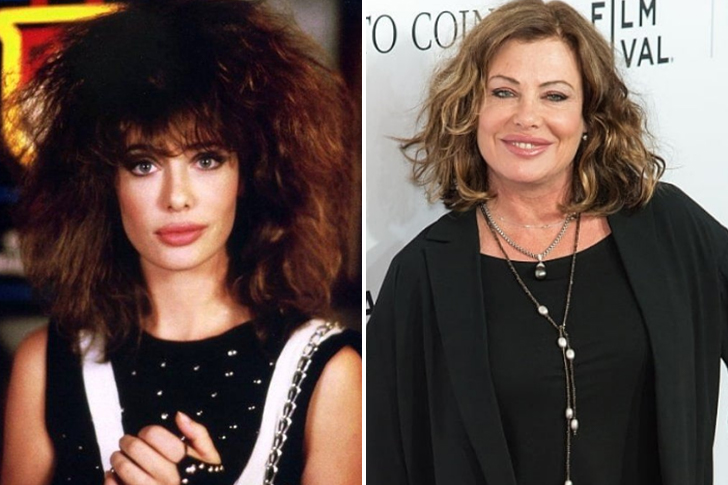 Kelly LeBrock has a fascinating story to tell. Born in 1959, she began a modeling career at the tender age of 16, but it took off after her Vogue feature. LeBrock soon became a brand ambassador for Christian Dior, but it wasn't until her appearance in a Pantene commercial that Kelly became a household name. She acted the title role in the comedy film, The Woman in Red, followed by an iconic portrayal in the sci-fi flick Weird Science.
She continued to appear in several movies such as Betrayal of the Dove and Hard to Kill. The actress has appeared recently on various TV programs, including Celebrity Fit Club, where she detailed her weight-gain struggles. She has also starred on Hell's Kitchen and in the docuseries Growing Up Supermodel. LeBrock, who is now 60, lives in her investment ranch in California's Santa Ynez Valley. With a net worth of $2 million, she is still a wealthy star today.
KELLY MCGILLIS – 63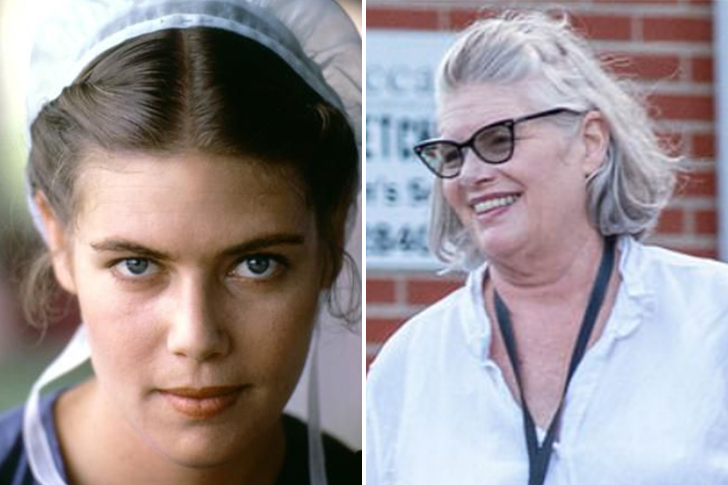 Kelly McGillis was one of the most sought-out actresses during the 80s and 90s. She has appeared in many chart smashing blockbusters like Made in Heaven, The House on The Carroll Street and most in Top Gun. After three decades of its release, it is announced that there will be a sequel to Top Gun named Top Gun: Maverick, with most of the cast set to reprise their roles in the movie. We will definitely see Tom Cruise because he is the main protagonist, but unfortunately, the actress will not join the ensemble of casts.
McGillis has had a wavering popularity, though she may have career highlights here and there, she hasn't always maintained the star power she has once embodied. Truth be told, she never even left the industry but focusing on more minor roles in TV and film throughout the years. She personally admitted on refusing to join Top Gun: Maverick as she's already been replaced by Jennifer Connelly. She doesn't hold grudges and is actually fine for the decision as she's also focusing on other ventures. Through her investments, she now works as an acting coach at the New York Studio for Stage and Screen.
KIM BASINGER- 67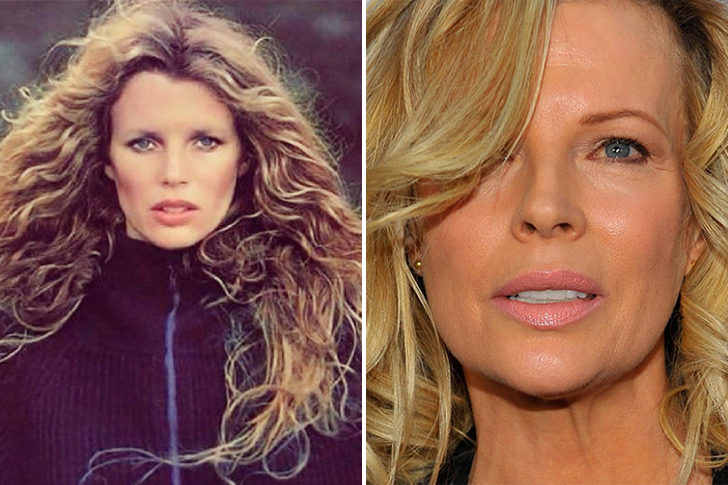 Looking back at the Golden Age of cinema, Kim Basinger exudes beauty and elegance like no other woman has. She was quite smart for getting her degree from University of Georgia and gotten before starting modeling. She was well-liked by numerous talent agencies but ultimately signed to Ford Modeling Agency. She was a good model and served as a muse of fashion brands. However, she felt like modeling wasn't her passion so she pursued acting. Being an actress was a good choice for she was renowned as the ultimate 90s bombshell, due to the fact that she was often portrayed as the daring and seductive blonde, which fit her physique and beauty.
Unfortunately, Basinger wasn't really lucky at the love department being married twice. She married her first husband, Ron Snyder in 1980 then parted ways 9 years later. She then had a nine-year marriage with Alec Baldwin. Basinger and Baldwin have two daughters together, one of them being Ireland Baldwin who followed in her mother's footsteps and pursued a modeling career. Basinger's latest project was 2017's Fifty Shades Darker, where she played Elena Lincoln and exuded an antagonistic appeal.
KIM CATTRALL- 64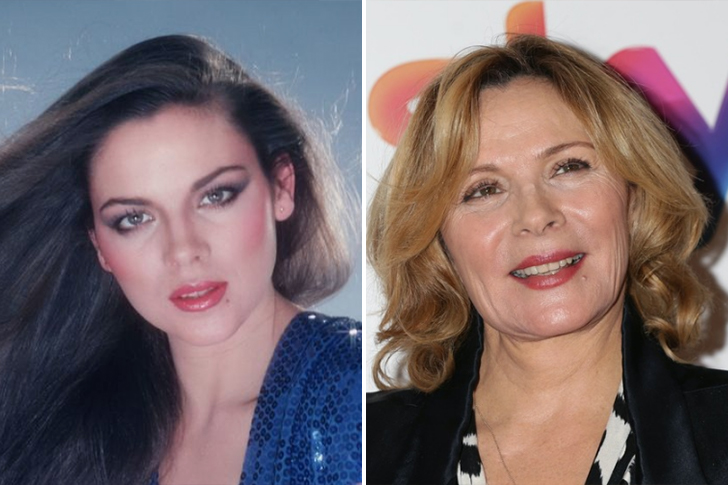 Kim Cattrall is a very famous Canadian actress born in United Kingdom. She was really passionate in acting and really wanted to do it professionally, so she moved to New York at the age of just 16 and started her career in the States. Her first role wouldn't come until 1975, her first starring credit being in the action thriller Rosebud. Cattrall might be 64 but her beauty still hasn't withered away. Currently, she is still active in the industry and has a lead role in the TV series Filthy Rich.
Cattrall blossomed in the 1980s when she given several major movie projects such as Ticket to Heaven, City Limits, and Police Academy. Her career peaked even further when she was cast as Samantha Jones. The series was very popular that even though it ended in 2004, it quickly returned to cinemas in 2008 and 2010. She's still given many roles, and by the looks of it, seems to have no plans of retiring anytime soon.
KIM NOVAK – 88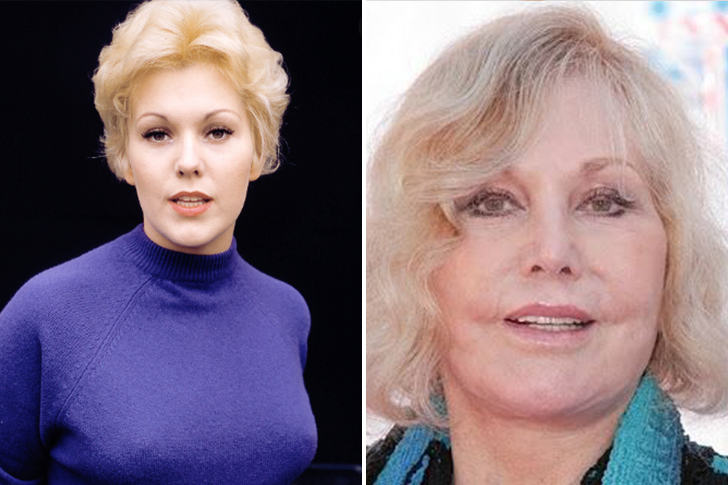 Kim Novak was an actress known for her impressive acting performances and surreal beauty. Her most notable acting credit came when she played Madeleine Elster in the all-time classic 1958 film Vertigo, directed by Alfred Hitchcock. After decades in the industry, Kim decided to leave Hollywood in exchange for a more normal life away from the camera. Her name only returned to the spotlight when her husband of 44 years, Robert Malloy, passed.
She fully retired from acting in 1991 and decided to focus more on herself. After her tremendous peak in Vertigo, she made a short break and weirdly made several horse breeding investments. It was also through this interest of hers that led her to Robert Malloy. The two got happily married in 1976 and kept low-profile life in Oregon. The actress is now 88 years old and is still keeping her distance from Tinseltown.
LEE MERIWETHER – 85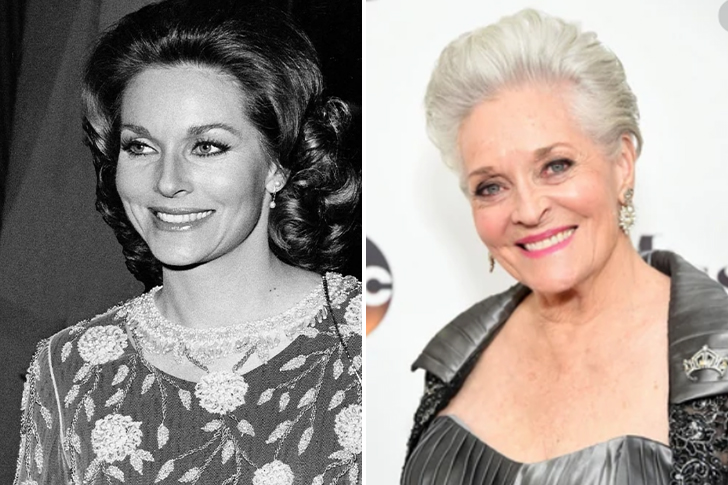 It's crazy to see that pageant queen, Lee Meriwether, will celebrate her 86th birthday in May. She will probably go down as a legend for her sophistication and elegant beauty while also being an influential actress. Some may even remember her as one of the first to wear the iconic Catwoman black suit in Batman, released back in 1966. She is most known for her pageantry as she is the 1955 Miss America titleholder.
Meriwether was really passionate about acting. As a matter of fact, Lee earned a degree in TV and Theater Arts at the City College of San Francisco. Later on, the aspiring actress got nominated to join Ms. San Francisco in 1954, which ultimately paved the way for her to join the Today Show as Today Girl for two consecutive years. She's had a prosperous career starting 1959 in the film 4D. Her last known role was in the TV series All My Children in 2011 but worry not, for she's still working in the industry.
LINDA EVANS – 78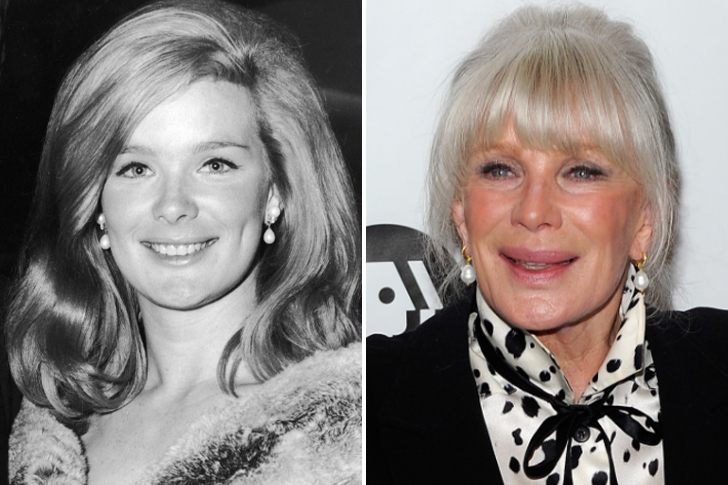 Linda Evans became widely known in the 80s for starring in the hit TV series Dynasty where she nailed her performance as the new wife of the multimillionaire oil tycoon. The show received great reviews from fans and critics alike, paving the way for massive viewership. The show lasted for ten years and made Evans's name known to the public. While most actresses would capitalize on their newfound fame, Evans did the opposite and left fame behind. She mostly took on more minor roles in film and TV but eventually chose to have a quiet life.
Making smart decisions led her to enjoy her hard-earned investments at her estate in Washington. Even though being a relatively quiet actress, Evans couldn't escape media gossip and revealed that she had a few romances with other big named celebrities, including her marriage with John Derek. Her last known publicized relationship was Greek musician Yanni, who she broke up with after nine years of being together. Evans hadn't married nor have any kids whatsoever.
MELANIE GRIFFITH – 63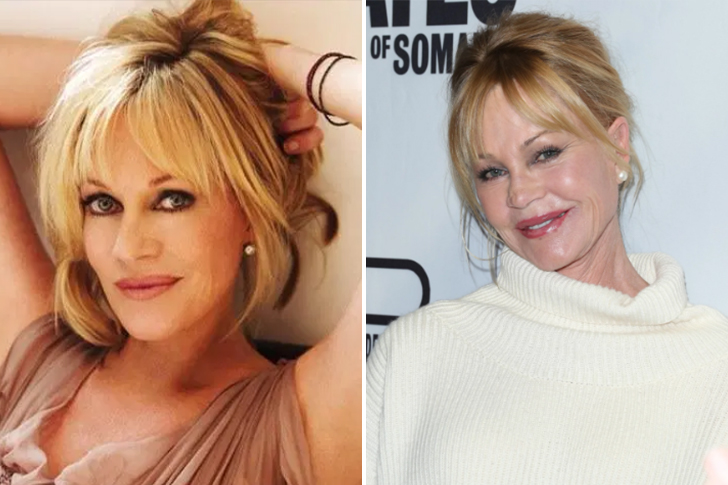 Melanie Griffith was born in 1957 in a family of experienced Hollywood professionals. She grew up there with her mother, Tippi Hedren, an actress, and Peter Griffith, who works as an advertising executive. In 1984, the actress became an overnight success after appearing in the cult classic Body Double. Griffith then became a critic darling, further starring in highly-acclaimed films and received numerous credits and awards from critics and audiences alike.
Griffith isn't exactly the luckiest when it comes to the romance department, though. She has had many hardships that highly tested her patience. However, she persevered and managed to carry on with her legacy. She first married Don Johnson in 1976, then later remarried in 1989. Melanie is also the mother of Fifty Shades actress Dakota Johnson, who is now following her mother's footsteps in Hollywood. She later had a 6-year long marriage with Steven Bauer, then had a relationship with Antonio Banderas from 1996 to 2015.
MIA FARROW- 76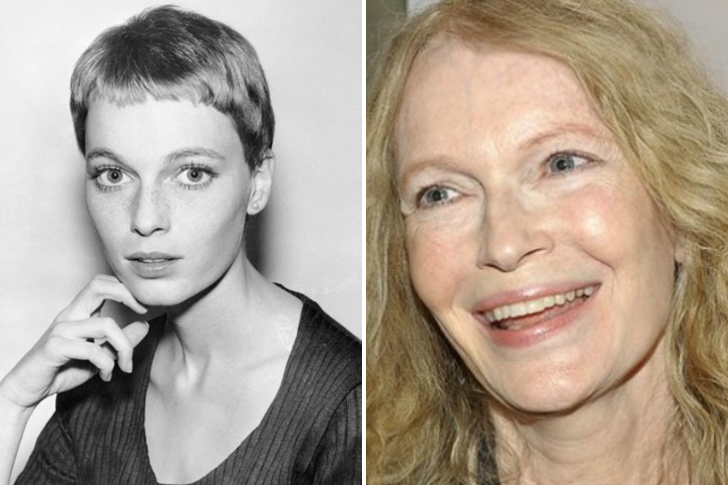 Like many celebrities on this list, Mia Farrow was born in a family of actors and filmmakers. Her mother is Irish actress Maureen O'Sullivan, and her father is American director John Farrow. When she was just a teenager, her family suffered a financial crisis and low credit score, forcing her to do modeling to help her family pay bills and afford basic needs. Mia's first relationship began with Frank Sinatra, who later became her first husband. They were married for a brief period lasting only two years. While the marriage did launch her career, it also made her the headlines of every publication.
Her most notable role was in the horror classic Rosemary's Baby, where she won several awards. She had a short relationship with Andre Previn, then had an eight-year-long relationship with Woody Allen. She became Allen's muse and became the main character of his movies, including Broadway Danny Rose, Alice, and lastly Hannah and Her Three Sisters, to name a few. She's now living comfortably with her 14 children, four being biological and ten being adopted. She is a known philanthropist now and is a Goodwill ambassador.
KELLY MCGILLIS – 63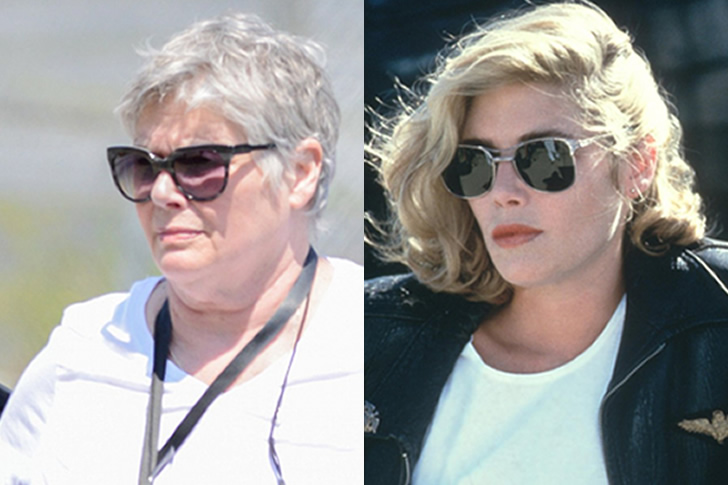 Kelly has been performing in front of the camera and on stage for decades. Throughout those years, she received Golden Globe and BAFTA nominations for her credit role as Rachel Lapp in Witness (1985). Kelly also appeared as Kelly in Top Gun (1986) alongside top-grossing actor Tom Cruise. However, her career really took off when she played the role of an Amish mother in Witness (1985), for which she earned her Golden Globe and BAFTA nominations.
She also played the part of a caregiver for Miss Venable in the movie The House on Carroll Street (1988), in which Jeff Daniels also starred. At 63, Kelly still maintains an active presence in Hollywood. It may not be as much as she used to have when she was younger, but it's enough to keep her passion for acting alive. We just hope we can see more of her soon.
MICKEY ROURKE – 68
Throughout the years, Mickey Rourke has received awards from the Chicago Film Critics Association, the Irish Film and Television Awards, and the Online Film Critics Society for his lead role in the neo-noir crime thriller Sin City (2005). He also played a professional wrestler in the 2008 film The Wrestler, for which he gained a Golden Globe Award, a BAFTA Award, and an Academy Award nomination.
However, before those achievements, Mickey was, in fact, a professional boxer. He appeared in various films like Diner (1982) and Rumble Fish (1983) during his acting heydays but went on hiatus in 1991. His return to acting saw him appear in the box-office films Iron Man 2 (2010), The Expendables (2010), and Immortals (2011).
At 68, he still accepts castings and continuously appears in films. One of his latest appearances was during Fox's The Masked Singer.
NICK NOLTE – 80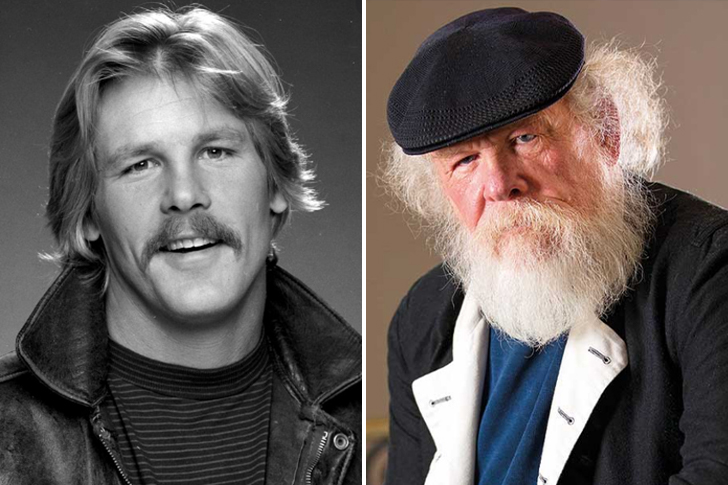 For the 1991 film The Prince of Tides, Nick Nolte received the Golden Globe Award for Best Actor – Motion Picture Drama and got nominated for an Academy Award for Best Actor. He went on to earn Academy Award nominations for Affliction (1998) and Warrior (2001). He also received credit for his contributions when he received a star in the famous Hollywood Walk of Fame in November of 2017.
Before all that, however, Nick was actually an aspiring model. He then accepted various roles for films like The Deep (1977), The Thin Red Line (1998), and Peaceful Warrior (2006). Now, at the age of 80 years old, he still pursues roles in films. He might not be as active as he used to, but he's doing what he loves best for decades. At least his fans still get to see him perform every now and then.
OZZY OSBOURNE – 72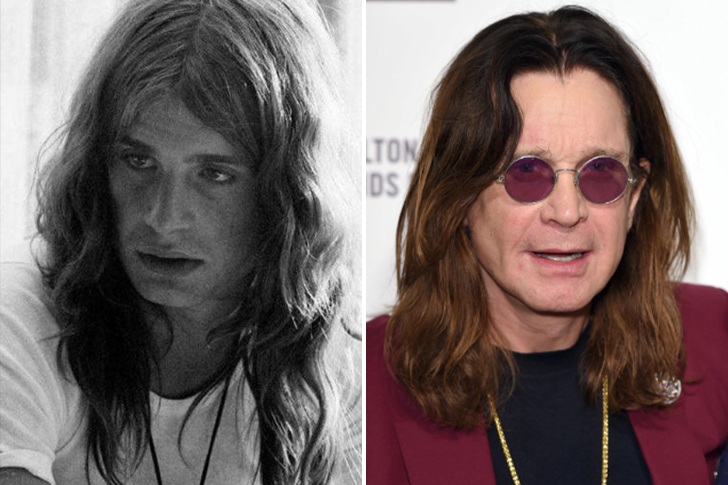 Ozzy Osbourne rose to international prominence back in the 1970s when he took on the moniker "Prince of Darkness" as part of the heavy metal band Black Sabbath. He was kicked out of the band but would occasionally collaborate with them even during his solo career. As a solo artist, Ozzy released 12 studio albums, with the first seven hitting multi-platinum. His biggest business venture was Ozzfest. Several of the leading hard rock bands toured the United States each year in a massive tour which later branched out to include shows in Europe and Japan.
That had been a huge hit with his fans, but they, unfortunately, had to take a break because of his current situation. Ozzy is still pretty active with his music. However, he was diagnosed last year with Parkinson's disease and is currently lying low. His band is still active with his members Zakk Wylde, Rob Nicholson, Adam Wakeman, and Tommy Clufetos. Hopefully, his health insurance is covering all of his medical expenses.
RAQUEL WELCH – 80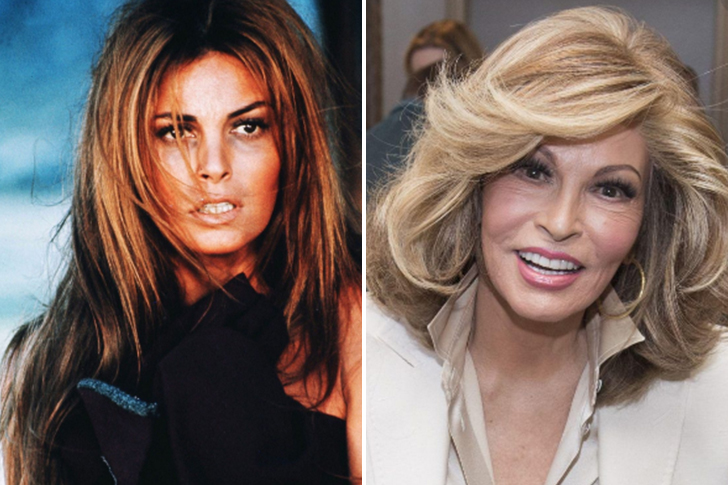 Raquel Welch is an American actress and singer, mostly known for her stunning looks and equally impressive talents. She received credit for her performance when she won a Golden Globe Award for Best Motion Picture Actress in a Musical or Comedy for her role in The Three Musketeers in 1974. She also got nominated for a Golden Globe Award for her role in the television drama Right to Die (1987). Some of her greatest works were Fantastic Voyage (1966), One Million Years B.C. (1966), The Biggest Bundle of Them All (1968), and The Magic Christian (1969).
In 1984, André Weinfeld photographed the Raquel Welch Total Beauty and Fitness Program book to promote her fitness ventures. Raquel has also established a couple of businesses, with her wig collection HAIRuWEAR being the most successful. The actress may now be 80 years old, but she is as glowing as the day she entered Hollywood.
RICHARD CHAMBERLAIN – 86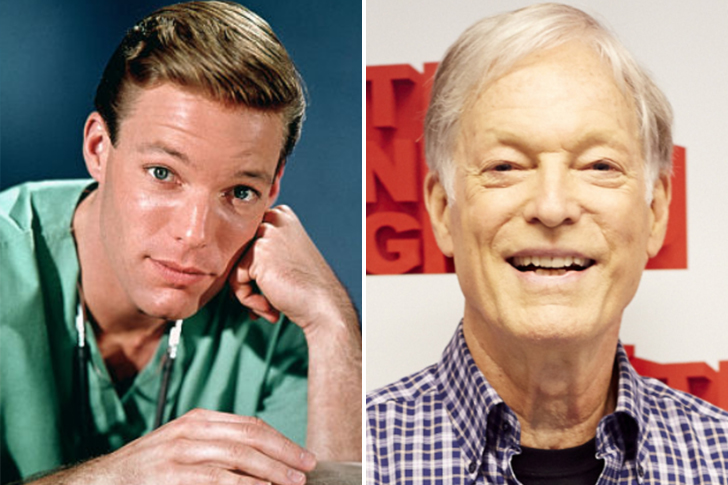 Richard Chamberlain is an actor and singer from the United States who starred in some TV miniseries, including Shōgun and The Thorn Birds. He mainly worked in television shows, but he also earned several film credits. He received the Golden Apple Award in 1962 for Most Cooperative Actor and won a Golden Globe for Best TV Star – Male in Dr. Kildare (1961). For a recording of his Hamlet, he had also gotten nominated for a Grammy Award.
In 1980, he won the Golden Apple Award for Male Star of the Year, and the following year, he won the Golden Globe Award for Best Performance by an Actor in a Television Series – Drama for Shogun. He certainly has lived a very fruitful career, but the actor is not slowing things down anytime soon. Hopefully, we'll see more of him.
RICHARD GERE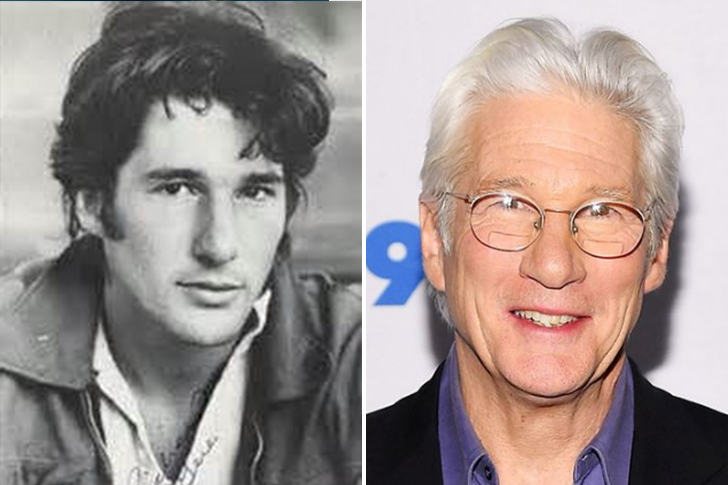 Richard Gere is an American actor and director best known for his role in American Gigolo (1980). He went on to get acting credits in films like An Officer and a Gentleman (1982), The Cotton Club (1984), Pretty Woman (1990), Sommersby (1993), and Norman: The Moderate Rise and Tragic Fall of a New York Fixer (2016). However, Richard's skills and expertise do not solely lie in Hollywood. If you didn't know, the actor is actually just as passionate about humanitarian works as he is passionate about acting.
He even bestowed the "Medal of Gratitude" by Albanian President Bamir Topi on May 17, 2012. The George Eastman Museum also presented Gere with the George Eastman Award for distinguished contribution to the art of film on February 16, 2012. Richard starred in small films in recent years and had his last big-budget film in 2008. The actor claims he has gotten blacklisted from Hollywood due to his decision to speak out against human rights abuses.
Rowan Atkinson – 66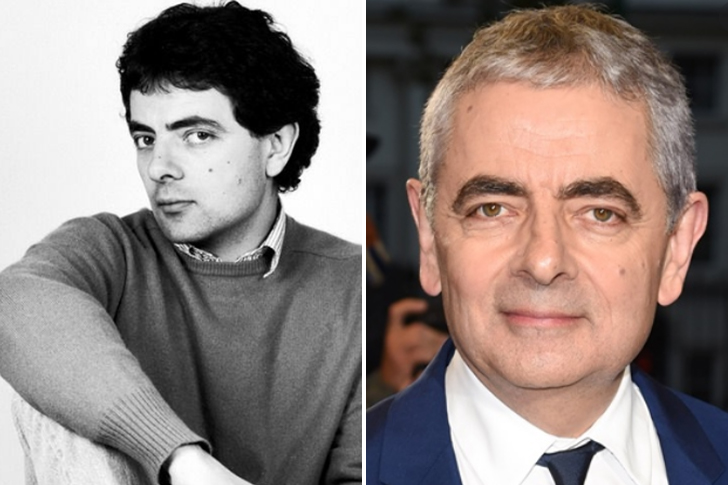 Who has not seen one of the most well-loved sitcoms of all time, Mr. Bean? The credit for the titular role of the series is none other than Rowan Atkinson. What some may not know, though, is that he is also one of the creators of the show! Other than the mentioned series, he has also appeared in a myriad of different projects. He is also known for Rufus's role in Love Actually and Nigel Small-Fawcett in Never Say Never Again.
Atkinson was born on January 6, 1955, in Consett, County Durham. Despite being in his 60's already, the star is still very much alive and active in the industry. Just recently, he reprised his role as Mr. Bean in the series Handy Bean! In 2012, it emerged that Atkinson was planning on retiring the beloved character. In 2016 though, he released a statement that he would never retire Mr. Bean. No need to fret. Our dear odd fellow won't be leaving us anytime soon!
Sam Elliott – 76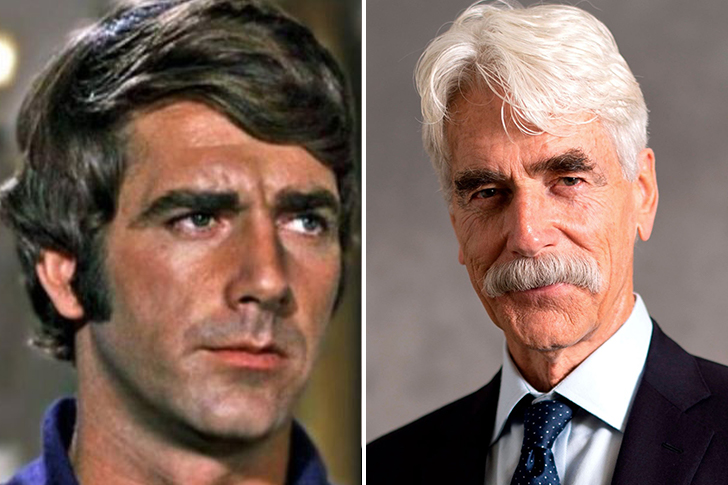 He may be seventy-six years old already, but Sam Elliott is still very much alive and kicking. The star appeared in 1966, meaning his industry investments have spanned for more than five decades already. In his career, he has racked plenty of roles and dozens of awards and has starred in more than a hundred projects.
If you remember, Elliott was in the hit film A Star Is Born as Bobby Maine. He was also in the movies I'll See You in My Dreams, Draft Day, and The Big Bang. Being a talented actor, it would come as no surprise that he has won some of the greatly desired awards. In 2018 he won as Best Supporting Actor from the Georgia Film Critics Association for his role in A Star Is Born. Currently, he is involved in the upcoming film The Gettysburg Address. Better get ready!
Sigourney Weaver – 71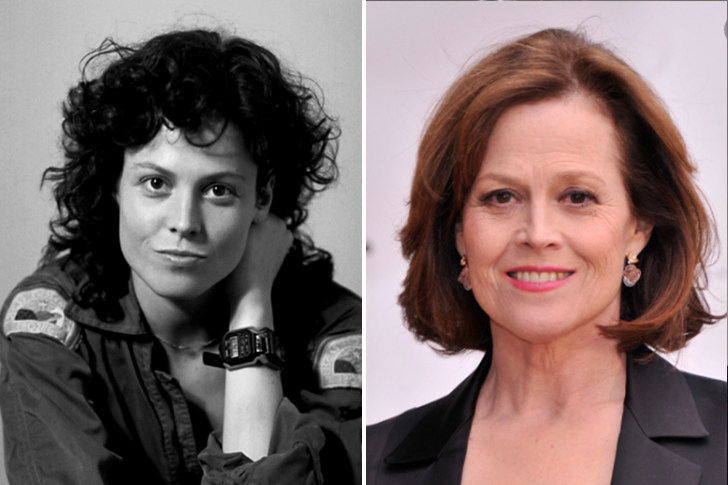 Sigourney Weaver was born on October 8, 1949. Despite being in her 70's already, the star's career is still going strong. She is actually involved in four post productions right now! She first appeared in Hollywood in 1971, meaning her investments in the industry have gone on for almost five decades already! Throughout her career, she did not just garner years and experience. She has also racked up roles and has gotten involved in more than a hundred projects.
Weaver is an all-around actress. She has appeared in films, in television series, and even on stage! Truly, Weaver is one of Hollywood's oldest names and one of its most treasured actresses. Often, Weaver is considered as one of the most significant female protagonists in cinema history. Furthermore, she is also one of the pioneers of action heroines in science fiction films.
Sissy Spacek – 71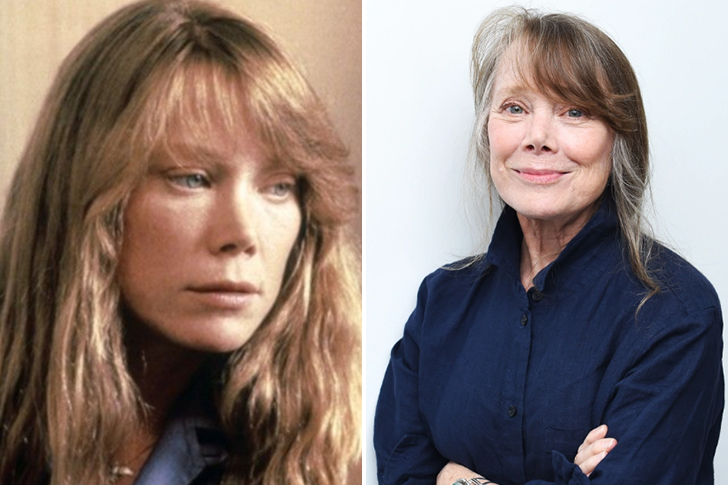 Sissy Spacek is a veteran Hollywood actress, best known for her 1976 film Carrie. With her lovely smile, it's easy to forget that this gorgeous lady is already 71 years old. Throughout her career that spanned five decades, the actress has garnered more than just years and experience. One of Spacek's most prominent roles would be Carrie White in the horror film Carrie. Aside from that, she also appeared in other hits such as Coal Miner's Daughter and In the Bedroom.
In 2001, the Critics' Choice Movie Awards awarded her as Best Actress for her role in the film. In the same year, Independent Spirit Awards awarded her as Best Female Lead for the same role. With all of that, it wouldn't be surprising to know that she now has a net worth of 15 million dollars! Can you just imagine all the investments that she could do with that amount?
Steve Martin – 75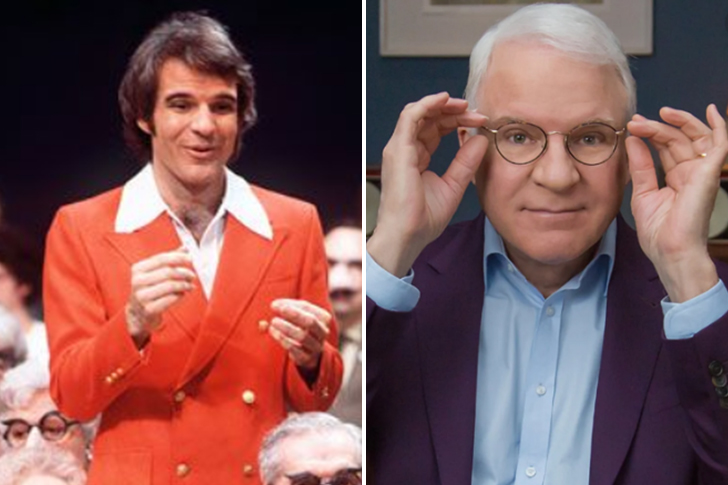 Steve Martin is one of Hollywood's most talented personalities. He is best known as an actor but what some may not know is that he is also a writer, producer, and musician. Martin was born on August 14, 1945, in Waco, Texas. That would mean that he is already in his 70's, but despite his age, the actor maintains his stature in Hollywood's competitive world. In fact, this year, his comedy Only Murders in the Building will hit theaters.
He did not only co-create the series with John Hoffman, but he would also be playing Charles's role. Given that he has been in the business for more than five decades, it's not surprising to learn that he garnered a myriad of roles and dozens of recognitions to his credit. In 1992 and 1993, he consecutively won the Favorite Actor in a Comedy Motion Picture Award from People's Choice.
Sylvester Stallone – 74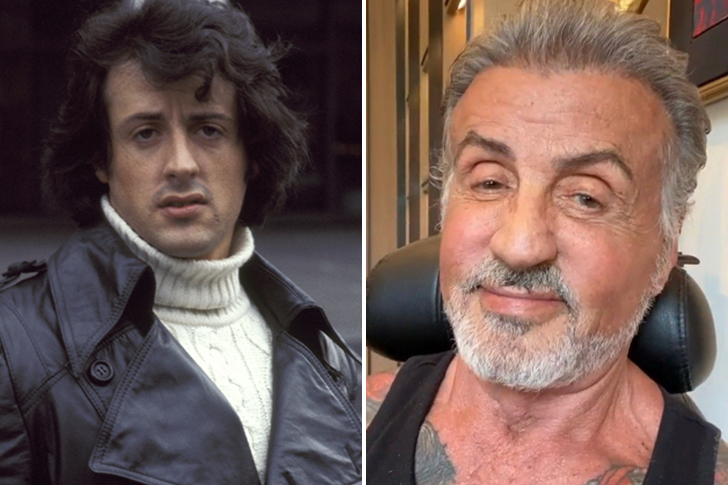 Born on July 6, 1946, Sylvester Stallone is considered to be one of the most prominent actors in the industry. In addition to that, he is also one of the most significant contributors in Hollywood. His talents and investments were not only focused in front of the screen. The actor has also tried his hands behind the camera.
Aside from being an actor, he has also been a director and a screenwriter. We can't forget about the Rocky franchise, of course. Not only did the actor play the protagonist of the film, but he also created the entire film series. You could say he brought the protagonist of the series to life in more ways than one. He might be in his 70's already, but he's still very much alive and kicking. However, he's keeping a much lower profile these days than when he was at his peak.
Tom Selleck – 76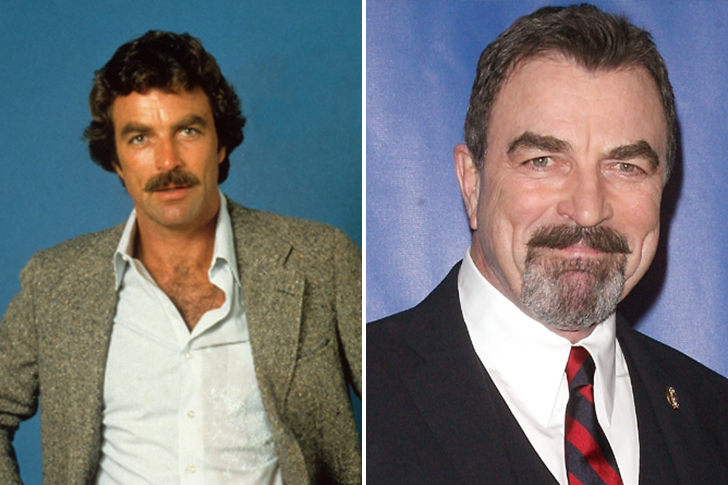 Tom Selleck was born on January 29, 1945, in Detroit, Michigan. The star has been in the industry for more than five decades but continues to put his best foot forward in every project he's a part of. Audiences first recognized the actor in the T.V. series Magnum P.I. where he played Thomas Magnum's role. Although fans mostly associate him with serious dramatic roles, Tom has actually also ventured into comedy.
He has been in the comedy Three Men and a Baby, where he got the credit for Peter Mitchell's role. Furthermore, he has also been in the series Blue Bloods where he plays Frank Reagan's role. Recently, the show has renewed for its eleventh season, and we would see Selleck and the other stars of the show real soon. We don't know about you, but we sure are very excited to see him again.
William Shatner – 89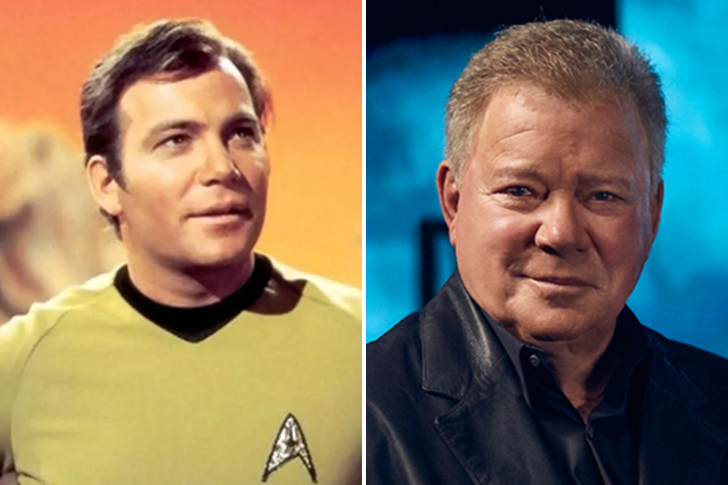 Are you a fan of Star Trek? If yes, then you probably know James T. Kirk. The credit for the role goes to William Shatner. While he is best known as an actor, he is also a lot of other things. Shatner is also a director, screenwriter, producer, author, and singer. Just talk about talent! He is one of the oldest names in the industry. With seven decades of experience and several investments under his belt, he has become one of its biggest and most important contributors to the industry.
Despite almost being in his 90's, William remains passionate about his craft. Just recently, he appeared in the fantasy film, Creators: The Past. Furthermore, he is also set to appear in the upcoming romantic comedy-drama film, Senior Moment as Victor Martin. Better be ready. Shatner and the gang of the film are probably going to wow us.
YOLANDA HADID – 57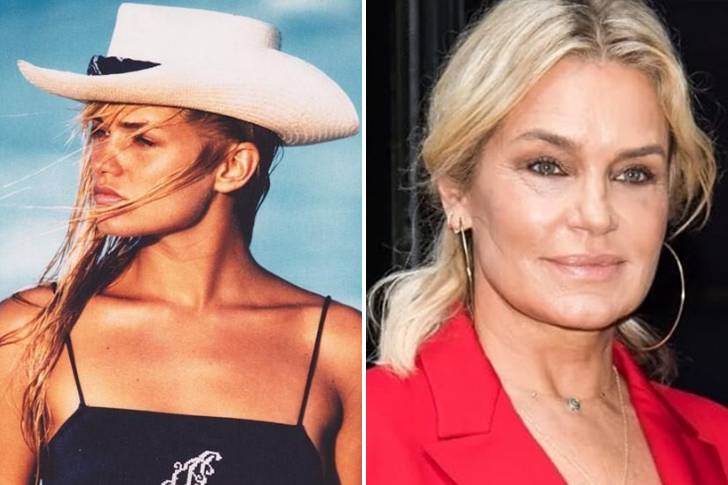 Gigi Hadid and Bella Hadid's modeling career will not be possible without the good genes they inherited from their mother, Yolanda Hadid. Yolanda Hadid, like her daughters, started her career as a model under Ford Models. The Dutch beauty worked on the runway for almost 15 years until she moved to Los Angeles after marrying the real estate developer Mohamed Hadid. As her beauty is something that cannot be unseen, Yolanda starred in the reality TV show, The Real Housewives of Beverly Hills from 2012 to 2016.
Through the said show, Yolanda rose to prominence both in the entertainment industry and in high society. Likewise, it helped launched her girls' career. Yolanda married David Foster in 2011, years after she faced her lawyers for dissolution of her marriage with her first husband. Apparently, Yolanda and Foster also ended their relationship in 2015. Now, Yolanda is still up for the game of love and is currently dating.
SAM NEILL – 73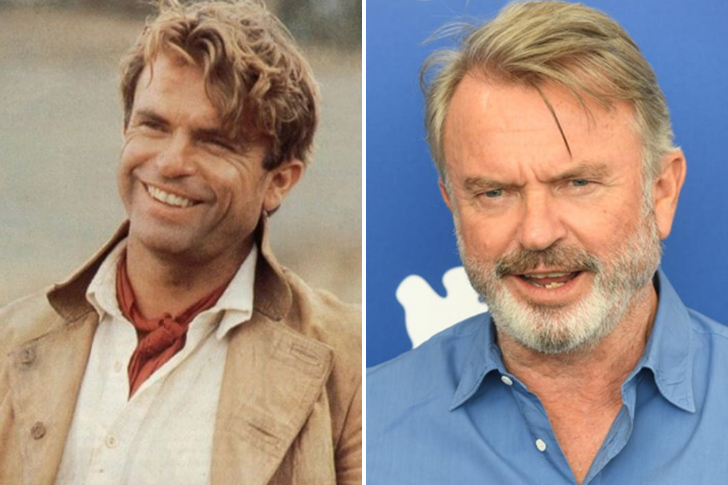 Sam Neill is the actor who rose to prominence through the film Jurassic Park in 1993. Sam also played several characters in other films, such as in Bicentennial Man, The Dish, and The Jungle Book. The European actor also played the titular character of the Merlin TV series in 1998.  If you thought that Sam Neill has already taken the back seat or exited the spotlight, well then, you are wrong. Sam is far from being done with his entertainment career. As a matter of fact, he will take credits in Jurassic World: Dominion in 2022.
As for his whereabouts now, Sam Neill had taken refuge in his hometown in New Zealand when the global health crisis struck. He was actually shooting for the said movie when they packed up due to worldwide health conditions. As such, he is one of the celebs who pushes mental health wellbeing amidst the crisis. Sam plays ukulele and indulges in his winemaking hobbies and farming to cope with the stress of isolation.
ROBERT DUVALL – 90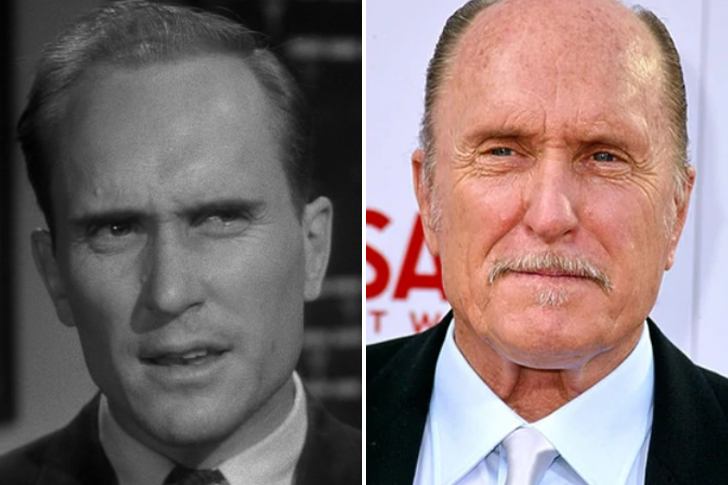 It seems like Robert Duvall is on a break from filming and enjoying his lifelong investments. Although Robert Duvall has turned 90 this year, he is not the flimsy kind of elder you see in the movies. He is healthy and thriving with his wife for 15 years, Luciana Pedraza. Robert Duvall is the actor who dominated the film industry in the early '60s to '90s. He was a part of The Godfather cast, where his performance receives a nomination in the Academy Awards.
Duvall also received accolades for his performance in Tender Mercies, Apocalypse Now, and A Civil Action. Likewise, Duvall's recent performance in the 2014 film The Judge earned him praises from viewers and critics. Duvall, a former army veteran, and theatre actor, has been off the screen in recent years. Though his absence from the screen might be an indication of his retirement, we can still catch a glimpse of the great actor in the streets of LA and red carpet events.
BEN KINGSLEY – 77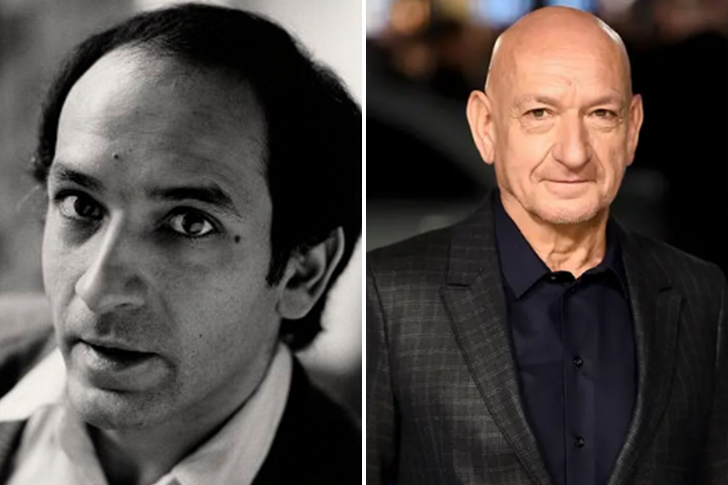 Ben Kingsley is a significant personality in Hollywood who seems to be missing in action lately. Ben Kingsley is an English actor whose accolades are over the top. He has won BAFTA Awards, Academy Awards, Golden Globes, and Grammy Awards. Although he has had several outstanding performances that placed him among the industry's relevant actors, fans best remember him for his performance in Gandhi, where he played the titular role.
He is also known for his work in Prince of Persia: The Sands of Time, Bugsy, and Sexy Beast. If you are wondering where he is right now, Kingsley is still very much involved in filming. In fact, he is in the casting credits in the 2021 film, Locked Down and has an upcoming movie in 2022. Kingsley also divides his time in doing philanthropic works and working in Bollywood. Notably, Kingsley's heritage is part Indian, and going Bollywood means going back to his roots.
TOMMY LEE JONES – 74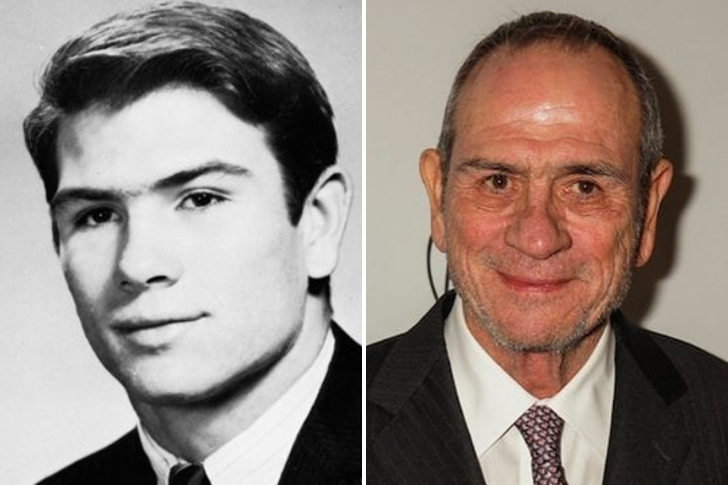 Tommy Lee Jones is one actor that the media loves to hate, yet his excellence in portraying roles is why directors adore him. Jones is known for his personality – straightforward and means business only. As such, he is not fond of attending red carpets or press conferences. Jones, in fact, is not for the Hollywood lifestyle. He lives away from LA, where he keeps his privacy. However, Tommy Lee Jones is not just a brilliant actor, but he is also a brilliant student.
He graduated cum laude from Harvard University with a degree in English. He also played college football, where he became one of the famous Ivy League football match contributors in history. Though he can be anything he wants, he chose to be an actor and started acting in theatres. He later rose to prominence in the film industry as he gained accolades for his performance in The Executioner Song, Lonesome Dove, and The Fugitive. Jones is also known as Agent K in the Men In Black series, whose character is very similar to his real-life personality.
URSULA ANDRESS – 85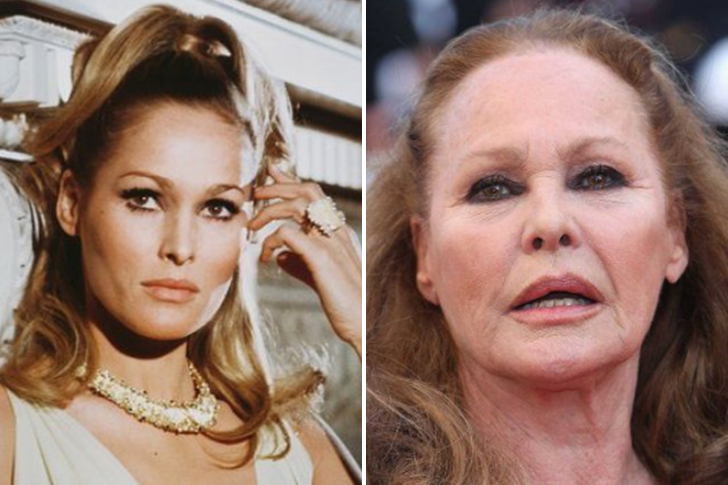 As the James Bond films continue to make movies, everyone anticipates who will be the next James Bond and the new Bond girl. There is an unwritten description of what a Bond girl is, and it seems like the first-ever Bond girl, Ursula Andress, has set the standards high. Ursula Andress played the role of Honey Ryder in the first James Bond film in 1962, Dr. No. Andress's epic entrance in a white bikini launched her career to an all-time high and brought her credit score up along with it.
Andress made her box-office hit She in 1965 and its sequel, The Vengeance of She, in 1967. As she became an epitome of a desirable beauty, men swooned over her. Now, Andress chooses to spend her retirement in her home in Switzerland and Rome and spends a significant amount of time with her family.
JENNIFER TILLY – 62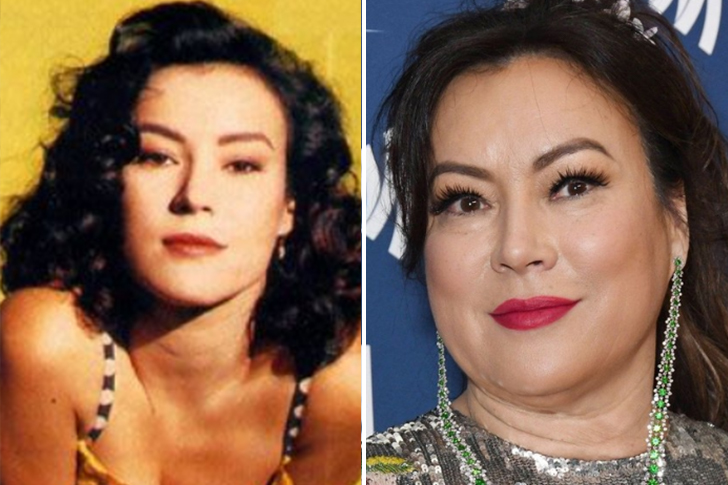 In the mid-90s, the horror film Chucky became a cult favorite. What is more terrifying than a live doll who hunts to kill, right? It reached its maximum thrilling height when Chucky got a bride. Thanks to Jennifer Tilly, who played Tiffany Valentine, for giving justice to Chucky's bride character.
Jennifer Tilly started her career in the entertainment industry in the early '80s. She first gained credits in the 1984 film, Shaping Up. Tilly is also an award-winning actress. Tilly received a nomination in the Academy Awards for Best Supporting Actress category for the film Bullets Over Broadway. Apart from becoming famous as Chucky's bride, Tilly is also a renowned poker player. As for Tilly, she favored playing poker rather than being an actress. In 2005, Tilly won the World Series of Poker Bracelet. Since then, she has considered playing poker her primary career.
BILL COSBY – 83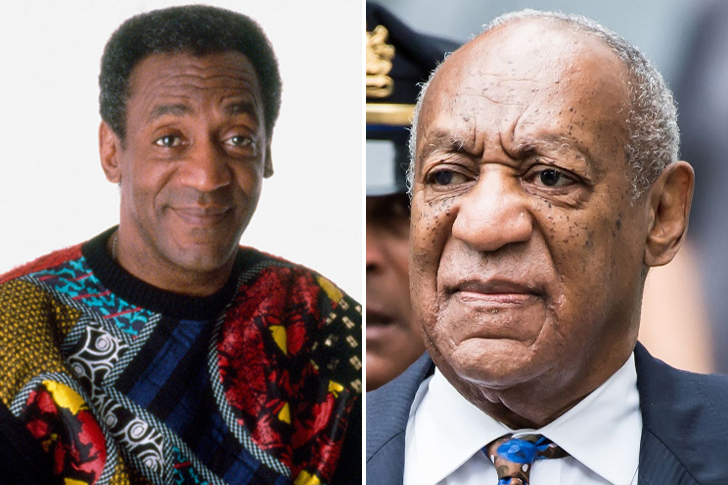 Bill Cosby is still recognized as one of the best comics of all time. He had his start by performing stand-up comedy in a nightclub in San Francisco after dropping out of his physical education degree at Temple University. He got his big break when he snagged a casting role in I Spy. He then made history when he got his show The Bill Cosby Show, which made him the first African American to star in their eponymous show.
He then created his animated series called Fat Albert and the Cosby Kids, which became a pop culture fixture in later years. However, it was his next TV series, The Cosby Show, which turned Bill Cosby into a household name. Regarded as one of the greatest TV shows of all time, the show became revolutionary as it revived the sitcom genre and became an inspiration for black-led TV series later on.